Community Clinic for Counseling and Educational Services
Image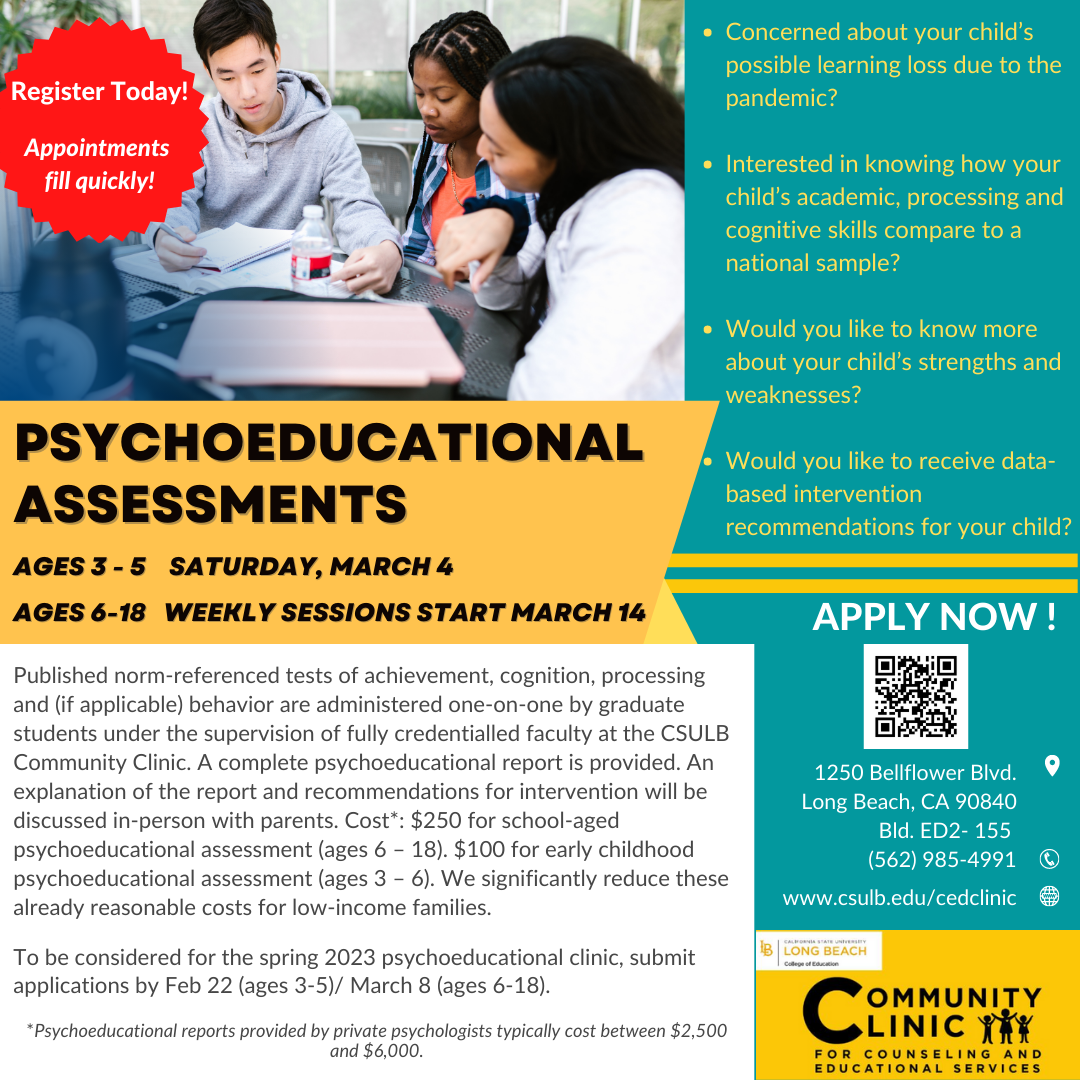 If you are a previous client who would like to resume services and would like to schedule an appointment please email us at CED-CCCES@csulb.edu. A staff member will respond to your email during business hours.
Welcome!
The Community Clinic for Counseling and Educational Services (formerly Educational Psychology Clinic) has been the setting for affordable counseling, academic intervention, and psychoeducational assessment services for over 40 years. The Community Clinic serves two primary functions for the community:
It provides comprehensive educational and psychological services for members of the community at a low cost.

It is a training site for the School Psychology, Marriage, Family Therapists (MFT), and Mathematics Education master's degree programs at CSU Long Beach.
Services
For Adults: individual, couple, or family counseling
For Children (ages 6-17): intensive academic interventions for reading/writing & math, youth counseling, psychoeducational assessments, and developmental assessments (ages 3-6).
Community Clinic application procedures
Services at the Community Clinic are provided by advanced graduate students who are under the direct supervision of faculty in the College of Education. These students have specialties in Mental Health, School, and Marriage/Family Counseling.
Clients are accepted on a first come, first served basis and on level of need. Referrals are made to outside sources when necessary. The first step for receiving our services is to turn in an application.  Please visit our "Services" or "Application Procedure" page for more information. We look forward to serving you and your family! 
*Limited counseling services in Spanish are available, however, all final reports are provided only in English.
The new Long Beach Trauma Recovery Center opened on the campus of Dignity Health St. Mary Medical Center on April 18 with a focus on providing comprehensive mental health services for survivors of trauma and victims of crime.
It is just the second center of its kind in California. The Community Clinic will be a satellite site for the Trauma center.