Accessibility Statement
Summary
California State University (CSU) Executive Order 1111, dated May 23, 2018, outlines the CSU's commitment that persons with disabilities enjoy the same services in an equally effective manner or are provided reasonable accommodation(s) to participate in University programs and activities in ways that are equal to those afforded others.
Conformance
California State University, Long Beach (CSULB) makes information and communications technology accessible to all students, employees and the general public by employing the 2017 Section 508 guidelines that align with the Web Content Accessibility Guidelines (WCAG) 2.0 AA. CSULB additionally strives to meet updated WCAG 2.1 AA standards.
Some ways CSULB supports conformance:
Include accessibility throughout our internal policies
Integrate accessibility into our procurement practices
Supply continual accessibility training for our employees
Assign clear accessibility goals and responsibilities
Regular automated and manual accessibility testing
Compatibility with browsers and assistive technology
The CSU Long Beach Website is compatible with modern assistive technologies and has been tested with the following configurations:
Chrome with NVDA 22.1 or JAWS 2021 on Windows 10
Safari with Voiceover on MacOS 12.6 or iOS
Chrome with Talkback on Android
Chrome with Fusion on Windows 10
Testing continues for other web browsers but currently the most reliable navigation with assistive technology is in Chrome or Safari.
Limitations and alternatives
Despite our efforts to ensure accessibility of the CSU Long Beach website, there are revisions in development. Below is a description of current known limitations, and potential workarounds to help make all our content discoverable. We are actively working to resolve these issues. Please contact us using the form below if you observe issues not listed.
Top navigation menu:
Occasionally, content is skipped when using arrow keys to navigate the "top navigation" menu. Setting your zoom to 500% will enforce mobile menu structure, which is more reliable with a screen reader presently.
Carousel Containers:
Carousel containers are used to share some content, which appears above the carousel controls. To review additional slides, press the corresponding "go to slide" button, then either skip back to the previous heading and read down, or move up through the read order until you reach the new content.
Assessment approach
The accessibility of the CSU Long Beach website was assessed using the following approaches:
Self-evaluation by developers
Evaluation by Accessibility Experts included Certified Trusted Testers and Assistive Technology User feedback
A formal review was undertaken by Allyant
Ongoing automated checks review all pages every semester
Ongoing manual assistive technology reviews take place annually for a percentage of web content
Evaluation report
Image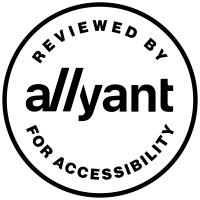 A Conformance letter was issued by Allyant.
Other related evidence for the CSU Long Beach Website is available at:
Accessible Technology Initiative
Feedback
Please let us know if you encounter accessibility barriers on the CSU Long Beach website by contacting:
Fill out this form: Accessibility Feedback Form
Phone: (562) 985-5646
Email: ati-compliance@csulb.edu
Hours: Monday – Friday, 8:00 a.m. - 5:00 p.m.
Voicemail after hours and holidays.
Responds typically within 1 - 3 business days.
Support