Frequently Asked Questions
Many OLLI classes are taught online. If you can't get to campus and have a computer, tablet or smartphone, you can still participate.

The OLLI classroom on CSULB campus has a hearing enhancement system embedded in the ceiling. When you're in a class, you can use it with the headphones we supply or if your hearing aids are compatible, you can connect them directly to the room's sound system.

The OLLI web site and class schedule can be read by using text-to-speech devices.

OLLI students with limited vision and who have a CSULB ID card, can apply to the Bob Murphy Access Center (BMAC) for a service that transcribes class handouts.
The OLLI Office and classroom is in the Human Services and Design (HSD) Building. It is on the East side of the campus near the intersection of Palo Verde Avenue and State University Drive.  We use other classrooms on the campus as needed in the LifeFit Center or  Design building.
Image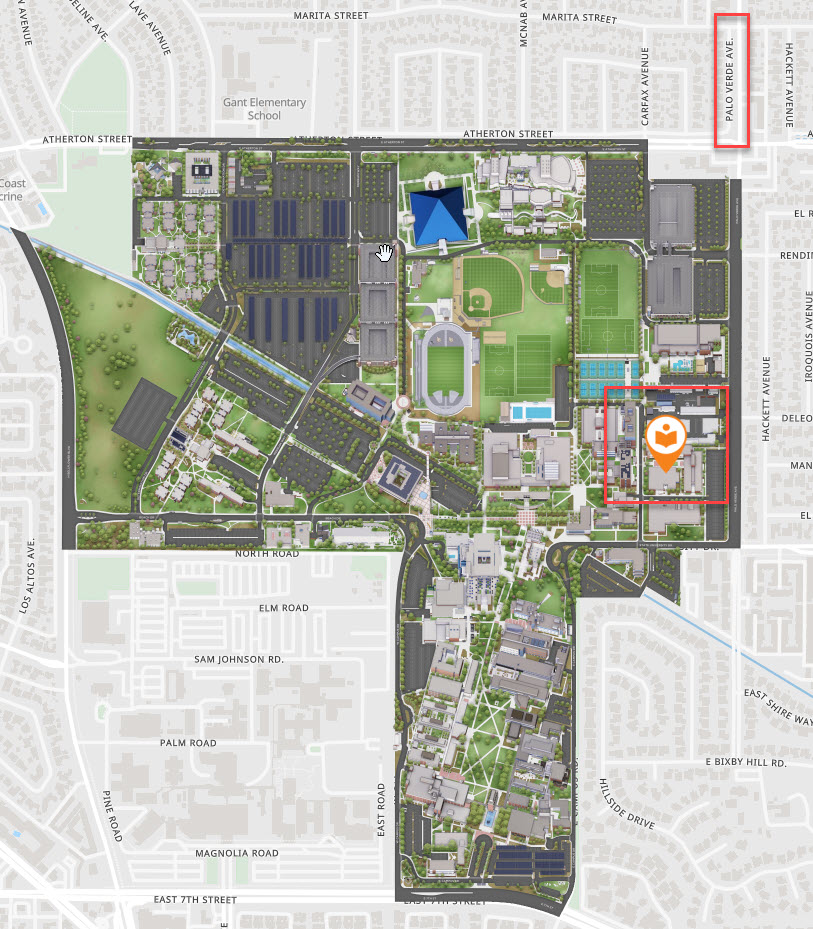 We are located on the campus of a very large (about 36,000 students) and a busy university. Fewer than 5000 students (about 14%) live on campus in residence halls – the remainder commute. So, like most major universities, CSULB has parking issues. 
A Community Permit for OLLI may be used in ANY General Parking lot on the campus. LOTS G13/14 and the two parking structures holding 2000 automobiles are the closest lots to OLLI (off Palo Verde Avenue near Atherton Rd).
The cashier's office at Brotman Hall sells License Plate Recognition permits OR they can be bought online using an email address and credit card.
Daily permits are available from parking kiosks located in each lot using cards or cash. Enter a car License plate number at the kiosk and pay. There are no receipts. 
Short Term parking can be purchased for up to 90 minutes at a machine near those marked spaces.
​Automobiles parked in any campus parking lot and not displaying the appropriate permit are subject to citation.
OLLI students with DMV issued Disabled placard can park in any ADA Blue space - WITH a Community Permit and placard.
Disabled placards can also be used WITHOUT paying at short term green curb spaces on State University Dr.
The CSULB campus is served by both the Long Beach Transit System and the Orange County Transit System. The best way to find your routing is to contact Long Beach Transit:
If you live in Orange County, a similar service is offered by the Orange County Transit Authority:
When the Fall and Spring semester CSULB classes are in session, there are shuttle buses that circle the campus every 10 minutes or so (shuttle map). The stop nearest OLLI is at the Design Building or in front of the Foundation Bldg.  This Campus shuttle requires a campus ID to ride. (visit the Bookstore for ID).
Not at all. First, OLLI students do not earn any college credit or "continuing education credits" for the classes they take. There are no tests, exams, and little if any homework. Sometimes students are asked to read something before the next class or practice something, however, even that is entirely optional. OLLI is like an academic cafeteria – you participate in whatever it is that interests you. Mostly, it is learning about stuff that we didn't have the time, energy, or enthusiasm for during the earlier parts of our lives. Some computer classes do have prerequisites to ensure that students have enough skills to grasp the material presented. The class descriptions should indicate the content.  OLLI students sign-up for classes that interest them and participate in them at their own comfort level.
Cordial and friendly are two of the best terms to describe our interaction with the CSULB community. Many of the "regular" students express fascination at the idea of people our age attending classes just because we love learning and/or want to explore new topics. They are courteous and respectful and quickly acknowledge our "Hi" and "How are you?" greetings. They seem to be quite content with sharing their campus with us. (but keep an eye out for skate-boarders!)
Part of the reason for this good relationship is that many OLLI Members are strong supporters of the University and its activities. Some are alumni or retired faculty. Some of our members are avid sports fans and regularly attend sporting events on campus. Others are patrons of the various programs put on by the Music and Theatre Departments. Our members are docents at the University Art Museum and volunteer ushers at the Carpenter Performing Arts Center.
Many support the University with financial contributions.  We respond to student and faculty requests for interviews and "first-hand" information about the aging process as well as other student and faculty inquiries. In return, the University provides us with space and administrative support. CSULB Identification Cards are available to OLLI members. These provide some member benefits including discounts at University events  (see answer below).
In short, OLLI and its members are viewed as being part of the CSULB community. It is a very pleasant relationship.
OLLI members can obtain a CSULB Identification Card at the ID Card Services Office which is located inside the University Bookstore.  Present a current OLLI Name Tag or a copy of the registration form plus a photo ID such as a driver's license to obtain this card.  Once the OLLI Member registers his card at the front desk of the library, he/she has limited library privileges.  The University ID Card also enables OLLI Members to obtain ticket discounts to Theater and Music performances, athletic events, and free admission to the University Art Museum.  Performance tickets can be obtained at the University Box Office which is located on the Northside (facing Atherton Street) of the Carpenter Performing Arts Center.
Except for the Executive Director and the Office Administrator and Part-time assistants, everyone at OLLI is a volunteer. This includes instructors, office helpers, Governing Council Officers, chairpersons, and members of our committees, computer class coaches, etc. We always have a need for more volunteers and will welcome you. If you are interested, give your name, phone number, and area of interest to our Office Administrator and she will pass the information on to the appropriate person within our governance structure who will contact you.
We recognize our volunteers with a nice thank you luncheon each year. We work hard to be a congenial group that works together toward common goals and we have a 24-year history of success in this endeavor.
Although we have received some very generous grants for specific purposes and collect tuition payments from our students, we do need donations from individuals who support our mission to meet all of the expenses of putting on this program. We are a 501(c) (3) non-profit operation whose finances are handled by the CSULB Foundation. 
Donations may be made online or checks may be made payable to the CSULB Foundation and delivered to the OLLI Office in the HS&D Building. Please note on the reference line that this is a donation to the Osher Lifelong Learning Institute (OLLI) and whether it is a general donation to our operations budget or a donation to a specific purpose. 
Designated donations to our computer program, the scholarship fund (assists OLLI members who cannot afford our tuition and/or membership fees), and the CSULB Student Scholarship fund are accepted. 
Both memorial donations and donations "in honor of" someone are also appropriate. For your convenience, donation envelopes are available in the OLLI Office. All donations will be appropriately acknowledged.