Department of Speech-Language Pathology
Thank you for visiting California State University Long Beach's (CSULB) Department of Speech-Language Pathology!  The Department of Speech-Language Pathology, in the College of Health and Human Services, has been granting undergraduate and graduate degrees since 1954. 
The Master of Arts degree (M.A.) in Speech-Language Pathology is accredited by the Council on Academic Accreditation (CAA) in Audiology and Speech-Language Pathology of the American Speech-Language-Hearing Association (ASHA) as well as the State of California Commission on Teacher Credentialing (CCTC).
Students in the speech-language pathology M.A. program will complete all of the academic and clinical practica requirements for the Certificate of Clinical Competence issued by ASHA and will be eligible for the Clinical Rehabilitative Services Credential issued by the CCTC.
Image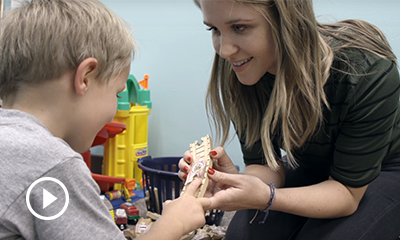 Our mission is the pursuit of excellence in the academic and clinical preparation of students in speech-language pathology, in conducting research, and in the provision of services to the University and to the community-at-large.
The Department of Speech-Language Pathology strives to:
Provide effective, state-of-the-art instruction and clinical education in speech-language pathology,
Contribute to the advancement of knowledge in the field through research and professional development, and
Serve the community by providing on-campus speech and language services.
We aspire to provide our students with the knowledge and skills needed to solve clinical problems, administer comprehensive assessments, and implement evidence-based interventions for a diverse client population in both medical and school-based settings.