Speech and Language Clinic
The CSULB Speech-Language Clinic is a university-based teaching clinic that provides diagnostic and therapeutic services free of cost to children and adults who present with speech, language, and/or communication disorders under the supervision of certified and licensed speech-language pathologists. 
Our goal is to provide quality services at no cost to our patients to support your speech/language/communication needs and improve your quality of life. Donations are gladly accepted.
Consistent with the University's policies on non-discrimination. The CSULB Speech and Language Clinic provides services free from discrimination on the basis of race, color, ancestry, national origin, ethnicity, gender/gender identity, religion, sexual orientation, marital status, disability, age, pregnancy, and veteran status.
Image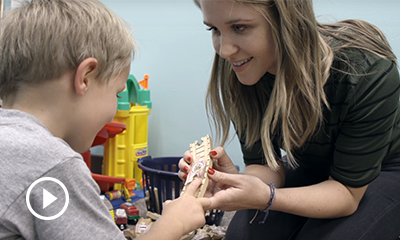 We provide services to
Young children with speech/language/developmental delays

Children with speech and/or language disorders due to various etiologies (e.g., genetic disorders, brain injuries, unknown causes)

School-age children who struggle with spoken (i.e., speaking, understanding) and/or written language (i.e., reading, writing) due to language impairments

Children and adolescents who struggle with social communication due to autism spectrum disorders or other diagnoses

Individuals who stutter

Individuals who struggle with communication after a stroke or a brain injury

Individuals who experience speech issues related to a diagnosis of a motor speech disorder (e.g., Parkinson's, Apraxia)

Individuals who experience cognitive issues (e.g., attention, memory) due to cognitive impairments, a degenerative disease (e.g., Dementia), a stroke, or a traumatic brain injury

Individuals with voice disorders
In order to serve clients in the most informed manner possible, all new clients to the clinic must (1) complete a questionnaire and (2) submit any pertinent records regarding medical history, school services (e.g., IEP), and/or other evaluations or therapy history.  To obtain a copy of the questionnaire, please download it below and follow the application instructions.
The Clinic enrolls clients for speech-language therapy according to the university calendar for fall and spring semesters. Therapy sessions are scheduled for 50 minutes two times per week: Monday & Wednesday or Tuesday & Thursday.
In order to reduce the wait time for our services, we are now instituting a four-semester maximum.  Once a client has been enrolled for four semesters, the client must fill out a re-enrollment application and return on the wait list for services.
Application forms and instructions:
New applicants to our clinic

Adult Neurogenic Intake Form: Fill out this form if the language concern resulted from a brain injury (TBI/stroke) or progressive disease (dementia, Parkinson, Alzheimer's, etc.)

Developmental Intake Form: Fill out this form if the language concern was present from birth/childhood.

Returning clients who would like to re-enroll in our clinic
If you require any assistance in completing the intake form, please contact us at SLP.clinic@csulb.edu or 562.985.4583
You may send any supporting documents to SLP.clinic@csulb.edu or use this secure link to upload the documents: Secure Uploads. 

CSULB Speech-Language Clinic
California State University, Long Beach
Department of Speech-Language Pathology
1250 Bellflower Blvd., LAB-118
Long Beach, CA 90840
Graduate Clinicians will sanitize all therapy materials and furniture before and after each session.
Only clients will be allowed into the building.

Caregivers of pediatric clients must remain on-campus and be within 5-10 minute walking distance (i.e., cars, stone benches outside, etc.).

Masks are required for all clients (2 years and older), clinicians, staff regardless of vaccination status.  

Masks must cover the nose and mouth
Masks may be briefly removed for purposes of therapy (e.g., show client placement of articulators, assess function/use of articulators, etc.)

Handwashing/hand sanitizers

Clients and clinicians will wash their hands prior to each session.
Hand sanitizers are available within the clinic rooms
Clients are asked to remain at home if they have a fever or other signs of illness.  If the client had COVID-19, they are free to return when they have fulfilled the following requirements: 
Fever-free without medicine for 24 hours 
At least 5 days after their first day of symptoms 
Symptoms are improving 
Where a mask during sessions
The CSULB Speech and Language Clinic is a non-profit facility. Enrollment in clinic is not determined by a client's donation or ability to pay; no donations are required. Although we do not charge fees for our services, we gladly accept donations to cover operating costs and expenses as described below:
Clinic Staff, such as scheduling appointments, providing support for clinicians and clients, maintaining client files, training clinic supervisors, ensuring HIPAA compliance, and porforming related administrative duties.
Equipment, such as audiometers, otoacoustic emissions screeners, cameras, A/V equipment necessary for supervision, etc.
Clinic Supplies, such as hand sanitizer, Clorox wipes, gloves, therapy materials, etc.
Testing Materials: tests, protocols, record forms, screeners, etc.
 Suggested donations for services are as follows:
Assessment only - $125
One semester (with 2 hours of therapy a week) - $300
Donations to the CSULB Speech-Language Clinic are tax deductible.  The university will generate tax deductible receipts acknowledging any donations above $10.
You can submit your donation using the Give Now button on our webpage or visit www.bitly.com/give2slp
Checks (made payable to CSULB 49er Foundation) can be deposited into the lockbox (next to LAB 118). 
For questions or concerns, please call us at 562.985.4583
Graduate student clinicians provide all evaluation and therapy services under the direct supervision of faculty members who are nationally certified through the American Speech-Language-Hearing Association (ASHA) as well as licensed by the State of California.
Regular, punctual attendance by clients is essential to fully benefit from speech-language therapy.  In addition, student clinicians must accumulate clinical hours in order to obtain their graduate degrees.  For these reasons, missing more than 2 hours of therapy without advanced notice and preapproval may result in termination of services.  If you anticipate frequent absences due to illness or other scheduling issues, it is advised that you postpone enrollment.
Due to the educational nature of the CSULB Speech-Language Clinic, we reserve the right to make enrollment decisions based on the clinic staff's professional judgment with respect to best meeting the needs of the client and/or the student clinician's professional training experience.
All clients will need to pay for parking during each session.  Currently the college is subsidizing parking costs, and clients only need to pay 50% of the parking fee.  Once you are scheduled, your clinician will provide you with more specific instructions on where to park and how to purchase your parking permit.
Tutorial Videos: