Speech and Language Clinic
The CSULB Speech-Language Clinic is a university-based teaching clinic that provides diagnostic and therapeutic services free of cost to children and adults who present with speech, language, and/or communication disorders under the supervision of certified and licensed speech-language pathologists. 
Our goal is to provide quality services at no cost to our patients to support your speech/language/communication needs and improve your quality of life. Donations are gladly accepted.
Our services are offered on a first-come, first-served basis, and as clinic openings become available that address your or your loved one's specific needs. If services are not immediately available, clients are placed on a waitlist. Please be aware that waitlist times vary. We will contact you as soon as a clinic spot that addresses your or your loved one's needs becomes available. Thank you for your patience and understanding.
Consistent with the University's policies on non-discrimination. The CSULB Speech and Language Clinic provides services free from discrimination on the basis of race, color, ancestry, national origin, ethnicity, gender/gender identity, religion, sexual orientation, marital status, disability, age, pregnancy, and veteran status.
Image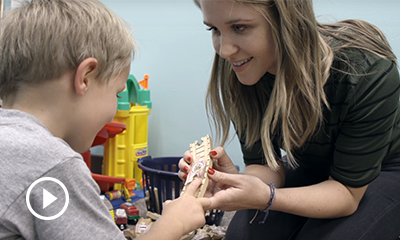 We provide services to
Young children with speech/language/developmental delays

Children with speech and/or language disorders due to various etiologies (e.g., genetic disorders, brain injuries, unknown causes)

School-age children who struggle with spoken (i.e., speaking, understanding) and/or written language (i.e., reading, writing) due to language impairments

Children and adolescents who struggle with social communication due to autism spectrum disorders or other diagnoses

Individuals who stutter

Individuals who struggle with communication after a stroke or a brain injury

Individuals who experience speech issues related to a diagnosis of a motor speech disorder (e.g., Parkinson's, Apraxia)

Individuals who experience cognitive issues (e.g., attention, memory) due to cognitive impairments, a degenerative disease (e.g., Dementia), a stroke, or a traumatic brain injury

Individuals with voice disorders
The Clinic enrolls clients for speech-language therapy according to the university calendar for the fall, spring, and summer semesters. Therapy sessions are scheduled for 45 minutes 1-2 times per week: Monday & Wednesday or Tuesday & Thursday.
All new clients to the clinic must complete an online clinic application form  Clinic Application 
You only need to fill out the application form once. Our clinic office will contact you once a clinic opening that addresses your or your loved one's specific needs becomes available. If services are not immediately available, you or your loved one will be placed on a waitlist. 
If you require any assistance in completing the application form, please contact us at SLP.clinic@csulb.edu or 562.985.4594
You may send any supporting documents to SLP.clinic@csulb.edu 

CSULB Speech-Language Clinic
California State University, Long Beach
Department of Speech-Language Pathology
1250 Bellflower Blvd., LAB-118
Long Beach, CA 90840
The CSULB Speech and Language Clinic is a non-profit facility. Enrollment in our clinic is not determined by a client's donation or ability to pay; no donations are required. Although we do not charge fees for our services, we gladly accept donations to cover operating costs and expenses as described below:
Clinic Staff, such as scheduling appointments, providing support for clinicians and clients, maintaining client files, training clinic supervisors, ensuring HIPAA compliance, and performing related administrative duties.
Equipment, such as audiometers, otoacoustic emissions screeners, cameras, A/V equipment necessary for supervision, etc.
Clinic Supplies, such as hand sanitizer, Clorox wipes, gloves, therapy materials, etc.
Testing Materials: tests, protocols, record forms, screeners, etc.
 Suggested donations for services are as follows:
Assessment only - $125
One semester (with 2 hours of therapy a week) - $300
Donations to the CSULB Speech-Language Clinic are tax deductible.  The university will generate tax-deductible receipts acknowledging any donations above $10.
You can submit your donation using the Give Now button on our webpage or visit www.bitly.com/give2slp
Checks (made payable to CSULB 49er Foundation) can be deposited into the lockbox (next to LAB 118). 
For questions or concerns, please call us at 562.985.4594
Graduate student clinicians provide all evaluation and therapy services under the direct supervision of faculty members who are nationally certified through the American Speech-Language-Hearing Association (ASHA) as well as licensed by the State of California.
Regular, punctual attendance by clients is essential to fully benefit from speech-language therapy.  In addition, student clinicians must accumulate clinical hours in order to obtain their graduate degrees.  For these reasons, missing more than 2 sessions of therapy without advanced notice and preapproval may result in termination of services.  If you anticipate frequent absences due to illness or other scheduling issues, it is advised that you postpone enrollment.
Due to the educational nature of the CSULB Speech-Language Clinic, we reserve the right to make enrollment decisions based on clinic judgment with respect to best meeting the needs of the client and/or the student clinician's professional training experience.