Project OCEAN's Beach Buddies
Image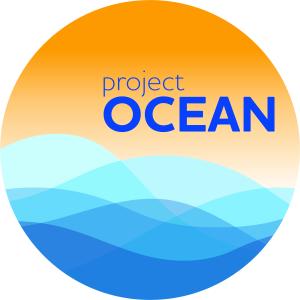 Beach Buddy is a peer mentoring program that offers students a new way to connect with other students for emotional support and mental health resources. The program is a collaboration of the College of Health and Human Services (CHHS), Couseling and Psychological Services (CAPS), the CSULB Division of Student Affairs (DSA) and Mental Health America - Los Angeles (MHALA), who recently secured a Mental Health Partnership Grant from the CSU Chancellors Office.
Program Goals
Increase awareness of mental health 
Increase accessibility of on-campus resources
Help de-stigmatize mental health on CSULB campus
"Project OCEAN's (On-Campus Emergency Assistance Network) mission is to provide effective peer mentoring services to students and educate the campus on suicide prevention. The peer mentors, or Beach Buddies, promote mental health and wellness of fellow students by providing one-on-one mentoring, drop-in connection spaces, lead workshops related to mental health, and facilitate trainings on suicide prevention." 
Beach Buddies are certified peer educators who are familiar with on-campus resources and who work to create a culture and climate that acknowledges individual differences, de-stigmatizes mental health, and increases the likelihood of seeking support networks. 
Image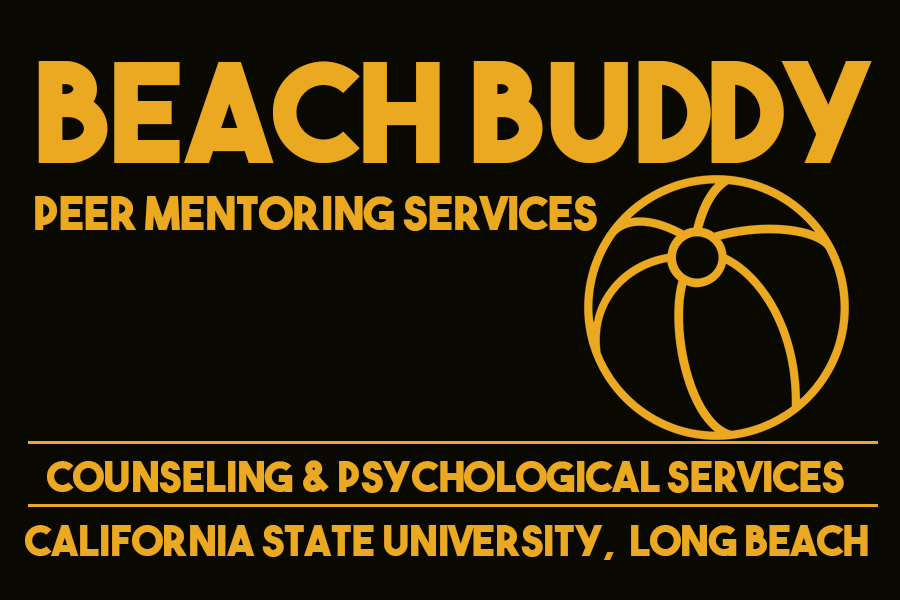 Peer Mentoring Virtual Services
Coming Spring 2023. Visit our Instagram for updates and start date for mentoring @csulbbeachbuddy.
Buddies Connect @ The Beach (BC@TB)
Wednesday's at 1pm in USU-306 (Venice Room)
Our purpose is to create a safe space where students feel welcome to participate and empowered to speak about with is on their minds. Everything from mental health to everyday stress to other student issues can be discussed, and our Beach Buddies will help find resources on campus for students as well as help discuss these topics. During this connect space our Beach Buddies put on fun activities and mini workshops to facilitate conversation about mental health and wellness.
QPR Suicide Prevention Training
A free 120-minute training offered virtually throughout the semester; the certificate is valid for three years. This training takes students, faculty and staff through the warning signs and risk factors of suicide and then teaches the three-step response to someone in a mental health crisis; Question, Persuade, and Refer. During this training we have open discussion about cultural differences and experiences pertaining to our relationship to mental health and suicide.
Register for an Open session here.
If student organizations or faculty/staff want to request a training for a group they should use this link: Register Here
Mental Health and Wellness Workshops 
Coming soon! Visit our Instagram for more updates! @projectocean_csulb
Although Beach Buddy peer mentoring sessions are a drop-in space for CHHS students who are experiencing questions and difficulties while pursuing academic degrees at CSULB, we are here to help any CSULB student who needs a little guidance on their next step, or someone to help find resources, together! Our Beach Buddies will direct students to the appropriate on-campus resources, and help students talk through concerns or difficulties they may be facing.  
Disclaimer: Peer mentoring services are not counseling sessions, but a space where CSULB students can go to for resource referral, or for a friendly chat with a fellow student.  Beach Buddy Services are not part of the student's mental health records.  Beach Buddy Services are not for crisis or urgent concerns. If you are in crisis or need immediate support, please call CAPS at (562) 985-4001.  If CAPS is closed, please call CAPS be transferred to the CAPS after-hours crisis counselor. 
Graduate Beach Buddies
Image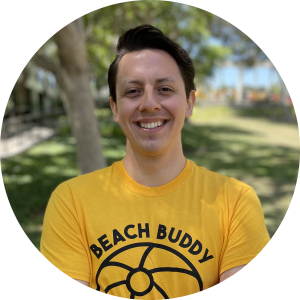 Alejandro Martinez (He/Him) 
Graduate Degree Program: MS Counseling Psychology
My Why: I joined Project OCEAN to become a Beach Buddy because I have a strong passion for supporting people and helping them see their potential to overcome challenges.
Hobbies: My hobbies are swimming, spending time with friends, and playing video games. I would also like to become a podcast host, a voice actor, or a narrator in the future. 
Image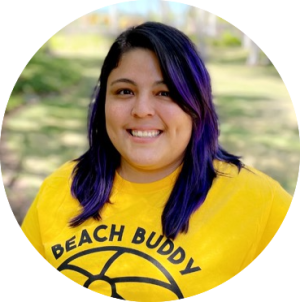 Angela Dominguez (She/Her) 
Graduate Degree Program: Master of Social Work
My Why: I joined Project OCEAN because I am passionate about helping others and want to serve as a mentor/guide for others.
Hobbies: Some of my hobbies include going to the beach, exploring new places to eat, finding new adventures, and rewatching Grey's Anatomy & The Big Bang Theory.
Image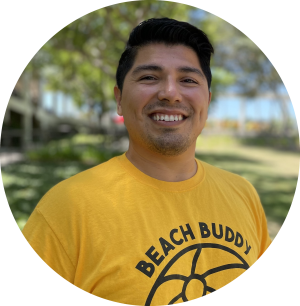 Manny Estrada (He/Him) 
Graduate Degree Program: MS Counseling Psychology  
My Why: I joined Project OCEAN because I believe that building connections and creating space for social-emotional support are vital in perpetuating a community that values mental health. I want to contribute to the culture of empowering others to take care of their mental health and destigmatize mental health. 
Hobbies: I enjoy meditating, breathwork, taking long walks, riding my bike, tennis and reading. I also enjoy traveling every chance I get. My all-time favorite travel experience was in Iceland (so far it remains my most favorite trip). 
Image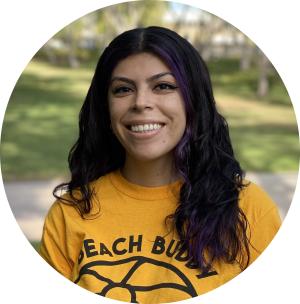 Victoria Roa (She/Her)
Graduate Degree Program: MA History 
My Why: I believe it is crucial to provide students with the resources necessary to ensure their wellbeing both on an academic and personal level. I believe we need to reduce the stigma surrounding reaching out when we need help and want to show others that it is okay to not be okay and to seek help. 
Hobbies: I love everything Star Wars and Marvel and collect Funko Pops! Some of my favorite hobbies are going to the movies, concerts, and taking care of my plant babies.  
Undergraduate Beach Buddies
Image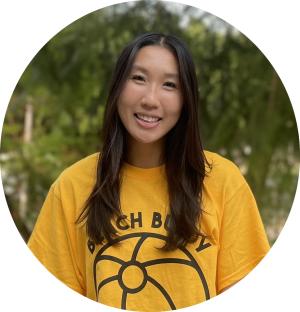 Danielle Phan (She/Her)  
Major/Minor: Psychology/Child Development and Family Studies
My Why: I joined Project OCEAN because of my passion for promoting mental well-being. I also wanted to be a part of a creative team that helps students overcome struggles whether emotionally, academically, or socially
Hobbies: In my free time, I love thrifting, going to concerts, and exploring new places in SoCal with friends!
Image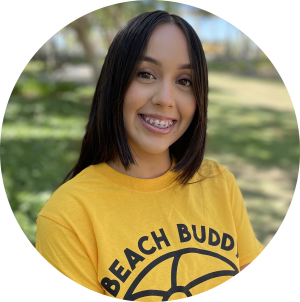 Jackeline Macias (She/Her) 
Major: Psychology
My Why: I joined Project OCEAN to help others feel comfortable with reaching out about their mental health and create new adaptive ways to promote the importance of self-care.
Hobbies: Some of my hobbies include dancing, hiking, spending time with friends, reading, and binge-watching Grey's Anatomy and Friends! "We Were on A Break!!" 
Image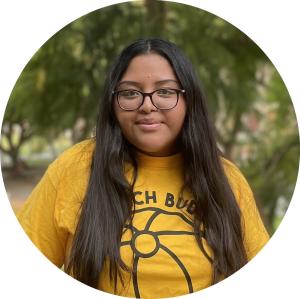 Jessica Pascual (She/Her)
Major/Minor: Health Science – Community Health/American Studies
My Why: I joined Project Ocean because I want to help students with their mental health by connecting them to resources while also providing peer mentoring sessions.
Hobbies: I love traveling and going to new places! Some of my hobbies include going to concerts, journaling, and collecting vinyl records.
Image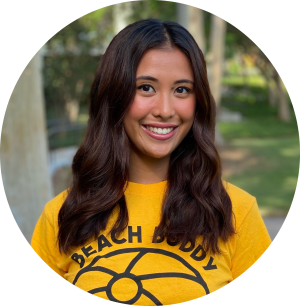 Julia Guevara (She/Her)
Major/Minor: Kinesiology Option: Exercise Science/Biology
My Why: There are many reasons why I decided to join Project Ocean but my main driving force is because I believe in this programs mission which is promote mental health awareness and provide effective peer mentoring services to students who are seeking out a support network. I wanted to use the skills I have to connect to the student body to help begin the conversation about all things mental health related and de-stigmatize mental health on CSULB campus
Hobbies: In my free time I enjoy going on nature walks and hiking. I like to mediate and journal. I love exploring new places with my friends and family. I also love thrifting and watching movies.