What is OLLI?
Offers  non-credit classes to adults over the age of 50
Schedules a wide range of topics including art, music, health/fitness, history, literature and technology
Has no tests or grades – just classes for the joy of learning
Is a self-supporting membership organization of  nearly 1000 members
Is a Center based in CSULB's College of Health and Human Services
Is managed by a volunteer Governing Council in collaboration with an Executive Director
Was founded in 1996
Image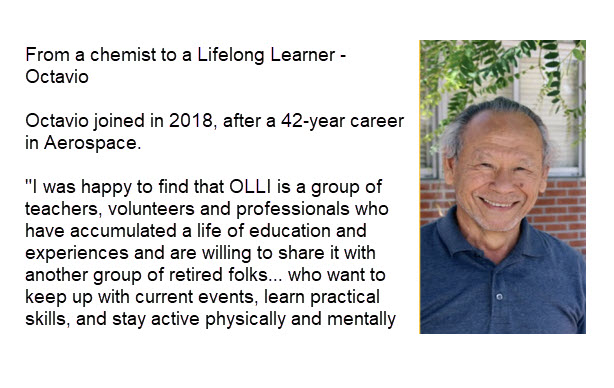 What other OLLI members say ...
"OLLI has opened a world of learning to keep me interested and happy. The friends I've made during this experience are priceless."
"I published my first book as a result of work completed in the MEMOIR WRITING class. It's a special group of people who create a safe and respectful space for sharing and learning each week."
"The subjects offered by OLLI help expand knowledge and understanding of the world then as well as now. Learning about African and Asian history and cultures was eye opening."
"I have found the online registering for class and then the zoom class to be well set up and that even those of us who aren't overly familiar with computers were able to understand it."
"This class was a wonderful balance of invited guests (bread maker, cheese maker, and LA Times food expert) and the shared expertise of the chefs among us."