News
Keep up with the latest news from the Speech-Language Pathology Department
In the Summer of 2023, the CSULB Speech-Language Pathology Department hosted a 4-week student exchange program for five undergraduate students from the Department of Audiology and Speech-Language Pathology at the Asia University in Taiwan. Besides taking English and Culture classes coordinated by the International Office, these five Taiwanese students joined the Class of 2024 for seminars on AAC and Dysphagia in the mornings. They also participated in afternoon clinical sessions at the CSULB Speech-Language Clinic. It is a unique and valuable opportunity for students to learn about different cultures and our profession in two countries. It sure is a busy, productive, and rewarding summer for students.
In the picture, CSULB SLP MA Class of 2024, Taiwanese students, Kenya Gomez-Tydor (Full Time Clinical Faculty), Dr. Pei-Fang Hung (Department Chair, Dr. Lei Sun (Graduate Advisor), Deanne Wayt (Full Time Clinical Faculty), Dr. Margaret Vento-Wilson (Assistant Professor).
Image
The Speech-Language and Pathology department recently partnered with The RiteCare Childhood Language Center of Long Beach, bringing the community clinic onto the CSULB campus. A major gift from the California Scottish Rite Foundation, which funds RiteCare centers across the United States, enabled The Beach to extend clinical services, add additional hours and client rooms, and better train future speech-language pathologists to meet the high demand of the community. 
A new partnership between the Department of Speech-Language Pathology (SLP) at California State University, Long Beach and the Scottish Rite, is making it possible for the CSULB Speech and Language Clinic to treat more patients and expand its treatment areas. Click below to learn more about the partnership and our clinic. 
After a rigorous review process, the Department of Speech-Language Pathology received reaccreditation through 2027 from the Council on Academic Accreditation in Audiology and Speech-Language Pathology (CAA).
Image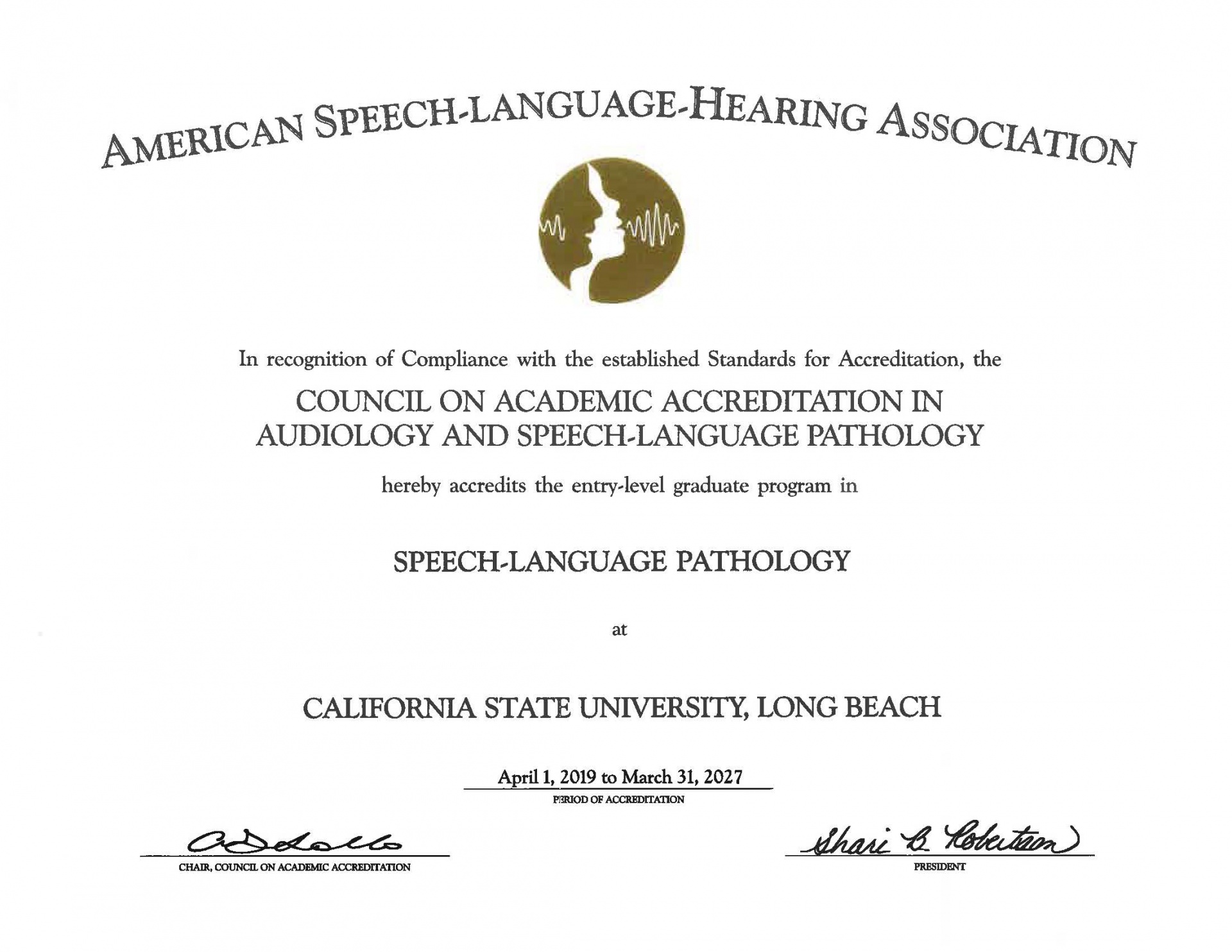 Twelve (12) CSULB SLP students particiapted in a two-week study abroad program at Asia University in Taichung, Taiwan in 2019 Summer.
Image