Alumni Spotlight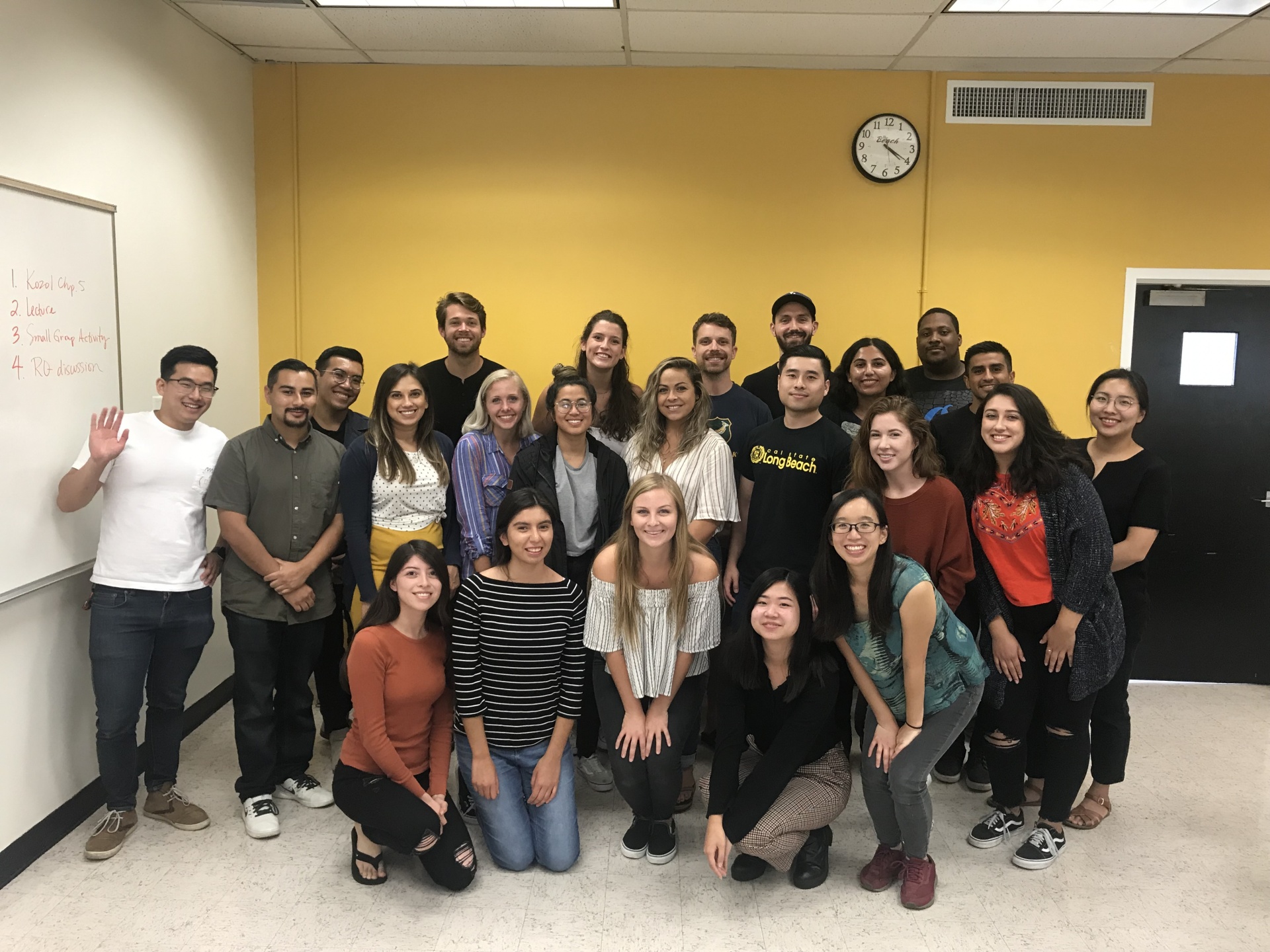 Image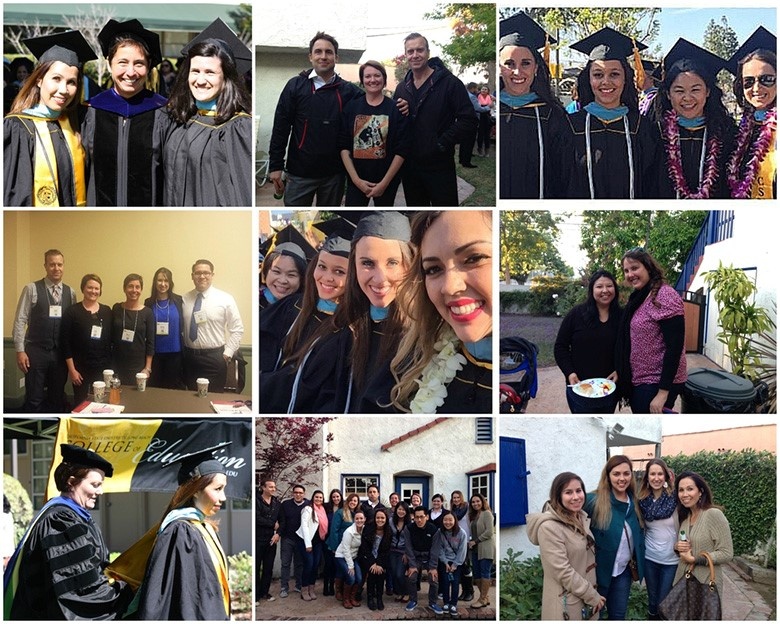 #1 Veronica V., Dr. Powers, Sarah V.
#2 Ron M., Dr. Hagans, Dave S.
#3 Caroline M., Gabriella T., Christina T., Jessica O.
#4 Dave S., Dr. Hagans, Dr. Powers, Jessica O., Arturo G.
#5 Christina T., Gabriella T., Jessica O., Jhennick V.
#6 Laura V., Shantal B.
#7 Dr. Hagans, Veronica V.
#8 Dave S., Arturo G., Pamela B., Caroline M., Jhennick V., Ron M., Dr. Powers, Dr. Hagans, Sarah V., Jessica O., and Veronica V. in the back row. Front row is Collette W., Gabriella T., Christina T., Darin M., and Hyemi L.
#9 Katherine G., Jhennick V., Jessica O., and Veronica V.

Below are excerpts from unsolicited e-mails former students have sent our faculty after beginning their careers in school psychology:
"Hope both of you are doing well.  Life is busy here.  I wanted to let you know that I was nominated for and won the School Psychologist of the Year (SPOY) award for Wake County Public School System.  I'm not emailing to toot my own horn but I thought of CSULB when I won the award so I thought I would let you both know.  
WCPSS is now the 16th largest school system in the US and growing quickly with more than 150,000 students.  We open about 3-5 new schools each year with 105 SPs on staff, more next year.  I serve on the School Psychology MTSS team, am the lead for the Promoting School Psychology committee, and serve on my state board by chairing the Legislative and Public Policy committee.  I thought you might enjoy hearing how your influence affects our practice in Raleigh, NC.  Our staff have recently begun writing reports with referral questions at the beginning of and embedded in their reports. This was specifically brought about by me after having done this since I began working and suggesting this as a way to promote problem-solving conversations at schools.  Now, some of my reports are used as examples for how to make this useful within reports.  It has been interesting (in different ways) to see how what my cohort at CSULB was doing many years ago is only just recently being adopted here.  So...thanks!  Have a great Spring and hope to see you in San Antonio. :)  " - Leigh K. 
"I wanted to send you all an update to let you know that I've been fortunate enough to land a job locally with Garvey School District...thank you all for the excellent training that was required to land the job and I'll do my best to represent the CSULB school psychology program!" -Drew B.
"I wanted to thank you all for the instruction, guidance, and support you have given me throughout these 3 years. CSULB's School Psychology program is truly an amazing program that really prepared me for the field in every aspect. I appreciate the time and effort you all have put into making this program one of the best!" -Lisa U.
"I have learned so much from you all, and am so grateful for everything I've gained through my participation in the CSULB program. This has been not only an educational experience, but also an incredible personal growth experience as well." -Kristin C.
"Things are great with my job here in Colorado and I have to say thanks again for all the great training you provided!...Right now I'm running 7 social groups a week, just started a weekly recess game day for those kids that need social practice without an actual group, working with a couple kiddos on RtI, implementing some mentoring stuff from Check and Connect, and done only 2 cognitive assessments in the first 3 months!" -Meg L.
"I feel like I learned a lot from my training at CSULB. I think the training on RTI definitely helped me obtain my current position. The program's focus on understanding students as being part of a larger school system, and gaining valuable insight in ways that we as School Psychologists can impact student outcomes through collaboration and consultation was very helpful (as opposed to having a narrow mind/focus of just assessing and report writing results for the students on our caseload). The Systems Change Project was especially awesome!!" -Francisco P.
"The grant definitely was a big influence in my confidence and ability to secure a position. The grant offers students practical experience from beginning to end. From universal screening, to progress monitoring, to consultation, to intensive intervention, the grant covered a large base. Also, the Community Clinic gives students assessment practice from year one and really prepares them for practicum and internship. Finally, I think Long Beach's focus on teaching school psychs best practices on learning to read really allows us to connect with teachers because we learn the language that is important to teachers." -Tasia D.
"Today a student told me that she wants to be a school psychologist when she grows up because she wants to help kids the way I've helped her. Later I got an email from a parent telling me how excited and thankful she is that I'm back at the same school this year because I have been so helpful to her son... It was a good day." -Odette F.
"One of the first things we ever read in the School Psych Program was an article on "People First" Language. ... The article spoke to me, and I've been a strong advocate of people first language ever since. ... Our Director just said "Autistic students...." [in a meeting].  She finished the sentence, but then stopped and corrected herself "Students with Autism", and gave me a look. Small changes lead to BIG improvements.  The words we use count, especially when they are related to how we think about the students we serve." -Ryan R.
"I always felt like our school psych program was rigorous and I knew you were all great instructors, but I've realized this week how deep of an impact your knowledge, feedback, insight, and experience has had on me. Thank you so much for challenging, supporting, and preparing me for the best career I could ever even imagine." - Caroline C.
"Good Morning, I hope all is going well. I ran into a set of data  from a series of 'intensive' interventions that were done with one of the students I am working with. I thought you might get a kick out of it. It amazed me how much the faculty at CSULB taught us academic intervention/problem solving. I am really working hard with our team here to change the approach to intervention"- Ron M.