MAE Labs
Contact: Panadda Marayong or Praveen Shankar
Image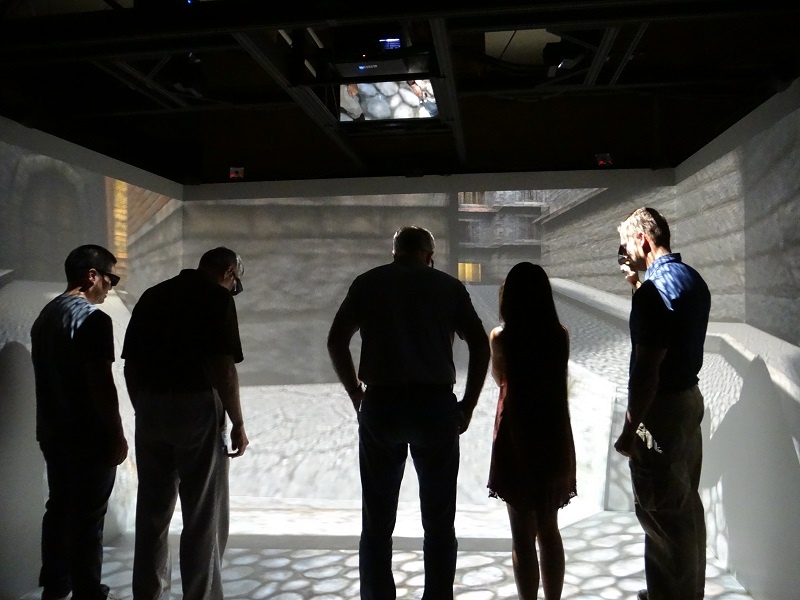 The Beach CAVE Lab houses a CAVE immersive virtual environment system that facilitates interdisciplinary research in human-machine interaction in a dynamic environment. The system consists of room-size four panel displays with 8-camera real-time full body motion tracking. The acquisition of the CAVE system was funded by National Science Foundation Major Research Instrumentation grant (Award number 1626655).
Major equipment: 
VisCube M4 (Visbox, Inc., IL) CAVE VR system with front-projected four panel displays (12' W x 8' D x 10' H)

ARTTrack real-time full body motion tracking system

Fully-integrated graphics workstation
Contact: Eun Jung Chae
The Computational Fluid and Structure Laboratory (CFSL) research focuses on the numerical, theoretical, and physical modeling in single/multiphase flows of smart/adaptive propulsions, Unmanned Aerial Vehicles (UAV), morphing wings, and energy conversion systems.
 
Research Approach:
Computational Fluid Dynamic (CFD)
Fluid-Structure Interaction (FSI)
Reduced Order Model (ROM) 
Theoretical Analysis
Contact: Christiane Beyer or Mahdi Yoozbashizadeh 
Image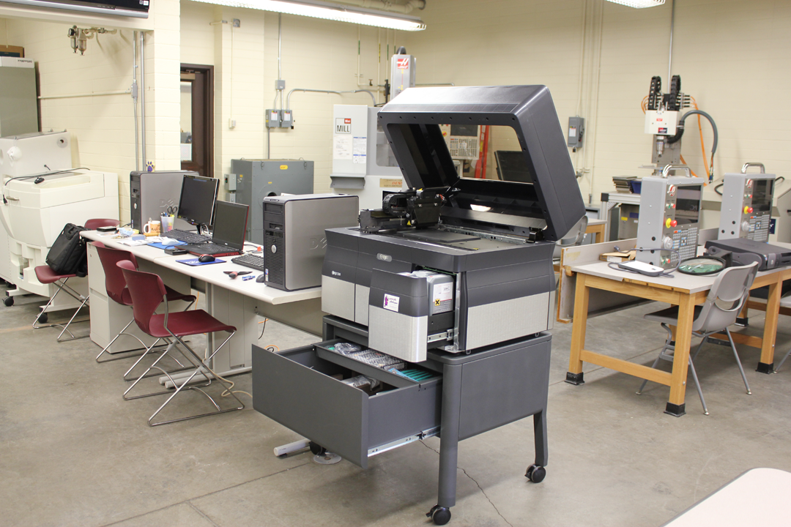 The DENSO Lab offers CSULB students facilities for computer-aided design, manufacturing, and non-destructive testing. The lab contains an assembly robot, a Computer Numerical Control (CNC) milling machine with the ability to machine parts precisely, and 3D printers to rapidly prototype three-dimensional solid objects of virtually any shape from a digital model. Stored nearby is a plasma cutter used to precisely cut steel and other metal materials of different thicknesses.
Major equipment: 
Airwolf 3D printer
Artec 3D scanner
CNC Haas mill
CNC mill simulators (three)
MarkForged Mark One 3D printer
Objet30 3D printer
Orbital drill center
Plasma cutter
Polar 3D printer
Schedule: M-F: 9 a.m.-4 p.m.
Faculty advisor: 
The Dynamics and Control Lab focuses on:
Automation
Robotics
Manufacturing
Time-delay systems, and
Other technologies.
Major equipment:
Cart-inverted-pendulum setup
Parallel robot
Cart-seesaw setup
Robotic arms
Rotary-inverted pendulum. 
Contact: Emel Demircan
The Human Performance and Robotics Lab's research projects range from musculoskeletal modeling to robotic control. HPRL has received grants from DENSO, the National Science Foundation, and the National Institutes of Health and collaborates with various departments and institutions to engage in interdisciplinary research. 
Major equipment:
Force feedback haptic device
Kinova and Optitrack robotics equipment
Motion-capture equipment
Miniature threaded inline load cell
Robotic arm and hand
Hours: M-F 9 a.m.-5 p.m. and by appointment
Faculty advisor: Daniel Whisler
The Impact Group Engineering Research Lab specializes in understanding dynamic material and structural behavior when subject to extreme environments such as shock, impacts, or blast loads. Experimental and numerical testing for high strain, high strain rate survivability, blast mitigation, and impact resistance.
Major equipment:
High-strain compressed gas impactor
Low-strain pendulum impactor
Drop tower
High speed camera
Hours: TBD
Contact: Ehsan Madadi
Our group aim is developing new physics-based models and numerical algorithms for predicting the large scale multiphase and complex fluids flows in broad areas of fluid mechanics, such as energy and the environment. The foundation of our research is at the scientific interface of Computational Fluid Dynamics (CFD) and multiphase flows. The focus is on disperse multiphase flows (often reacting flows) with a continuous phase (gas or liquid) surrounding one or more disperse phases (e.g., particle, drops, or bubbles).
Hours:  M-F: 9 a.m.-6 p.m.(by appointment)
Contact: Ehsan Barjasteh
The Polymer and Advanced Composite Laboratory specializes in developing and characterizing new lightweight materials and processes for applications in aerospace, biomedical, automotive, and other related industries. In particular, the research lab focuses on:
Out-of-Autoclave processes (VBO, VaRTM, RTM, RFI)
Automated polymer and composite manufacturing
Nanomaterial  
Multifunctional materials
Major equipment:
Cutters and polishers
Differential scanning calorimeter
Discovery refrigerated cooling system (RCS90)
Dynamical mechanical analyzer
Hot press
Industrial chassis computer
Injection molding machine
Kilns and furnaces
Metallurgical microscope
Rheometer
Faculty advisor: Joseph Kalman
The Solid Propulsion and Combustion Laboratory (SPACL) focuses on understanding the physics and chemistry of ignition, combustion, and decomposition of energetic materials, solid propellants, and other fuels/oxidizers. Traditional and novel experimental techniques are used to probe both gas-phase and condensed-phase reactions. These measurements, in conjunction with complementary modelling efforts, provide insight into how to improve performance or improve safety of combustion applications.
Major equipment:
Photron Mini AX-100 high-speed camera
Infinity K2 long-distance microscope
Iradion Infinity Series CO2 laser (120 watt )
National Instruments compact DAQ
Strand burner (under construction)
Miniature slab burner (under construction)
Solid fuel opposed flow burner (under construction)
Hours: M-F 9 a.m.-5 p.m.
Faculty advisor: Navdeep Singh Dhillon
The STEAM-I Lab employs high-speed optical and infrared imaging techniques to experimentally study and improve complex thermal-fluids phenomena. Research areas of interest include boiling, evaporation, condensation, renewable energy technologies, desalination, electronics cooling, and thermal management in mechanical & aerospace systems. The experimental and theoretical work is complemented by numerical and CFD analysis of processes and systems using tools such as Python, Matlab, OpenFOAM, StarCCM+. 4)
Major equipment:
High-speed infrared camera (ImageIR 8320)
High-speed optical camera (Fastcam SA-5)
Boiling chamber
High-power DC supply
Refrigerated/Heating circulator (F25-HE)
Faculty advisor: Shamim Mirza
Major equipment:
United computerized universal testing machine
Tinus Olson LoTorq torsion testing machine
Cantilever and simply supported beams
Strain-gauged aluminum cantilever beam
BLH Type 20 Strain indicator
Cylinder pressure vessels
Polariscope