Advance Partnerships for the Public Good
CSULB's robust portfolio of public, private, government, and nonprofit partnerships is one of our greatest assets, and a strategic partnership structure will advance our public mission while strengthening our institutional priorities. 
Promote CSULB's Intellectual Capital to Benefit the Community and Region

 
Image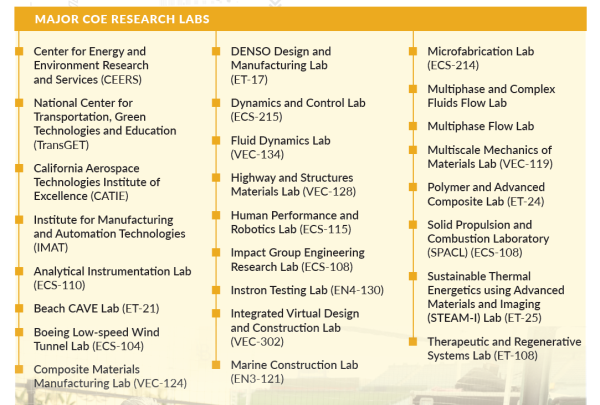 Industry partners currently have many avenues for accessing COE's intellectual capital, supporting student and faculty projects, and enlisting faculty and student assistance on technical issues and problems. However, these opportunities are often ad-hoc, and managed by a range of COE players with undetermined results. 
An Industry Affiliates Program (IAP) would offer a clear gateway for companies and regional partners to explore broad research and project areas of common interest. An IAP would also provide a mechanism for creating dialogue between industry and academia. Having a clear and efficient process in place would allow industry partners to support student and faculty research and senior design projects, access resources in COE's more than 100 labs, and secure assistance with technical issues. 
Supported by annual memberships, IAPs have proven effective at major universities in creating dialogue between industry and academia. IAPs allow industry to gain access to faculty and student expertise and facilities without having to pay overhead. 
Create a COE Industry Affiliates Program to fund and disseminate COE research and student projects. 
---
Leverage Community Partner Expertise to Advance CSULB's Institutional Mission and Strategic Priorities

 
Image

Demand for graduates in various engineering fields fluctuates as new technologies are harnessed to solve world problems. To keep our engineering curriculum cutting-edge, it's imperative that COE enlist advice from representatives from a wide range of industries. It's equally imperative that COE expand its Dean's Advisory Council and Department Advisory Boards to enlist representatives from emerging fields. Such actions will ensure that the council and boards remain relevant for guiding actions and curriculum. 
COE also needs to leverage key partnerships to secure naming opportunities for COE and its programs, facilities, and awards. Securing naming opportunities, a practice in place at many major universities, would advance relationships with important community partners and further COE's institutional mission and strategic priorities. 
Expand the Dean's Advisory Council and Department Advisory Boards to match anticipated growth areas. 

Secure endowment and naming opportunities for the COE and its programs, facilities, scholarships, and awards. 
Progress
COE Affiliates Program The COE has initiated the Industry Affiliates Program in AY 2022-2023. Membership fees support COE senior design projects, as well as some competition projects. Our senior projects are celebrated at the Senior Design Project Expo at the culmination of the academic year, with the first annual event held on May 4-5, 2023. We had 4 affiliate members in 2022-23 (SCE, SoCalGas, Sukut, and Swinerton). The first affiliate for 2023-24 is Raytheon.
Dean's Advisory Council New industries who joined the DAC in 2022-23 are represented by: Susan Brennan (CEO of 5E), Marwan Fawaz (former advisor to Google/Alphabet), and Tom Soderstrom (AWS). Other new members include: Mary Teichert (Teichert Inc.), Mike Guidry (Denso), Candace Givens (Northrup Grumman), and Lynette McKinnon (Boeing). Welcome all!
Endowments The COE received $499,800 in new gifts towards new and existing endowments in 2022-2023. These include the following named scholarships: David R. Avery, Dorothy Benveniste, Beavers, Hazel St. Clair Butler, Charmack Honors, Charmack BESST, Dr. Sheila Foster, James E. Green, Drs. Charles and Tracy Maples, Henry Sabado and Anonymous Alumna; as well as the Beavers Professor of Practice and the 100+ Women Strong Endowments. The total COE endowments are currently valued at $4.5M. 
Last updated Aug. 8, 2023
Image