Build a Growth Strategy
As student needs evolve, we must grow our capacity to offer new programs in new modalities and new locations to ensure that CSULB is relevant, competitive, and serving the public good. 
Grow Self-Supported Curricular Offerings

 
Image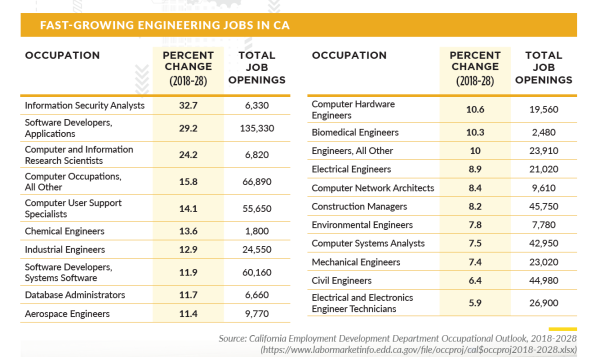 State funding for the California State University system fluctuates, and adopting new programs within the state-supported system can be a lengthy and cumbersome process. Self-supporting programs offered by the CSULB College of Professional and Continuing Education (CPaCE) provide an alternative. CPaCE is more nimble at creating new course programs, allowing students to secure education that they can quickly apply in emerging or cutting-edge technical areas. To ensure that new curricular offerings are successful, they should be centered around engineering occupations that exhibit strong projected job growth in the next decade, demand from both students and industry, and financial support from donors, grants, or companies. 
Identify engineering educational programs that have strong projected job growth in the next decade, in addition to student and industry demand, and financial support. 
---
Expand Alternative Instructional Delivery Infrastructure

 
With a growing inventory of AR/VR facilities and equipment, as well as substantial faculty expertise, COE is poised to further develop its AR/VR capabilities with the creation of a dedicated AR/VR lab. AR/VR has the potential for developing new and more impactful techniques for teaching engineering and STEM concepts. Beyond serving as an effective vehicle to convey complex concepts and provide immersive hands-on experiences, AR/VR can extend engineering education to students with a broad range of learning styles and disabilities. 
Integrate AR/VR into COE Curriculum (joint with Student-Ready University).  
---
Develop Capacity to Offer Programs Off Campus

 
Extending educational offerings beyond campus physical boundaries is an avenue many institutions are taking to reach new audiences of students.  Within COE, the Antelope Valley Engineering Program currently serves as a potential model. The accredited degree-completion program for electrical engineering and mechanical engineering students is operated in partnership with CPaCE, and the program is supported by potential employers such as the U.S. Air Force and Northrop Grumman. Courses are offered at Lancaster University.
Although in operation for nearly a decade, the program is still not self-supporting. Evaluating how to make AVEP sustainable would serve as an important step in developing the capacity to offer other off-campus programs. 
Evaluate satellite Antelope Valley Engineering Program, and consider ways to make the degree-completion program self-supporting and sustainable. 
Progress
Engineering Programs with Strong Projected Growth Software developers, computer occupations, computer user support, construction managers, computer systems analysts, and civil engineers are the occupations with the strongest projected demand in the State of CA through 2028, according to labor statistics. Various stateside and self-support degrees and certificates are under consideration at this time. BS and MS in Computer Science continue to be our most impacted programs, where demand exceeds our current capacity.
AR/VR Professors Emel Demircan and I-Hung Khoo have engaged with the company, Victory XR, to bring AR/VR technology to the senior design class in Biomedical Engineering. Professors Panadda Marayong and Praveen Shankar have an NSF-funded CAVE system that provides an immersive environment for flight simulations. Professor Vahid Balali uses AR/VR to simulate building construction.
AVEP The Antelope Valley Engineering Program has paused admissions while long-term solutions are being explored with regional stakeholders. 
Last updated Aug. 8, 2023
Image