BEACH Women in Engineering Conference 2024
Image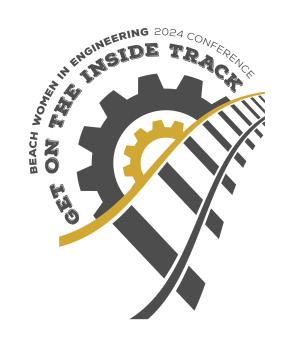 The Beach Women in Engineering Conference will be back for another year! 
Get on the Inside Track
Save the Date - Saturday, March 23
(Location to be Determined) 
 
Dean's Message
The College of Engineering and the 100+ Women Strong group are gearing up for another spectacular conference this spring! I hope that you will mark the date in your calendars, and be ready to sign up when registration opens on January 22nd. We will feature contemporary developments in our fields, as well as the professional soft skills that you will need to succeed in your career. It is never too early or too late to start exploring what comes after your degree – the more you learn about your options, the better you will be able to prepare, both inside and outside the classroom. Come be inspired, and learn from women who are blazing path in all sorts of engineering and computing fields!
I am really excited about this year's theme, Get on the Inside Track...we hope to connect you to the emerging fields and exciting work happening today, as well as help you build the professional networks that are key for being on the "inside track". What you know is critically important, but so is who you know and being in the know. We'll be posting conference details here as they are confirmed, so check back often!
Network with other engineering majors, faculty, and industry leaders, and hear from women engineers who've gone on to become successful in their fields. --Dean Jinny Rhee
Quotes from past attendees:
" I was inspired, empowered and felt connected to these women working in the industry! I am moved by the stories, experiences and journeys, the women had shared with us."
"Although I am only a high school student, this conference was a really great opportunity to further support women who are studying engineering and computer science, but also a great way to network. Thank you all for organizing this conference!!"
"You had great topics. I enjoyed connecting with the Chemical Engineering Faculty from Long Beach."
"Thank you so much to all the guests and moderators giving their time, advice and sharing their experience. The conference was very organized and amazing!"
"Note: CSULB events and scholarships are open to all CSULB students, regardless of sex/gender, race/ethnicity, religion, etc."