Machine-building, robot-making, finger print dusting, 3D pens, skull investigation, and rocket launching. It's all in a week's work for Dr. Cathrine Maiorca and her team of pre-service teachers at the College of Education's yearly STEM @ the Beach summer camp. The third annual week-long camp was filled with hands-on activities and lessons focused on building and understanding the intersections of science, technology, engineering, and math (STEM), with Dr. Maiorca at the helm. The program, funded by Fluor Corporation and led by Dr. Maiorca brings elementary and middle school kids to CSULB each summer with the goal of making STEM education accessible and to foster an interest in STEM careers. Supporting the activities through integrated lesson plans were a group of CED pre-service teachers who demonstrated their classroom skills and refined their teaching practice through the intensive camp.
Coming from area partner schools in Long Beach Unified, ABC Unified, and Norwalk-La Mirada Unified School District, as well as from Migrant Education, Region 10, this year's campers were led through activities and challenges that allowed them the opportunity to creatively solve engineering problems through hands-on building. Dayann Vazquez, a 6th grader and first-time participant shared what she loved most about camp, "I really enjoyed everything. I loved the robotics and engineering, and that every day was different. We got to build, which was really fun. I recommend this camp strongly. I'm hoping I can come next summer."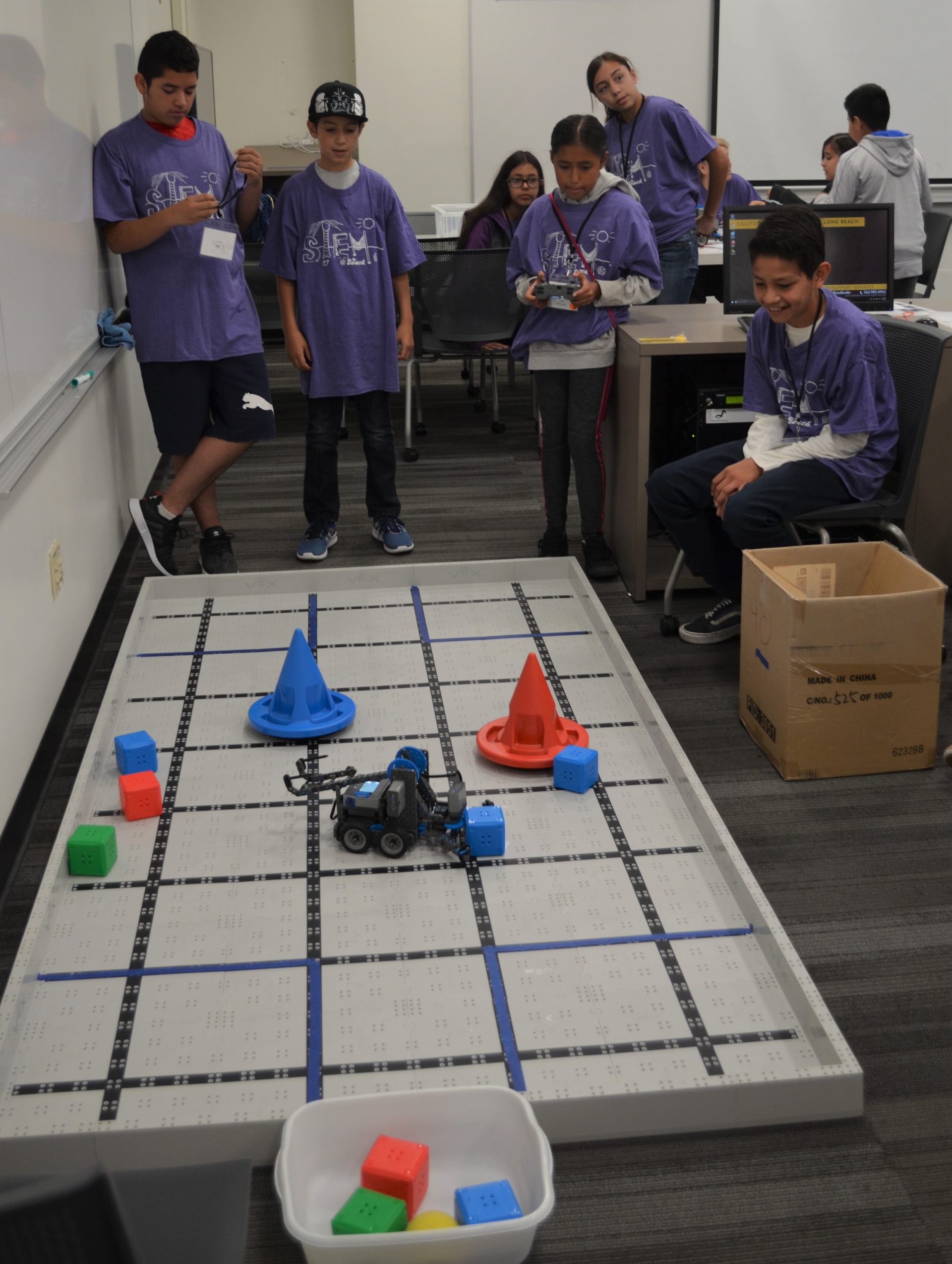 During Fluor's Volleyball Challenge, campers listened as Fluor engineers talked about different engineering career paths before building miniature volleyball catapults. Each group of students worked with paper, plastic cups, pencils, rubber bands, scotch tape, and their own ingenuity to construct and test their design. Working in small teams students cheered and yelled as their balls launched across the goal line. With each launch, engineers encouraged the students to think creatively and make changes to try again, pushing each project further.
[The Fluor Engineering Challenge] was a fantastic opportunity to observe the students working cooperatively, problem solving, and applying background knowledge to develop a solution to a problem. It was interesting to see the degree of perseverance the students demonstrated in improving their designs. The presentation on engineering by the Fluor representatives provided me with a more thorough understanding of engineering, its applications, and related careers," offered pre-service teacher, Megan Bachtelle-Willar.
In addition to being visited by Fluor Corp., campers had the opportunity to learn from Long Beach detectives about forensics
Just as important as the students participating in the camp were the College of Education pre-service teachers who planned and facilitated STEM lessons throughout the week. Pre-service teacher, Ashley Stewart shared of her experience,
I believe my interactions with the students at STEM camp provided me with some of the most important and practical lessons that I have received while enrolled in the MSCP [Multiple Subject Credential Program]. One takeaway was just how challenging it can be to give students ample time to find an answer on their own. Practicing when to step in by evaluating verbal and physical cues was great. I also learned just how different students can be. That might sound silly but experiencing one energetic and excited student working with a disengaged partner really drove home how important it is for educators to use UDL [Universal Design for Learning] in their classrooms, making sure all content is accessible to all learners.
Every year, STEM @ the Beach creates a unique learning environment where hands-on learning is fundamental to each lesson and children have the freedom to experiment with ideas. Perseverance is a constant theme in the camp. If a project isn't initially working, the camper is encouraged to continue trying, think of another strategy, and experiment. The pre-service teachers learn to be flexible and adapt lessons based on the students' needs throughout the week. Learning on both sides—the campers and the pre-service teachers—creates a positive environment where both students and teachers learn from each other.