Forum explores how to help students struggling with trauma
Published October 27, 2022
Many of today's college students are grappling with trauma, sometimes endured during childhood and sometimes during their collegiate years, so it is important for those working in student affairs to recognize the signs, understand the impacts and help foster healing.
That was the topic of this year's Cynthia Johnson Institute at Cal State Long Beach on Oct. 14, where students, faculty and staff heard from an expert in the field and discussed how they are helping students grapple with the same challenges.
The target audience was students in CSULB's Student Development in Higher Education master's degree program and student affairs professionals.
"We continue to see increasing mental health needs among college students, including the increase in students who have experienced psychological and physiological impact of trauma," said Dr. Paul Ratanasiripong, a professor in Cal State Long Beach's Educational Leadership Department who along with this year's Cynthia Johnson Fellow Tammy Nguyen led planning for the event.
"We hope that our graduate students will increase their awareness and skills for providing trauma-informed practice in the student affairs arena."
Dr. Jason Lynch, assistant professor of higher education at Appalachian State University's Reich College of Education, said a study of students at a four-year regional university in western North Carolina found:
56 percent reported that during childhood, a household member was depressed or mentally ill, or attempted suicide. More than a third had experienced verbal abuse; parental divorce or separation; or the feeling no one loved them.

During their college years, 77 percent had experienced severe anxiety or a depressive episode while 40 percent suffered the death of a loved one. More than a third had experienced an eating disorder or had thought about or attempted suicide.

The average student said "yes" to having experienced two of the adverse childhood experiences or collegiate trauma exposures listed.
Common responses to trauma include fear, irritability, diminished creativity, hypervigilance, minimizing, withdrawal, perfectionism and an inability to feel empathy for others, Lynch said.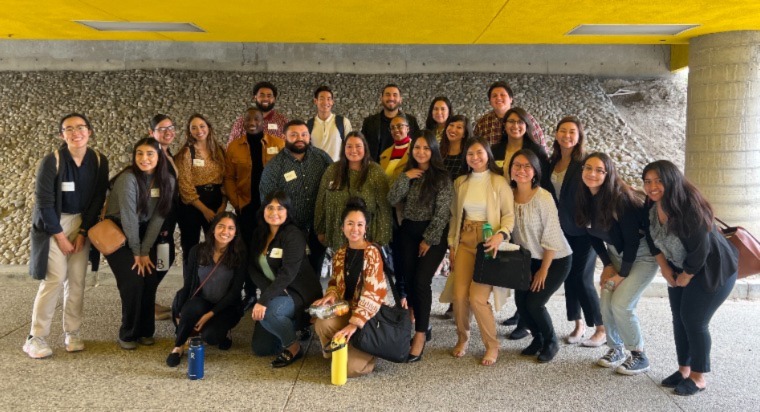 When Lynch asked CSULB students what signs of trauma they've seen in themselves and others since the COVID-19 pandemic broke out in 2020, the most common ones included hypervigilance, perfectionism, withdrawal, feelings of hopelessness and irritability.
So, what can student affairs professionals do about that?
They can help students reinstate feelings of safety, agency, belonging and dignity because trauma often interrupts those conditions, Lynch said.
He concluded by underscoring that trauma is individualized and can show up in unexpected ways. Student affairs professionals can help students build their resiliency, he said, but need to unpack and recognize their own traumatic experiences to be there for others.
"Keep a pulse on yourself. You are important, you are here doing great work, but you are also valuable as human beings," Lynch said.
"You don't have to be a helper all the time to everybody all at once. It's OK to take some time for yourself and do what you need to do so you can show up as your best self not only for yourself but for students."
Three local higher education professionals joined Lynch on a discussion panel to share ways they approach students dealing with trauma: Dr. Catherine Ward, chief of operations in CSULB's Division of Academic Affairs; Dr. Yvonne Portillo, department chair and transfer counselor at Golden West College; and Dr. Laura Marin, co-coordinator and counselor for the First Year Experience Program at Long Beach City College.
Their tips included giving students agency to voice opinions about their personal and educational needs, creating warm and welcoming spaces for students seeking help, and linking students with the services available to them.
Small things like offering snacks to students (because they may be food insecure) and being understanding when they don't want to turn their camera on during class or meetings (because they may not want to reveal their living arrangements) can make a big difference, they said.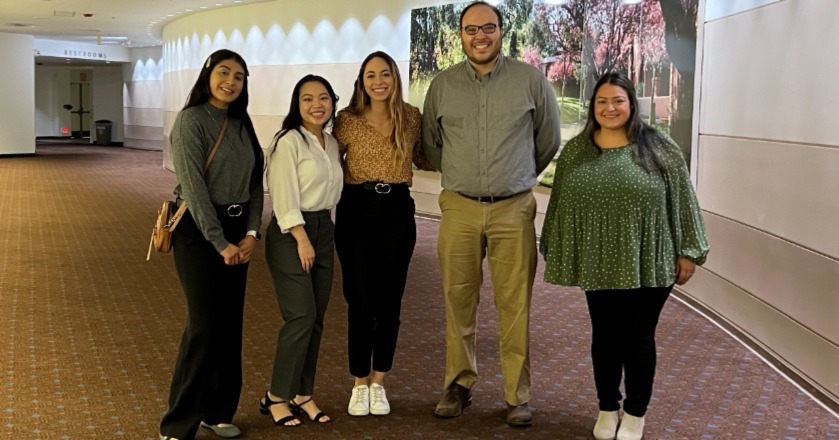 In the audience was Chris Marroquin, who is in his second year of the Student Development in Higher Education program. Trauma is a topic that gets discussed in the classroom but it's helpful to go deeper in a setting like the Cynthia Johnson event, he said.
"I think it will make me more empathetic and more understanding of the unique experiences we will be exposed to when we're supporting students from a variety of backgrounds," he said.
Marroquin works as a CalFresh assister in Cal State Long Beach's Basic Needs Program, helping steward students through the process of applying for aid that helps them purchase food. He's interested in continuing to work in student affairs at a four-year university after graduation.
The annual Cynthia Johnson Institute exposes future student affairs professionals to emerging issues and challenges they are likely to face working in two- and four-year institutions. The institute is named for the late Dr. Cynthia Johnson, who with Dr. Kay Goddard founded Cal State Long Beach's SDHE program.
Top photo: Assistant Professor of Higher Education Jason Lynch of Appalachian State University in North Carolina presents "Working Toward Trauma-Inclusive Campus Environments" at Cal State Long Beach Oct. 14. Dr. Lynch is regarded as an innovative thought leader in college student affairs.