College of Ed professor, student honored for work supporting Black grad students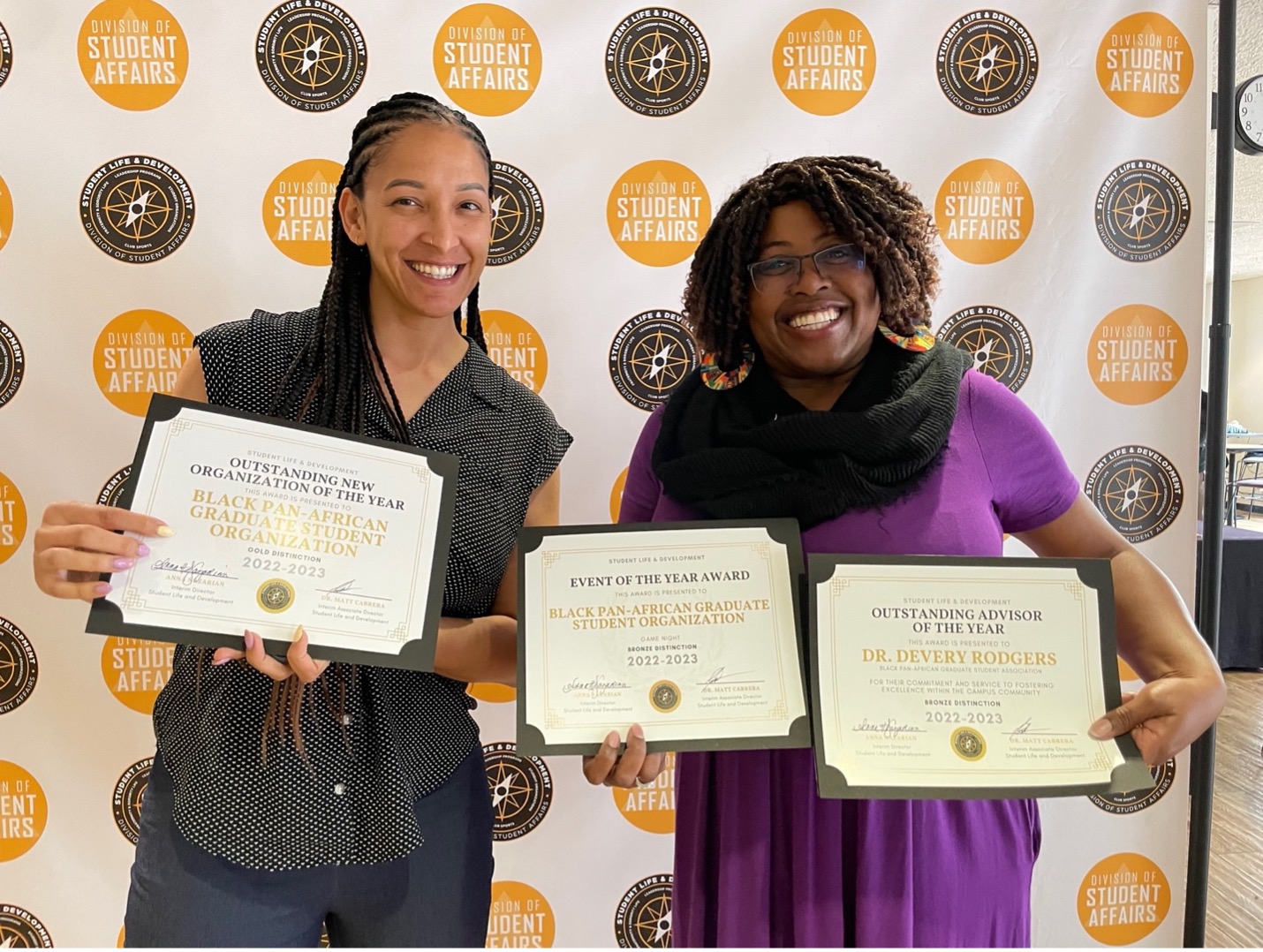 College of Education Assistant Professor Devery Rodgers and doctoral candidate Brittney Parker-Goodin received multiple awards from the Division of Student Affairs last week for their work launching the Black Pan-African Graduate Student Organization.
The new group seeks to create networking and other student-support opportunities for graduate students across campus, beyond their program cohort. The group's focus is supporting Black graduate students, but it is open to all students including undergrads.
The Black Pan-African Graduate Student Organization was named Outstanding New Organization of the Year, Gold Distinction. Its inaugural event, Game Night, was awarded Event of the Year, Bronze Distinction. Rodgers, who teaches in the College's Educational Leadership and Educational Administration programs, was named Outstanding Advisor of the Year, Bronze Distinction.
"We wanted a space not only to support Black graduate students in their education, but also just a place to network and find space to feel seen and to get to know other people across different departments on campus," said Parker-Goodin, the association's president. "There's just so few of us, and so this is an opportunity to do that."
Rodgers led the organization's charter as a result of findings from her Cal State Long Beach President/Provost-awarded Equity, Diversity and Inclusion study of the experiences of Black graduates in the College of Education.
She sought to explore why Black students make up just 4.5 percent of the Cal State Long Beach student body, including just 3 percent of College of Education students, and what could be done to recruit and retain more of them.
She found a lack of data around "insignificant" (meaning small) populations of students, minimal highlights of Black students on the College website, a need for facilitated spaces to connect students socially and academically, and lack of demographic representation among student colleagues and faculty mentors.
Her recommended actions included:
Publishing DEI work in student networks and better EDI data-sharing with faculty and staff;

Updating the College website with more diverse representation;

Working with university Institutional Research & Analytics to improve Black student data;

Strengthening peer support networks through a Black-Pan African Graduate Student Association and an annual CED Black Grad Meet & Greet;

Building a Black Alumni Relations mentoring program; and

Hiring more Black faculty.
Parker-Goodin is a special education teacher at Cerritos High School and in the third year of her doctoral program. She also earned her undergraduate degree, master's degree and teaching credential from the university.
She was particularly struck by research Rodgers cited showing that racially affirming spaces and affinity groups improve outcomes for minority groups but not so much for white groups because those spaces and groups are already available to them. It convinced her to take on a leadership role with the new organization.
The organization has about 15 members now. Over the summer, it will be strategizing how to recruit more, and what activities to launch, for the coming academic year.
"Graduate students have specific needs different than undergrads, so we want to carve space for those needs within the university," Rodgers said. "Additionally, being a Black graduate student comes with additional taxation in which the Black/Pan African Student Organization can relate.
"Dr. (Stephen) Glass and I were able to host our first Black Grad Game Night in the virtual space of 2021, and with the development of BPGSA, have been able to partner with other Black student groups for the sustenance of this eve of connection. We look forward to helping BPGSA fulfill its mission to provide a sense of belongingness for our Black grads."