Champion of inclusive education leads Liberal Studies
Published October 11, 2023
When Nat Hansuvadha was a special education teacher 20-plus years ago, she felt powerless to make the changes she believed would best help her students, especially including them academically and socially in more general ed programs.
Ever since, Hansuvadha has been building a career that empowers her to affect that change. She earned her doctorate, taught and advised future and current educators, and now is leading the Liberal Studies Department in the CSULB College of Education.
After serving as interim chair for a year, Hansuvadha was appointed to the permanent position in May. Liberal Studies is the College of Education's undergraduate program for future teachers and with 1,100 students, is one of the largest Liberal Studies programs in the California State University system.
Being among undergrads is an "exciting place to be," Hansuvadha said.
"There's so much excitement among students when they are that young and brave and want to seek careers in teaching," she said. "And they're very in tune with social justice issues. So I can't say enough about how much I love this position."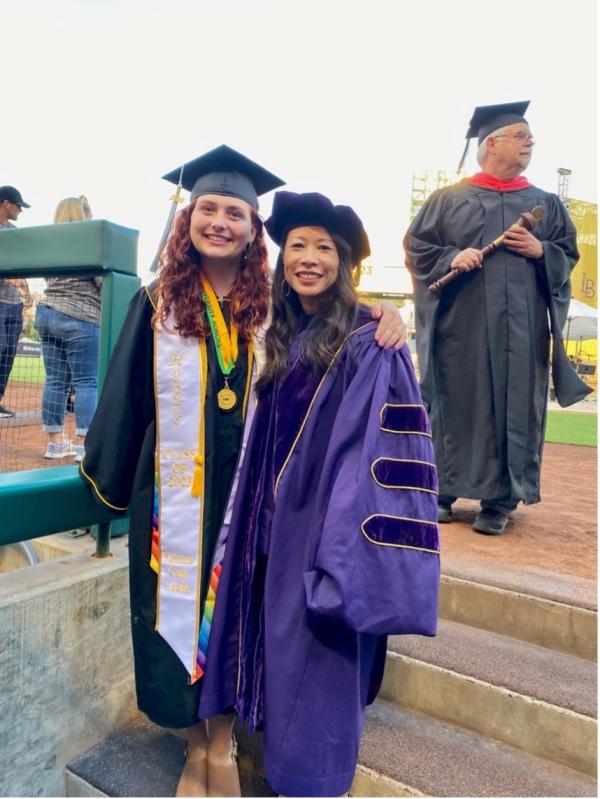 Hansuvadha is particularly excited about two new Liberal Studies programs this fall. The first is launching Beach XP, or Beach Experience, which will help first-time, first-year students establish peer networks, build career connections and "cultivate community through friendship and fun." Liberal Studies will have two 20-student Beach XP cohorts.
The department will also launch new recruitment initiatives for three new grant-funded programs- two which create an accelerated pathway, so students earn their bachelor's degree and special education teaching credential at the same time in four years. Scholarships will be available to cover tuition, teacher exam fees, and textbooks.
"It's new and innovative and it's going to produce future special education and early childhood teachers more efficiently," Hansuvadha said.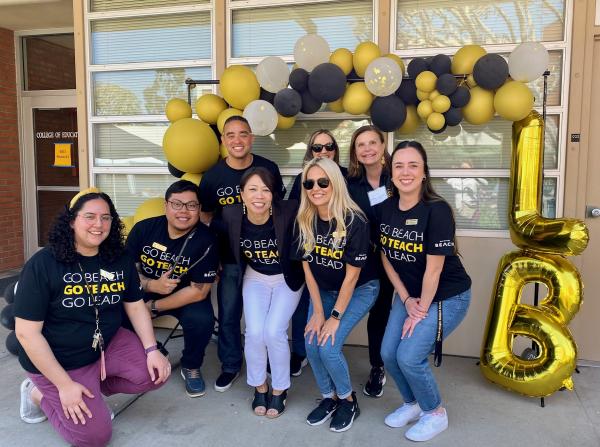 Hansuvadha, pronounced HAN SOO VAH DAH, is a Thai name. Her parents immigrated to Connecticut from Bangkok for her father's medical residency and later settled their family in Ventura County. 
She initially majored in biology at UC San Diego with plans to follow in her father's footsteps but was miserable in junior year organic chemistry. Meanwhile, she'd enjoyed her psychology classes, research projects, and tutoring students with learning disabilities, so she pivoted and earned a bachelor's degree in child psychology from UCSD in 1996.
When an opportunity to teach special education in Ventura County opened, Hansuvadha "blindly" said yes. It turned into a six-year elementary teaching career that she called a "wild ride."
"It was extremely demanding, but I felt really supported. And I loved the relationships that I built with the students, the families and our special education team," Hansuvadha said.
"They wanted someone who had high expectations for and cared about them," she said of the students. "And for me, that came naturally and was fun and challenging. And it was so rewarding when you saw their academic, behavioral and emotional growth."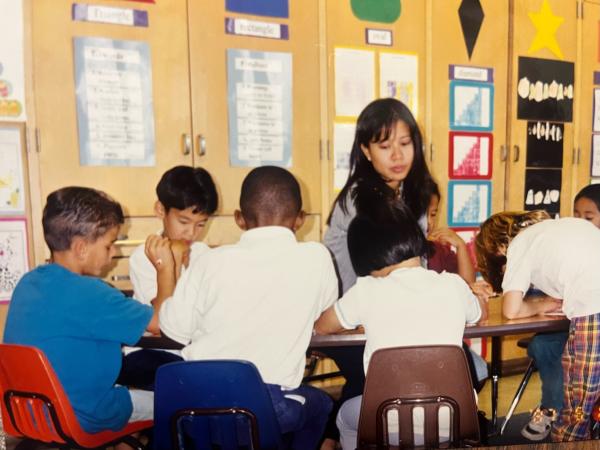 Toward the end, however, Hansuvadha felt she lacked the knowledge and agency to advocate for more inclusive opportunities for her students. UNICEF defines inclusive education as all children in the same classrooms in the same schools and says it's the "most effective way to give all children a fair chance to go to school, learn and develop the skills they need to thrive."
Hansuvadha also saw gaps between what she was learning in her special ed credential and master's degree programs at Cal State Los Angeles and what was happening in the schools. She felt many general education teachers misunderstood and underestimated children with disabilities and felt inadequately prepared to support them.
So she moved north to earn her doctorate in special education from the University of Washington in 2006. While there, she was a teaching assistant for future single subject teachers and fell in love with the teacher preparation field.
Then while interviewing for jobs in academia, Hansuvadha fell in love with Cal State Long Beach.
"Everyone I met on campus was so committed to the campus community and the students. They all seemed to have this longevity," she said. "When I left [the campus visit], I had this peace of mind like, 'Wow, I want to be part of the Long Beach community.'"
From 2006 to 2018, Hansuvadha was an assistant and then associate professor in the College of Education, teaching undergraduate, credential, and master's-level courses in action research — meaning learning by doing — special education, collaboration and behavior management. Her focus was always on inclusive education.
In Fall 2014, Hansuvadha coordinated the Master of Science in Special Education program, leading outreach, recruitment and admission of candidates and ensuring admitted ones met their academic milestones. She promoted to full professor of special education in 2019 and interim department chair of Liberal Studies in 2022.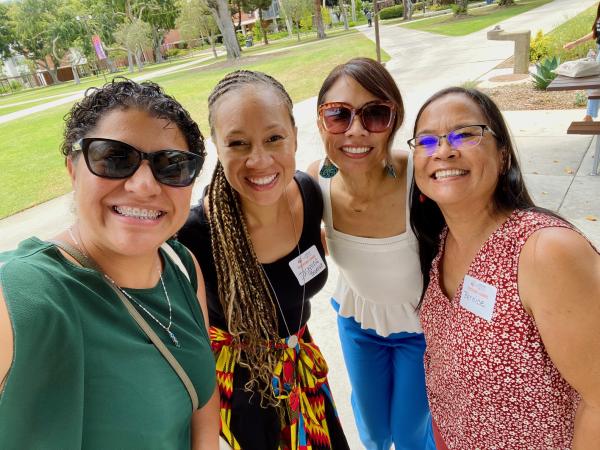 Hansuvadha helped design and taught in the Urban Dual Credential Program, a blended multiple subject and education specialist credential program that prepares students to teach students in both general and special ed in two years. It not only prepares teacher candidates more thoroughly but helps knock down the silos that build up between general and special ed programs, she said.
"They really understand all sides of what it's like to be both a general ed teacher and a special ed teacher, and they're so effective," Hansuvadha said of UDCP graduates. "It would be my dream that all future teachers get that kind of really solid comprehensive training."
Even with a full plate of department chair duties, Hansuvadha continues to teach. One of her favorite courses is Community Inclusion, a graduate course in Applied Disability Studies that brings together students from a wide variety of fields including social work, psychology and education. She says it helps keep her grounded.
Hansuvadha is also on the leadership team of the national Collaboration for Effective Educator Development, Accountability and Reform (CEEDAR), which works with states, higher ed institutions and local school districts to advance inclusive educational policies and practices that ensure all children leave school college- and career-ready.
Hansuvadha has also worked to recruit more special education teachers by partnering with community colleges to plan outreach events, revise curriculum, offer financial incentives and grow awareness of the field.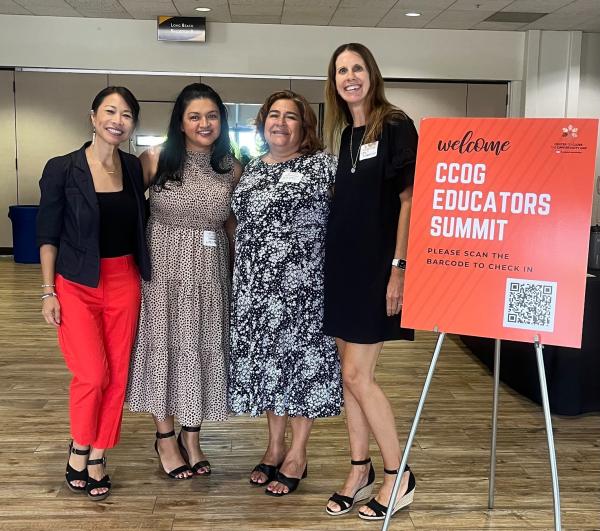 She's also a lead with the CSU Center to Close the Opportunity Gap, a multi-campus initiative that works to eliminate equity gaps in all levels of education. Every summer it puts on the Educators Summit; this year's theme was Joy in Teaching and Learning.
"Because of the pandemic, there's been so much heartache and talk of learning loss and grief," Hansuvadha said. "Now we're focusing on teaching and learning as a joyful human experience. I don't know why we haven't been talking about that all along. It's about time."