L.B. L.E.A.D.s
L.B. L.E.A.D.s aims to shift traditional power structures by boldly centering Black youth as change-makers and future educators* in the city of Long Beach. As leaders, Black youth will be positioned to shape the educational practices that impact them and their communities. L.B. L.E.A.D.s also will augment Black student college enrollment and timely graduation at CSULB and increase the number of Black educators thriving within the educational ecosystem of Long Beach. Black students at all levels will benefit from enhanced culturally-affirming educational practices modeled by L.B. L.E.A.D.s.
Our approach comprises three integrated core components to include: (1) Expanding a vibrant network of local Black youth, (2) Establishing smooth pathways for future Black educators, in partnership with community-based organizations and local educational organizations, and (3) Preparing educators* who exhibit equity-minded and culturally-affirming educational practices.  
What sets L.B. L.E.A.D.s apart from previous efforts dedicated to increasing Black college enrollment and diversifying the educator workforce?
Re-directing power to Black youth to lead!
Uprooting racial inequities and rebuilding viable educational pathways and communities requires innovation beyond traditional reform efforts and deficit-minded narratives. L.B. L.E.A.D.s will create new collaborations and re-envision current partnerships through the eyes and voices of Black youth.
*Educators are broadly conceptualized to include teachers, counselors, principals, coaches, student support professionals, advisors, professors, etc.  Educators prepare all other professionals in some capacity.
Within the California State University (CSU) system, 74% of the total student body population identify as Students of Color. However, Black students, ages 18-24, only comprise 4% of the CSU student population when they are 6% of the state population. While underrepresented at the CSU, Black students are overrepresented at for-profit universities, further contributing to the financial burdens of obtaining a college degree. For Black students who start at a community college, only 3% transfer to a university within 2 years, and 17% transfer within 3-4 years, further compounding their time to degree completion.
Declining Black student college enrollment magnifies the lack of clear future Black educator pathways in California. Black students in the state greatly outnumber Black teachers and only 1% of the state's teaching force identifies as Black male. In Long Beach Unified School District, 7% of teachers are Black while 14% of the student population is Black.  With less than 2% of Black candidates enrolled in credential programs in the CSULB College of Education, we are facing a shortage of Black teachers to serve as role models in our K-12 schools.
L.B. L.E.A.D.s centers the needs, concerns, and voices of Black youth–positioning them to develop into leaders and future educators with bold solutions to systemic racial inequities. Our solution has Three Integrated Core Components all designed to uplift Black youth as change-makers along educator career pathways:
Expansive Network of Black Youth (The Council)

Through the formation of a city-wide network (The Council) of Black students, from middle schools through post-baccalaureate studies, Black youth will learn from each other and serve as positive peer role models. Our K-12 youth will learn from and interact with college students, and our teacher candidates in post-baccalaureate programs will engage in and learn from the lived experiences of our urban Black youth. This multi-level and multi-directional mentoring will foster leadership and advocacy skills, facilitate the development of extensive social networks, and reiterate our interconnectedness as African descendants. 
 
Future Black Educator Pathways

In partnership with Long Beach Unified School District (LBUSD), community-based organizations, and local colleges, Future Black Educator Pathways will support middle and high school, community college, and undergraduate students in their pursuits to become educators. These pathways will include asset-based models for academic, social and emotional development, pre-professional educator internships for early exposure to different education careers, summer college residence programs, and local and international community service opportunities. Students in the Future Black Educator Pathways will actively participate in The Council and its networked activities and supports and The Council will serve as a youth advisory for the pathways. We are committed to ensuring that Black students and teacher candidates matriculate and graduate within expected timelines along the entire pathway from middle school to post-baccalaureate education and thriving employment as educators.
 
Ed-Equity Fellows Program

This component of L.B. L.E.A.D.s is designed to provide current and future educators with professional learning and coaching in culturally-affirming and racially-responsive educational practices. Ed-Equity Fellows initially will be selected from the two middle schools and two high schools within the Future Black Educator pathways. Fellows will engage in professional learning communities focused on racial healing, anti-Black racism, Black history, Afro-centric pedagogies, and culturally-affirming practices and demonstrate effective strategies in engaging Black students. Ed-Equity Fellows will be positioned to model culturally-affirming practices and coach other educators in demonstration classrooms and leader spaces. Black youth from The Council will provide multi-directional mentoring and feedback to fellows in the program.
By positioning Black youth as educational changemakers, L.B. L.E.A.D.s is designed to have an enduring, positive impact on the Black community in Long Beach, while modeling systemic social change for racial equity. L.B. L.E.A.D.s is grounded in historically viable approaches to youth-advocacy, participatory community action, culturally-affirming educational practices, and a structural focus on racial equity in education.
Robust research supports the project's potential for long-term impact in several areas:
Youth as Social Changemakers.  Meta-analyses on the potential of youth to catalyze social change demonstrate the tremendous community- and national-scale influence young people can have in affecting change, particularly when engaged in shared power through partnerships and in an advisory capacity (Ho, Clarke, Doughty, 2015).
 
Thriving Impact of Black Educators on Black Students. Research documents the positive impact Black educators have on the long-term thriving of Black students. For Black youth, having even one Black teacher in elementary school results in a 13% chance of attending college (Gershenson, et al, 2018). Students of all races benefit from engagement with a diverse educator workforce, yet few students of any race ever have the opportunity to have a Black teacher, counselor, or professor.  Contemporary movements like Black Lives Matter at School specifically call for more Black educators.
 
Culturally-affirming Education. Over the past 20 years, extensive studies indicate the importance and value of culturally- and racially-affirming and sustaining curriculum, pedagogies, and educational practices for historically marginalized and minoritized students. The Ed-Equity Fellows and Future Black Educator Pathways components of L.B. L.E.A.D.s will embed culturally-sustaining pedagogies and highlight Black history and Afro-centric curriculum to promote racial healing and racially-responsive professional learning and practice.
 
Systemic Racial Equity. The Urban Institute's 2020 meta-review of 16 cross-sector community initiatives to systematically advance racial equity revealed that shifting power, resources, and control and truly engaging marginalized community groups were key to enduring changes. L.B. L.E.A.D.s uses these Urban Institute study findings as a framework to guide systemic change.
Image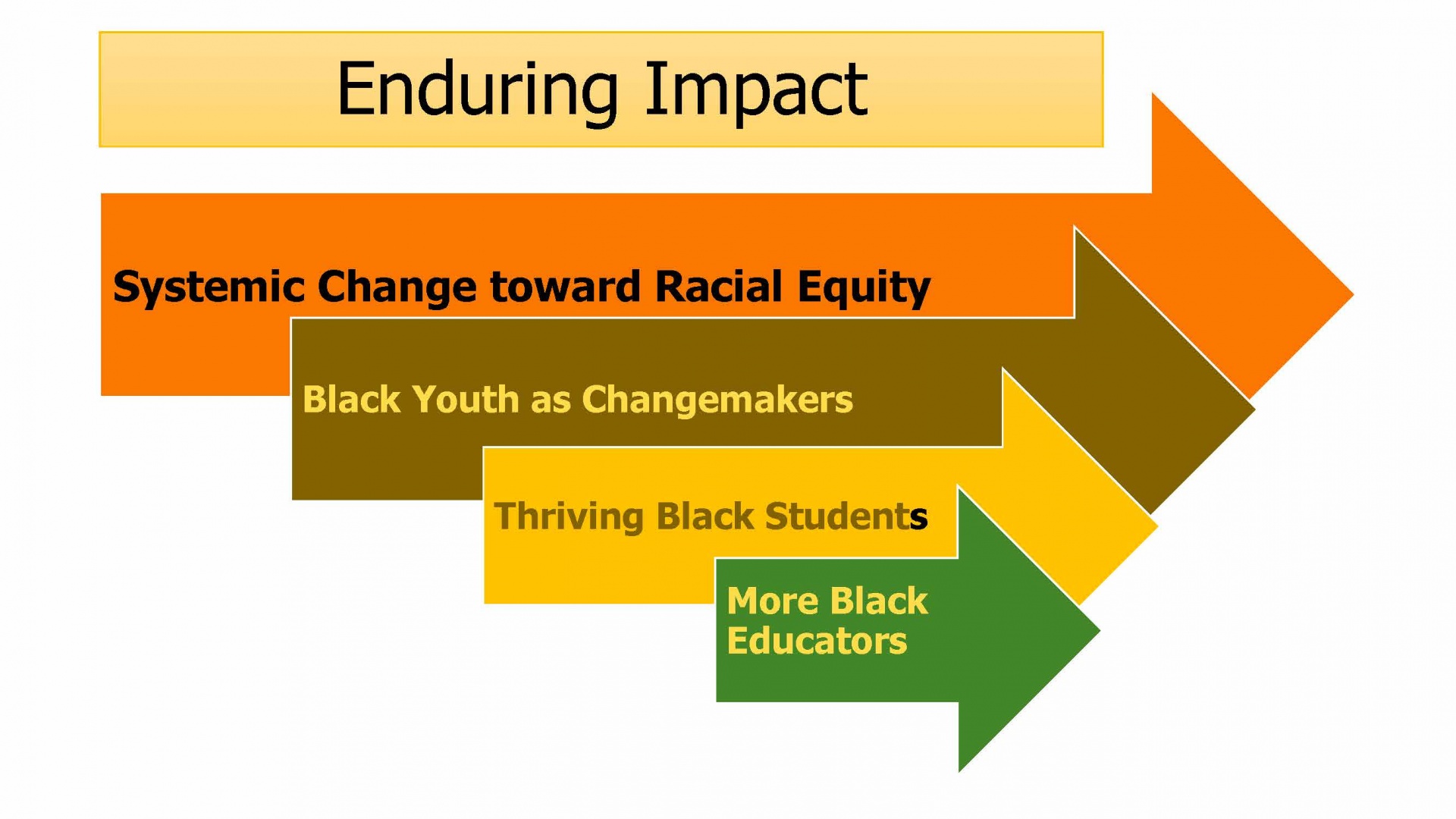 L.B. L.E.A.D.s is taking a unique approach to establishing its team by putting Black youth at the center as the True Team       

Image

The Council
of Black youth as aspiring future educators.
To uplift Black youth as change agents and leaders, we will expand an existing social network of students and represent the schools, colleges, and community organizations in the Long Beach educational ecosystem. The Council will establish its own mission, goals, activities, bylaws, and communication center.  Membership will build upon the current CSULB Black Student Union, the College of Education's Mary Jane Patterson Scholars for Urban Schools, Black student club at Long Beach Community College (LBCC), and the Student Equity Council at Long Beach Unified School District (LBUSD).  An open invitation will be extended to all Black-identified youth ages 13-25 to participate in the networked council.  To give Black youth financial power and build decision-making and resource capacity, The Council will organize a call for and review of mini-grant proposals from community-based organizations who can best offer expertise in The Council's identified areas of need.  The Council and community-based organizations will function as the primary L.B. L.E.A.D.s team to provide multi-directional/multi-dimensional mentoring, family support, financial planning, community and digital projects, international exchange with Kenyan students, academic and college readiness support, and leadership capacity building.
CSULB's College of Education (CED) faculty and staff group (pictured below) will serve as a preliminary planning and support team, particularly with the Future Black Educator pathways program in partnership with LBUSD and the Ed-Equity Fellows program. With input and direction from The Council, the CSULB educator support team will liaison with LBUSD in establishing the Future Black Educator pathways program in four schools (two middle school/high school feeder patterns) and ensure integration of the three core program components. The CED planning group also will work closely with evaluators to collect data and ensure grant project outcomes are accomplished.
Image