SchoolsFirst Federal Credit Union Gift Reduces the Burden of Testing Fee for Student Teachers
In 2015, the College of Education at CSULB received a 5-year $500,000 gift from SchoolsFirst Federal Credit Union to fund the UTEACH residency credential pathway, offering program support, recruitment stipends, and scholarships to students in this clinical practice program that prepares students for a Multiple Subject Teaching Credential. Two years later, the gift was amended to also fund the newly established Urban Dual Credential Program (UDCP), a two-year residency program which prepares students to earn both multiple subject and special education teaching credentials. Fast forward four years, today the SchoolsFirst Federal Credit Union gift meets essential needs for our student teachers, augmenting scholarship funding by paying their fees for two tests required for licensure: the RICA (Reading Instruction Competence Assessment) and Cal TPA (California Teacher Performance Assessment), greatly reducing a financial barrier for many.
Student testing fees may seem nominal in contrast to the total cost of tuition over the life of a credential program, but multiple required state licensure and test fees quickly add up. Until student teachers take and pass these exams, they cannot be recommended for a teaching credential. In addition, student teachers are required by the Commission on Teacher Credentialing to fulfill 600 hours of student teaching. This required student field work is unpaid, and compulsory to successfully demonstrate a student's Teaching Performance Expectations. This clinical practice time is extremely valuable to both the student teachers and their master teachers, but it can make employment outside of school hours challenging.
Dr. Shireen Pavri, Dean of the College of Education shared, "For some students who have exhausted their financial aid and have not been employed due to full time student teaching, paying additional test fees can be an insurmountable hurdle. By paying for these test fees, the SchoolsFirst Federal Credit Union gift gives these students the encouragement and support required to successfully complete their credential program and go out to make a positive impact in the lives of so many young people in our community."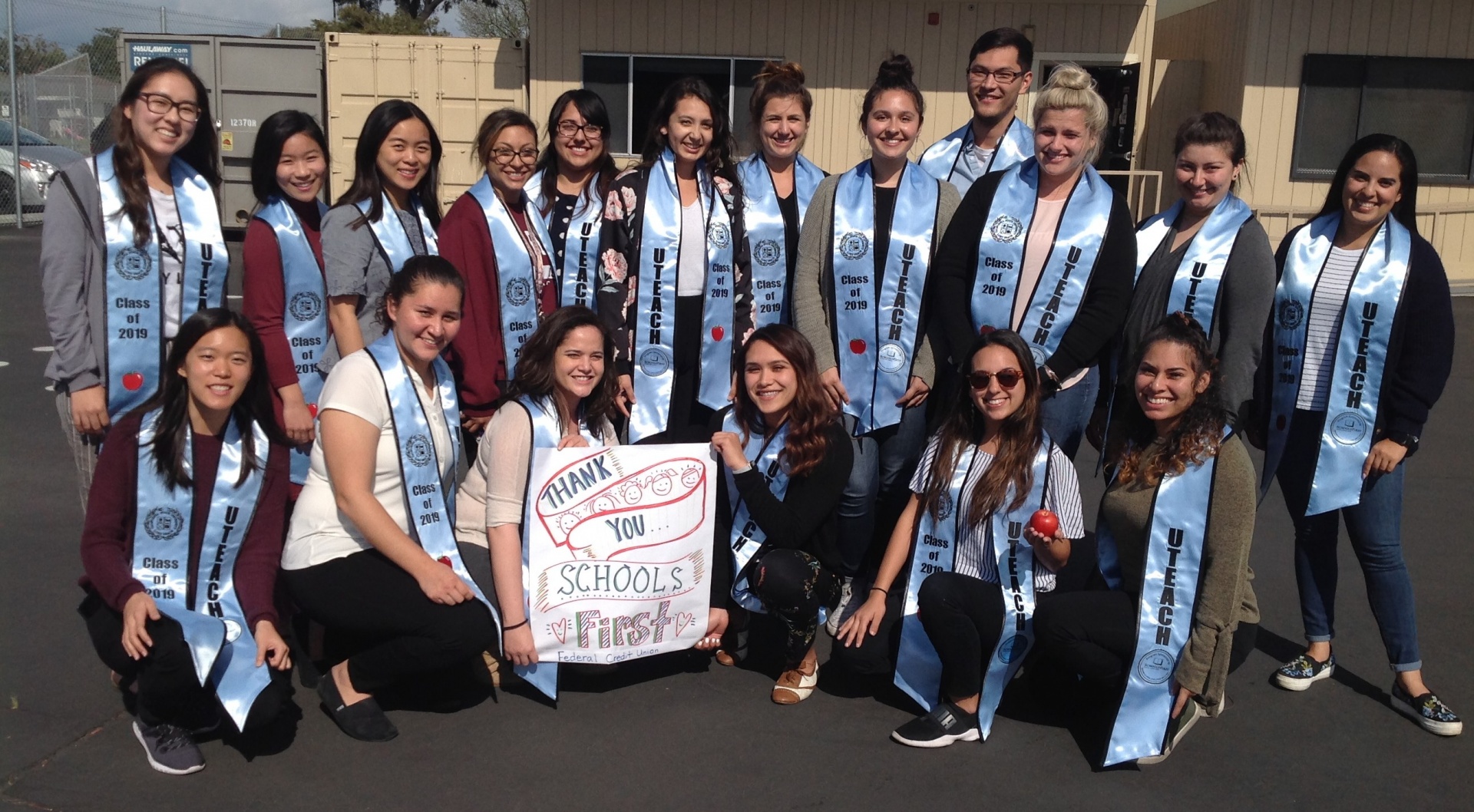 Student teachers working to complete their credential can expect to take four exams, which can amount to almost $700 per student. Interim Associate Dean, Dr. Paul Boyd-Batstone explained,
Now just imagine working for a year without compensation and also having to pay for multiple high stakes assessments. This is where we owe a huge debt of gratitude to SchoolsFirst Federal Credit Union. With the SchoolsFirst Federal Credit Union gift, every teacher candidate in UTEACH and UDCP are not only given an academic scholarship, but they also have the exam fees reimbursed for the RICA and Cal TPA. Recent data reports revealed that recipients of this concrete help with the cost of required assessments have passage rates that far exceed the norms in California. UTEACH and UDCP students pass RICA at a greater than 90% passage rate, and at a 99% passage rate for the Cal TPA.
The impact is tangible. This kind of concrete support to our students, many of whom are first generation college students, creates pathways to success for our quality residency programs. Please join SchoolsFirst Federal Credit Union and support our future teachers. 
UDCP student, Aimee Sarabia agrees and offered, "In my opinion, having our test fees paid for was immensely important. Eliminating this cost benefits the student teacher because that added stress is gone. We can then focus that time and energy on what truly matters: our own students. I was benefitted by SchoolsFirst Federal Credit Union and their support because I didn't have added stress by also working a part-time job while student teaching and taking methods courses. Having always worked two jobs while in school just knowing I had the funds to pay for very expensive tests alleviated some major anxiety. I could breathe easy knowing that that money was there for the TPAs and the RICA, all I had to do was study and do my best on them."
Recent UDCP graduate, Chloe Calder commented, "For others in the program, we have been in school long enough that we ran out of our financial aid. This is a really stressful thought going into student teaching, but again SchoolsFirst Federal Credit Union scholarships were able to take some of that stress away."
SchoolsFirst Federal Credit Union's support of UDCP and UTEACH enabled many students to embark on a career path to teaching, by providing significant stipends during their student teaching semesters. With the added support of student exam fee reimbursements, these same students benefitted by having a major financial hurdle removed for them, allowing them to focus on their goal to graduate and move on to positively impact their students and the community as teachers.
About SchoolsFirst Federal Credit Union:
SchoolsFirst Federal Credit Union is the largest credit union in the nation to serve school employees and their families exclusively. Since its founding in 1934, they have been focused on providing world-class personal service and financial security to their Members. All public and private school employees in the state of California are eligible for Membership.  Their founders consisted of 126 school employees who pooled $1,200 for the purpose of improving the financial lives of those with a common bond of education.  SchoolsFirst FCU takes to heart the "people helping people" philosophy, the principle on which credit unions were founded. Pledging themselves to this idea not only means steadfast dedication to Member service, but also actively supporting the communities they serve through events, donations, scholarships, and financial literacy programs.  SchoolsFirst FCU currently has over $15 billion in assets, more than 850,000 Members and over 1,900 teammembers.