Retired teachers support the next generation
Published October 20, 2022
For some 40 years, Long Beach-area retired teachers have generously supported, through scholarships and encouragement, the next generation of local educators.
They support students like Jethro Lee Llamido, who wants to teach social studies and be the kind of role model his wrestling coach was for him, and Griselda Navarro Mejia, who wants to pass on her love of art to young people as an art teacher.
And the scholarships can be awarded to students year after year. Alia Medrano, an aspiring elementary school teacher and then principal, has received the funds as both a Long Beach City College and Cal State Long Beach student.
That Long Beach tradition and the most recent beneficiaries of it were celebrated at a luncheon held at the city's St. Gregory's Episcopal Church Sept. 30.
The luncheon was hosted by the Long Beach chapter of the California Retired Teachers Association. The California and Long Beach RTAs award scholarships to students locally and statewide who are pursuing degrees and credentials to teach.
The funds come from estate gifts and donations from retired teachers, said Barbara Ellis, chair of the Long Beach chapter's scholarship committee. Most members of the Long Beach group taught locally and earned at least one degree from CSULB, she said, and want to pay forward the great education and life experience they've enjoyed.
"I owe a debt to the university for giving me a career I loved for 36 years," said Ellis, who earned her bachelor's degree and teaching credential from CSULB in 1964 and then taught in her hometown district. "I think that's how most teachers in our area feel.
"We also want to make sure other good people get a chance to fulfill their dream of going into teaching."
THE NEXT GENERATION
Llamido earned a $3,000 scholarship from the Long Beach chapter. A graduate of UC Riverside, he's now in his second semester of CSULB's single subject credential program and hopes to one day teach junior or high school social studies before going into administration.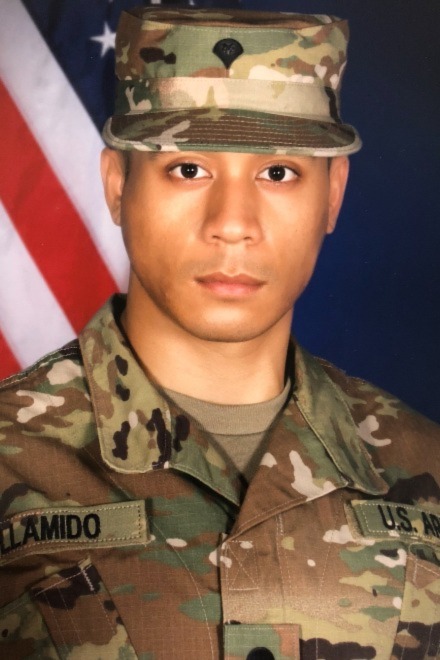 The scholarship money is helping cover tuition and general cost-of-living increases, supplementing what he earns as a substitute teacher in the Cerritos-based ABC Unified School District close to where he grew up. He's also an amateur boxer and serves in the U.S. Army National Guard.
"As a sub teacher, I am getting paid, but the work is on and off," Llamido said. "And it gives me more flexibility to work on my classes. It definitely helps with that work-life balance."
Llamido wants to be the kind of mentor and teacher that Francisco Soto, his wrestling coach at Norwalk High School, was and continues to be. Soto pushed him to surpass his limits on the mat, and it instilled in him a work ethic that helped during his years as an undergraduate student. Soto still offers him help, such as with letters of recommendation.
"They're really there for children, they're important role models for children," Llamido said of teachers. "Some kids see teachers more than their parents, and so you can have a really big impact on their lives."
For Navarro Mejia, a CSULB junior studying to be an art teacher, the scholarship money comes at a time she's grappling with housing insecurity.
"I'm couch surfing," said Navarro Mejia, the daughter of a handyman and a native of the Long Beach area. "So, it's helping me be able to afford some rent, even though it's not a stable set of housing that I'm in."
More long-term, the scholarship is helping her achieve her dream of teaching art in K-12 schools. She enjoys all types of art, from painting to creative writing to ceramics.
She'd originally planned to go into business and earned an AA in business from Cerritos College. But while volunteering to teach art in schools and day cares, she realized she should and could pursue a career she's more passionate about.
"I enjoyed seeing them grow," Navarro Mejia said of young students she taught, "and I realized I should try my best to get a career I will forever and always enjoy."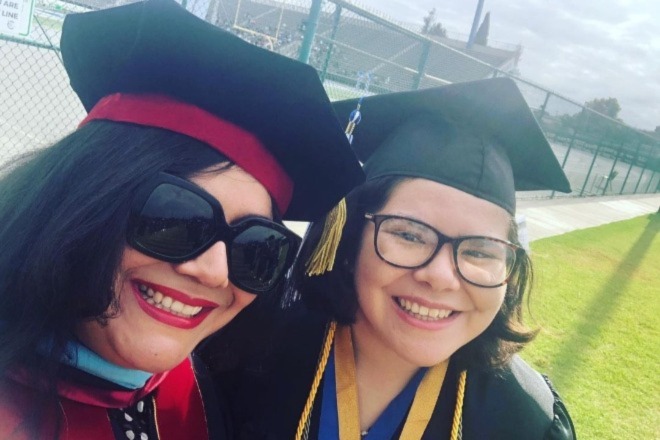 'THE BIGGEST CHEERLEADER'
Medrano almost didn't make it to her first scholarship interview with Long Beach CalRTA in 2019 because she was having trouble finding a babysitter for her then-2-year-old son, Ali, and she was barely off crutches following an accident that hurt her leg.
Then the teachers invited her son to come, too, and entertained him as Medrano answered their questions. The single mother of now a quickly growing 7-year-old has been receiving scholarships from the Long Beach chapter ever since. It has meant she hasn't had to work as much as she juggles motherhood, school and covering her bills.
As a transfer student, she has less access to financial aid than others, she said.
"I'm relaxed, I can concentrate more on my lesson planning, studying for the RICA (Reading Instruction Test), keeping up my GPA," said Medrano, who is in the last year of Cal State Long Beach's liberal studies program and is teaching fourth grade at Long Beach's Carver Elementary as part of the university's UTEACH pathway.
"…When you're a single parent, finances make a big difference and knowing that my finances are covered at the university level is so amazing."
Medrano also regularly meets with Ellis to talk not only about work and school but motherhood.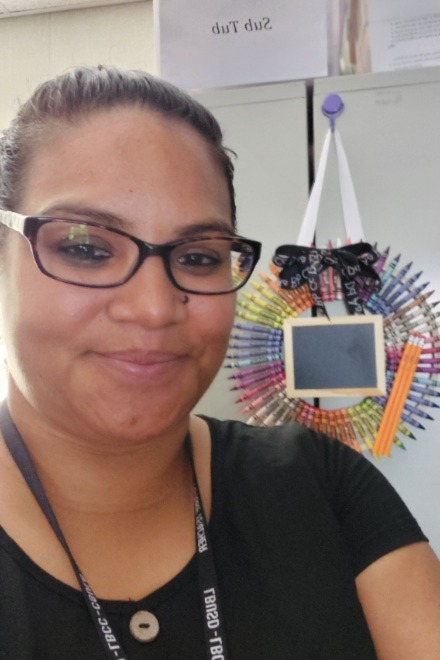 "She comes to the College of Education and says, 'Let's go walk and talk. Let's get lunch,'" Medrano said. "She makes me feel I belong in this world, like I have the biggest cheerleader in the world." 
Pictured at top: Recipients of scholarships from the California Retired Teachers Association and its Long Beach chapter were celebrated at a luncheon held at St. Gregory's Episcopal Church in Long Beach Sept. 30. L to r: Marisol Duarte, Griselda Navarro, Luna Buenrostro, Samantha Gelera, Sarah Boudreaux, Karina Olloqui, Claudia Blue, , Luis Quintero, Jethro Lee Llamido and Alia Medrano.