Hej Svenska Bibliotekarier! (Hey Swedish Librarians!) Lesley Farmer Returns from Sabbatical in Sweden
I was awarded a sabbatical this fall to work with school librarian educators at the University of Borås in Sweden. This university, which is located about an hour east of Gothenburg, offers the most extensive school librarian preparation in the country. I wanted to explore the school librarianship situation in Sweden first hand. Here are some of my findings.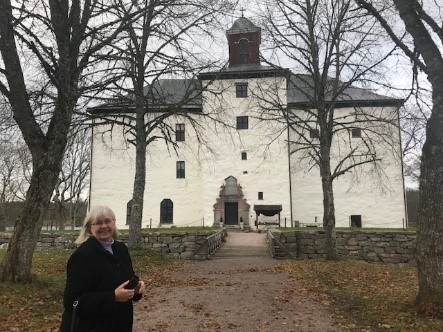 Sweden has about 4,000 school libraries, which are funded and managed by local authorities. The first national library law did not exist until 1996 with the Act on Library Services, which focused on public libraries. Many library associations lobbied for legislation that would support school libraries, and the National Authority for School Improvement funded pilot school library development. As a result, the Education Act of 2010 made the school library mandatory. Additionally, all Swedish curriculum was revised in 2017 to strengthen digital competence, and school librarians are responsible for supporting and empowering student in their linguistic and digital skills.
However, the reality is that several schools might share one collection or be served by an integrated public-school library, and about half of the students in Sweden have access to a school library that has at least half-time staffing; one third have no access to a school library. No legal set of qualifications for school librarians exists in Sweden, and decisions about librarians are made at the local level. Fortunately now, principals are explicitly required to address school library function and staffing, and must take training workshops to take action.
Recent national reports point out the important function of school libraries and librarians, and identify the knowledge and skills needed by school librarians. The government also provides funds to hire school librarians.
So it is no surprise that a librarian shortage exists for both school and public libraries. Five universities in Sweden offer library science programs, and Borås is the biggest, as well as the leader in school librarianship; they have twenty faculty members who teach courses for school librarians. The library school overall offer a bachelor's degree, two master's degree, and a joint doctorate program. They also offer four extension courses for practitioner school librarians.
I knew of this situation to some degree, which was my impetus to work with Borås school library science faculty. The faculty are overhauling their curriculum so I worked with them, with special attention to preparing school librarians with teaching backgrounds. The faculty will offer the revised curriculum in 2020.
I also guest lectured in three courses, conducted a research seminar on fake news, presented about school librarian preparation on a regional library conference, and presented a workshop on actively engaging students, especially in online learning environments. I also visited a library museum, top school libraries and regional media centers, and presented a keynote on US school librarians for eastern region school librarians.
What were some of my strong impressions? Faculty collegiality, reinforced by fika (coffee breaks) and social events. Emphasis on källkritik: source evaluation. Topical research groups who share their studies and collaborate on grants. Recent national attention and reports on school librarianship.
In sum, our exchanges have the potential to improve both Swedish and our campus's own teacher librarian programs.
Dr. Lesley Farmer is Coordinator, Teacher Librarian Services Credential and Professor, Educational Technology and Media Leadership in the College of Education.