CED Faculty & Student Projects in Costa Rica
College of Education (CED) faculty and students have been working with colleagues in Costa Rica on a series of projects that reflect the College's commitment to promoting global awareness. As articulated by the CED Conceptual Framework, "Promoting global awareness and perspective is an important objective for teaching and learning so that our candidates will succeed in local educational settings that are both more diverse and increasingly influenced by global forces and developments."
The educational activities of CED faculty with Costa Rican educators have taken many forms, including a short-term study abroad course, research on leadership and social justice, a joint assignment involving virtual tours of schools and communities, and multiple presentations.
Short-term Study Abroad Course
Image

Photo (left to right): Javier de Santiago, Maria Celis, Dalia Coronel, Hui Ting Huang, Stephen Adams, Chuck Mageean
Five College of Education Students traveled to Costa Rica in August, 2013 as part of a new study abroad course option taught by Dr. Stephen Adams. The study abroad option reflects not only the College's objective of promoting global awareness, but also commitments that are part of the CED's Mission of innovation, effective pedagogy, and collaboration. The course is a special version of the course ETEC 525 Digital Culture and Society, which covers material on the social implications and international applications of information technologies and media. This study abroad option builds on ongoing collaborations between the CED and the Centro de Investigación y Docencia en Educación (CIDE), which is part of Costa Rica's Universidad Nacional (UNA). Dr. Adams planned the study abroad option in collaboration with CIDE faculty Susana Jiménez and Fabian Rojas.
As part of the study abroad course, two students, Dalia Coronel and Javier de Santiago, gave presentations in Spanish at a symposium held at UNA, "Impacto de las TIC en la Educación." The other three students, Maria Celis, Hui Ting Huang, and Chuck Mageean, gave presentations in English in a university course for future educators. All students participated in symposium activities and small group discussions with students at UNA. The students also visited classes, computer labs, and a library media center at area schools. As a result of this study abroad option, some of these CED students, who are currently teachers in Southern California, are now planning educational collaborations with teachers they met in Costa Rica.
Research on Leadership and Social Justice
A project with a social justice focus is an example of the international involvement of CED faculty in areas that likewise reflect the CED mission, including leadership, scholarship, collaboration, and advocacy. Dr. Charles Slater (of the CED), together with Vicky Cerdas Montano and Nancy Torres (of UNA, Costa Rica), and Ian Potter (of Bayhouse School, Hampshire, UK) are investigating leadership practices related to social justice in Costa Rica, comparing them to those in England. The most recent outcome of this work was a presentation at the conference of the British Educational Leadership, Management & Administration Society in July, 2013.
Joint Assignment to Create Virtual Tours of Schools and Communities
A further educational project with CED and CIDE faculty and students is an example of innovation, effective pedagogy, collaboration, and scholarship. In the spring of 2012, Drs. Slater and Adams worked with two faculty members at UNA, Susana Murillo and Fabian Rojas, to create a joint assignment among two classes at CSULB and one class at UNA. Students in these classes created virtual tours of their schools and communities, and they used wikis to discuss issues related to culture and leadership. These faculty gave a presentation regarding this innovative project at an international conference concerned with teacher education and technology: the Society for Information Technology and Teacher Education.
Presentations
Image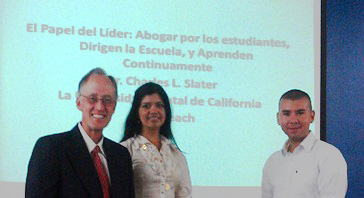 Image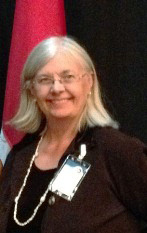 Photos (left to right): Charles Slater, Alma Castro, Steve Ortiz, Lesley Farmer
CED faculty and students have also been active in presentations in Costa Rica.
Presentations at UNA, Costa Rica
Dr. Stephen Adams, Dr. Charles Slater, and two Ed. D. students, Alma Castro and Steve Ortiz, traveled to UNA, Costa Rica from June 24 to July 2, 2012, for a series of presentations and workshops. The visit included meetings with faculty and students at two campuses: UNA in Heredia and Nicoya. Dr. Adams conducted two workshops for faculty on technology in higher education. The workshops discussed how a variety of technologies (e.g., student response systems, or "clickers;" ;videoconferencing; and virtual worlds) can support collaboration. Dr. Slater gave three presentations on leadership in education, including serving as the featured speaker for a new Costa Rican conference on leadership. Two Ed. D. students, Alma Castro and Steve Ortiz, each gave presentations related to their doctoral work in the program. In October 2011 Drs. Slater and Adams had traveled to UNA to attend a conference and give a presentation on leadership and technology.
Presentations at International Conference
Dr. Stephen Adams and Dr. Lesley Farmer gave presentations at an international conference in Costa Rica sponsored by Costa Rica's Ministry of Public Education: Abriendo Puertas a una Educación con Tecnología [Opening Doors to Education with Technology], held October 4 and 5, 2012. Dr. Adams' presentation concerned global tele-collaborative educational projects, including applications of web conferencing tools. Dr. Farmer's presentation concerned ways that school librarians can manage information technologies.
CSULB's International Education Committee provided support for the Study Abroad Option and the joint assignment project that helped catalyze these various activities.