NSF Grant helps CARS Lab keep tech hardware safe
Earlier this month, Amin Rezaei, assistant professor in the Department of Computer Engineering and Computer Science, was awarded $173,000 from the National Science Foundation for his work in computer hardware security. 
With more than a trillion microchips manufactured in 2021 alone, and production taking place all over the world, there are increasing vulnerabilities that the electronics industry must guard against. That's where Rezaei and his students in the Computer Architecture, Reliability and Security Lab come in. 
Image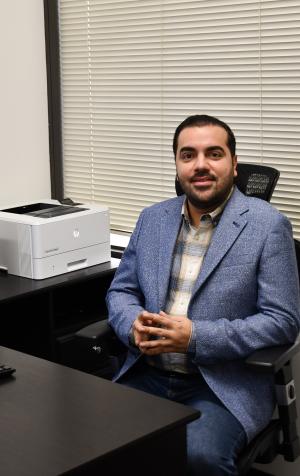 "An attacker can fail 99 defenses—and succeed in one—and win, but a defender fails if they stop 99 attacks but not the last one," said Rezaei. 
The latest microchips, whether it's in your cell phone or a fighter jet, are often designed, manufactured and assembled at different locations throughout the world. This leaves a lot of opportunities for bad actors to pirate information, install dangerous hardware or worse.  
Because the US patent system does not extend overseas, companies like Apple, Boeing and others have faced the issue of counterfeit hardware, for example. In fact, according to congressional testimony, some experts have estimated as much as 15% of spare and replacement electronics purchased by the US military are counterfeit. 
Rezaei has been trying to tackle the problem since his PhD, when he helped to define important concepts in a new standard approach in the industry—logic locking, essentially giving a microchip a key.  
Today, Rezaei's work combines logic locking with several other hardware security and reliability challenges, such as hardware Trojans and fault tolerance. 
"Logic locking helps solve the problem of piracy, but that's just one part," he said. "I'm trying to build a more unified solution against different hardware security and reliability issues." 
Annually, about 50 people receive the prestigious NSF Computer and Information Science and Engineering Research Initiation Initiative grant. Designed for early career professionals, candidates are only allowed to submit two applications in their career, and this was Rezaei's final attempt.  
"I like solving challenging problems," he chuckled. ""Plus, it's a great chance to pay my student researchers and diversify CARS-Lab even more." 
The grant will help Dr. Rezaei grow the CARS lab, involving more students in his research   
Rezaei believes his team can improve security for high-tech industries while also reducing costs. With testing showing promising signs already, the research is off to an exciting start. 
Image
"It's not easy, but we like solving hard problems," said Jordan Maynard, undergraduate researcher.  
The team use Field-programmable gate arrays, or FPGA boards, to simulate various conditions on microchips, testing and tweaking their solutions.  
"I really want to do well in the field. This great work experience," said Michael Dominguez, undergraduate researcher. 
With the grant helping Rezaei's research over the next two years, he's also excited for the opportunity to bring the work into the classroom. 
"At some universities, they might have top-level researchers and 20-year-old curriculum," he said. "One thing I like about CSULB is they close the gap, and we have the ability to involve students in recent projects." 
You can visit CECS or the CARS Lab webpages for more information.