$1.5-Million Grant to Fund AANAPI Student Success
Published October 4, 2022
Three College of Engineering faculty have been awarded a $1.5 million grant from the U.S. Department of Education to provide support to Asian-American and Native-American Pacific Islander students. The five-year grant, under the ASCEND: AANAPI Student Success Center & Development program, is expected to benefit about 2,200 AANAPI students in STEM.  
Image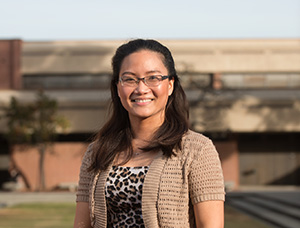 Principal investigator Pitiporn Asvapathanagul, an Associate Professor in the Civil Engineering and Construction Engineering Management Department, said the program is set up to provide direct financial support to about 500 AANAPI students in STEM.   
Asvapathanagul said she and co-principal investigators Yu Yang, an Assistant Professor in the Chemical Engineering Department; and Tongzhou Wang, a lecturer in CECEM; can relate to challenges facing AANAPI students in STEM.  
All three have worked to enhance opportunities for AANAPI students during their careers. Wang served as a MESA facilitator, an educational consultant in Southeast Asia, and monitored AANAPI student enrollment while serving on the COE Action Plan Task Force. Asvapathanagul participated in the University Resources Council and served as a Civil Engineering advisor. And Yang is the recipient of a U.S. Navy Impact Influencer Award due to his work in preparing minority students for futures in the military.   
Image

"With this AANAPI opportunity from the Department of Education, we are excited to contribute our insight and experience to develop a program plan to enhance our AANAPI students' academic and future career success," said Asvapathanagul.  
While Asians comprise roughly 15 percent of the population in Los Angeles County, the group experienced a 76 percent increase in anti-Asian hate crimes in 2020 and 2021. The COVID-19 outbreak exacerbated anti-Asian violence, with almost 30 percent of respondents to a Center for Public Integrity/ipsos poll reporting racial or ethnic prejudice since the outbreak began.  
The pandemic caused a rapid shift to online education and left many students burdened by a complex array of stressors, including concerns about health and safety, financial pressure because of job loss, and resurgence of anti-Asian racism, said Asvapathanagul.   
These factors discouraged AANAPI students from pursuing higher education. Asian-American enrollment at California community colleges declined by 20 percent in 2022, with a similar drop in enrollment at CSULB, which has been designated an AANAPI Serving Institution.   
The ASCEND Program seeks to foster a supportive and inclusive environment. With its close proximity to Cambodia Town, Little India, Little Saigon, and other ethnic areas, Asvapathanagul said CSULB is well-positioned to support AANAPI students.  
Asvapathanagul said there is a need for funding for course fees and student living expenses. Only about half of students receive financial aid, forcing the majority of CSULB students to pursue part-time or full-time employment to cover academic expenses. That has an impact on student grade-point averages and graduation rates.  
ASCEND will provide student scholarships to cover more costly winter and summer courses, which help balance course loads and decrease time to graduation. Asvapathanagul said departments will be notified of the scholarships and urged to offer more senior classes in the summer.   
The program will offer tutoring on specific courses, as well as research training, leadership development, and other support services for the target audience. Funds will also be made available for conference participation. Eventually, the program aims to develop a financially sustainable ASCEND Center.