Dr. Shaun R. Harper: Educators' collective action can beat back "evil"
Published February 20, 2023
Nationally renowned professor, writer and racial equity expert Dr. Shaun Harper delivered a powerful lecture on some of the root causes of violence and racism, and how educators can collectively interrupt such "evil," at a College of Education-hosted event at Cal State Long Beach Thursday night.
Harper is a university professor at the University of Southern California and founding executive director of its Race and Equity Center. His talk, "Accepting Educational Responsibility for an Equitable and Inclusive Nation," was this year's Veffie Milstead Jones Endowment Lecture.
Harper argued that educators are complicit in and responsible for "sending people into the world to do evil things" when they succumb to pressure to avoid talking about racism and leveraging their collective voice to fight racism, homophobia and xenophobia. He described the mass protests that broke out across the nation following the murder of George Floyd by a police officer in 2020 and said that kind of sustained action is what's required.
Harper played video of, among other horrors, the Charlottesville "Unite the Right" rally, Floyd's killing and news coverage of mass shootings in Orlando, Las Vegas and Newtown, Conn.
"Imagine if thousands or even millions of educators took to the streets and said we are not going to return to our campuses and our classrooms until and unless legislators do something about the ever-looming threat of school shootings and gun violence the same way that teachers take to the streets when they don't get pay raises that they deserve," Harper said, making it clear he supports teacher pay raises.
"When we as educators fail in this way," he went on to say, "we become complicit in what we just saw in the video presentation."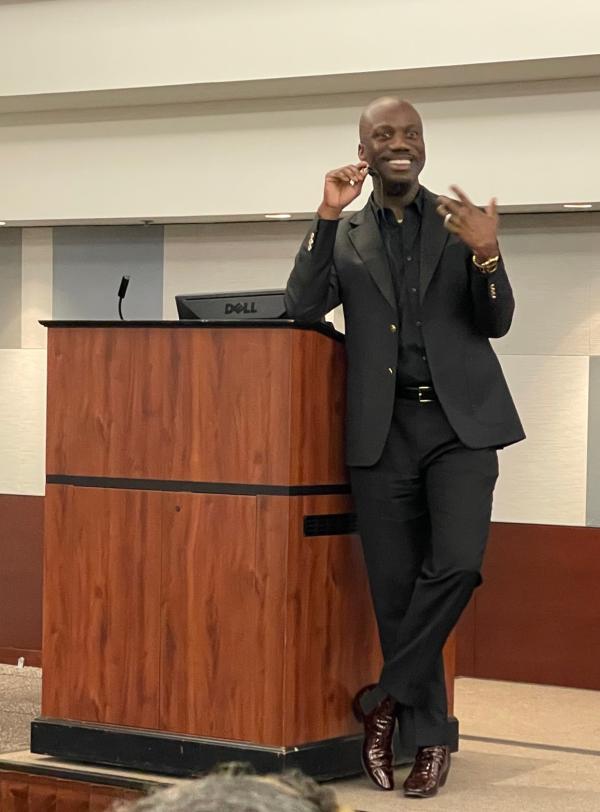 There is evil in education, too, Harper said.
It shows up when students of color don't have same-race teachers or white teachers who can affirm their brilliance and belongingness, he said. It shows up when they are under-identified for gifted programs and are disproportionately suspended for ridiculous behavior while white children get away with the same or worse acts.
And, Harper said, it shows up when schools erase Asian American, Pacific Islander and multi-racial students and educators, normalize segregated schools and resource inequities, and neglect to tell students the truth about America's racial past and present.
"I think that is a serious threat to our democracy," he said of what he called "racism denial," "and that we as educators have a responsibility to counter these threats to our democracy."
Harper attributed racism denial to some people being racist; people only thinking of individual racism and not systemic racism; many not interacting with those whose experiences are different from theirs; and large numbers thinking that if they and their friends aren't racist, racism doesn't exist.
The National Assessment of Collegiate Campus Climates showed most students go through four, five or six years of undergraduate study without learning anything about racism, other racial groups and implicit bias, Harper said.
"We just send those people off into the world to govern, to lead, to teach, and that makes us educators complicit," he said.
That inexperience, which is also common among master's and doctoral students studied, fuels a continuing uncomfortableness with confronting racial realities, Harper said.
Cal State Long Beach student Chanel Lee asked Harper what advice he has for up-and-coming educators who "need to be able to speak the truth to children, which sometimes can be uncomfortable."  Lee is pursuing a bachelor's degree in child development and family studies and is in the university's Teachers for Urban Schools initiative to boost the number of teachers of color in Long Beach.
Harper's response: Don't try to do it alone, do it in coalition with others, and don't wait until there's a crisis — because there's already a crisis. And educators need to expend the same energy they did after Floyd's murder in fighting the miseducation of Americans, he said.
Harper concluded with the positive message that children give him hope. A "delightfully high number" think homophobia is stupid, for example, he said.
"If we can help young people understand how they're being lied to, maybe, just maybe, they themselves will start a campaign like, 'No, don't lie to me,"" Harper said.  "It could be that young people will be the folks who will help at least accelerate the change that we're seeking."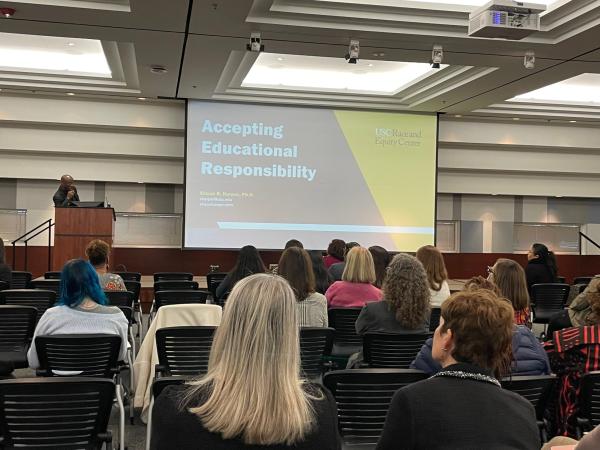 The annual Veffie Milstead Jones Lecture is supported by an endowment resulting from the generosity of Veffie Milstead Jones, a onetime elementary school teacher in the Long Beach Unified School District who donated $700,000 to what is now the Cal State Long Beach College of Education.
The endowment seeks to support the College's work preparing teachers and others to promote student learning and success in urban schools and communities.
Harper has published 12 books and more than 100 academic papers. His research has been cited in more than 20,000 published studies across a vast array of academic fields and disciplines.
The New York Times, Washington Post, Wall Street Journal, Chronicle of Higher Education, and several thousand other news outlets have quoted Harper and featured his research.
He has served on President Barack Obama's My Brother's Keeper Advisory Council; on the national education policy committee for the Biden-Harris Campaign; and on California Gov. Gavin Newsom's statewide task force on education, racial equity, and COVID-19 recovery. In October 2020, President Joe Biden appointed him to the National Board for Education Sciences.
That impressive resume made him a great fit for the VMJ Lecture Series, Tim Keirn, director of the College of Education's Single Subject Credential Program, said when introducing Harper.
"It's really an honor and a privilege to have Dr. Harper here with us this afternoon to inspire us and assist us as we seek to implement policies and practices that promote equality, diversity and inclusion in the college and across the university," Keirn said.