Mary Jane Patterson Teachers for Urban Schools Scholarship
The Mary Jane Patterson Teachers for Urban Schools Scholarship ("Patterson Scholars")
In 1862, Mary Jane Patterson (1840 – 1894) was the first African American woman to earn a bachelor's degree from an established four-year college in the United States. A daughter of fugitive slaves, Patterson became a teacher at the age of 22 in Philadelphia at the Institute for Colored Youth. By age 31, she had become principal at the nation's first public high school for Black students, Preparatory High School for Colored Youth, located in Washington D.C. Throughout her career, Mary Jane Patterson exemplified excellence, leadership, and a commitment to high quality education in the historical context of a segregated society.
The Mary Jane Patterson Scholarship was established in 2019 as part of the Teachers for Urban Schools Project for students enrolled in a teacher education program at CSULB who are interested in teaching in urban classrooms and working with Black students who have so much to offer, but who continue to face anti-Black practices and institutional racism.  Transfer students with 60+ units and/or postbac students (has BA/BS degree already) may apply for the 2023-24 Mary Jane Patterson Scholarship by Aug. 11. However, postbac students must apply to a credential program by June 1st.
Image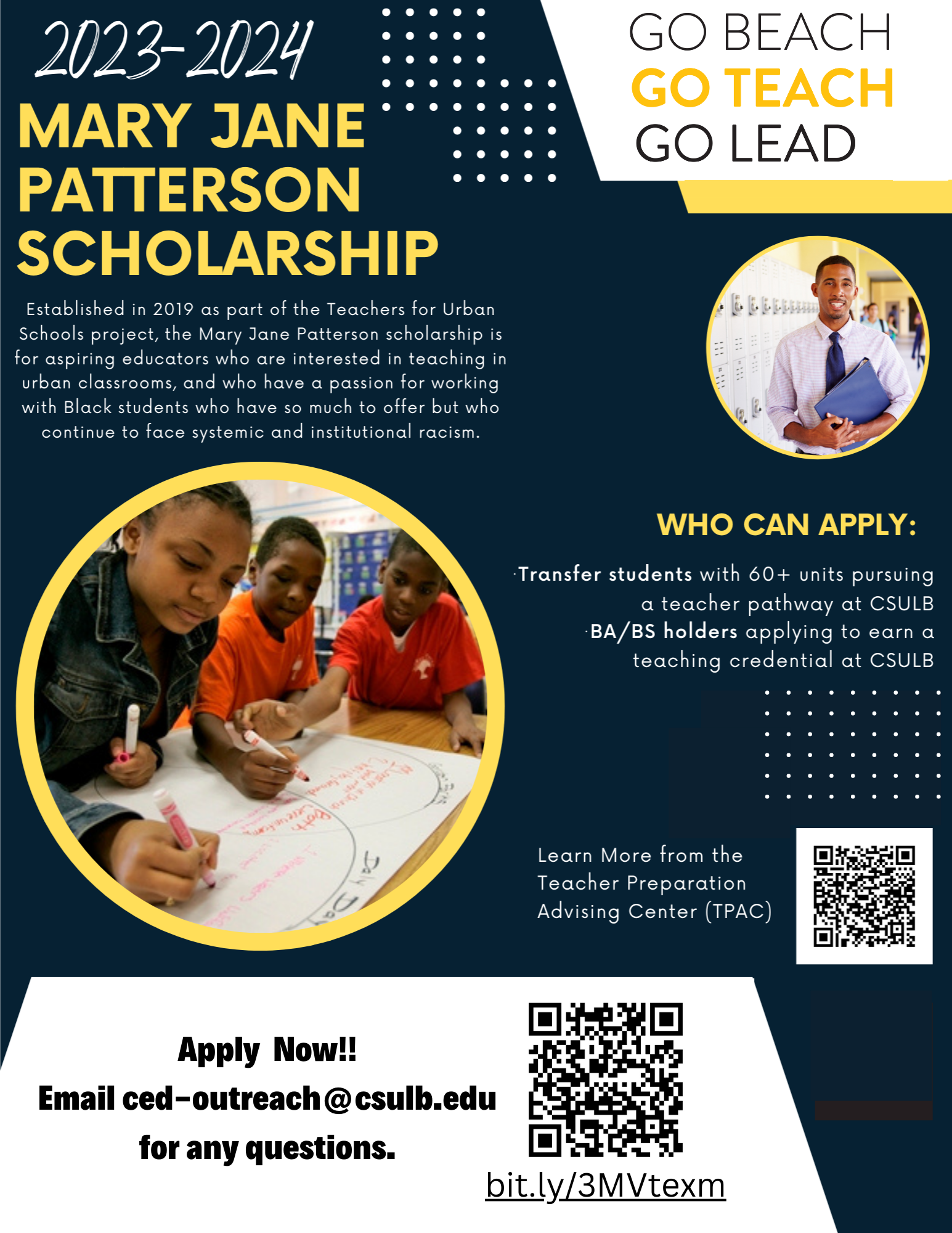 APPLY NOW FOR FALL 2023
Deadline: Aug. 11, 2023
Click here to start your application
To learn more about the Mary Jane Patterson scholarship and to meet current students, register to attend one of our virtual information sessions:
Please contact the Teacher Preparation Advising Center, at ced-tpac@csulb.edu / (562) 985-1105 for more information.