Tips and Tutorials for Applying
Please find below helpful tutorials and resources for applying to College of Education graduate programs:
If you have any questions or need help with the application process for a College of Education program, please contact the Graduate Studies Office at ced-gradstudies@csulb.edu.
Need help with writing or editing your statement of purpose? Please visit these websites for tips and resources:  
CSULB Graduate Center (GC): a centralized source of information for graduate programs and application procedures; student funding; and graduate writing support. The GC provides free, individualized support with applying to graduate programs, including writing the statement of purpose. Upcoming GC workshops.
Purdue Online Writing Lab (OWL): offers free global support through online reference materials and services, including assistance with writing the statement of purpose.  
Duke- The Graduate School: offers tips and suggestions for preparing a strong personal statement and application for graduate school.

Note: "Personal statement" and "statement of purpose" are frequently interchangeable terms. Each program will let you know what they want, and if there are specific prompts that need to be answered.
Need help with preparing your résumé? Please visit these websites for tips and resources:  

What makes a good recommendation and who can be a recommender?
Reflect on who knows you well and can provide you with a strong recommendation.

This may be a faculty member, a current or former employer, or someone who knows you well from a paid/unpaid volunteer experience. 

Start with a long list of potential recommenders that you can narrow down. Determine who fits and has the best criteria to write a letter for the program you are considering.

Consider if your potential recommender is able to:

Evaluate your performance in your field of interest, are they familiar with the field?

Discuss your personal characteristics, leadership skills, how you work with others 

and your professionalism (punctuality, efficiency, assertiveness).

Articulate knowledge of your potential to succeed academically in the program, such as your academic skills and experiences.

Share specific, personal examples to demonstrate any of the items above.

Has the skills to write a helpful letter.

Ask a potential recommender, "do you feel you know me well enough to write me a strong letter of recommendation? May you please let me know by (date)?" This gives the other person a chance to gracefully say "no" if they cannot do it, and also sets a date by when you can expect to hear back from them about it. Be ready with a back-up person to ask, and plenty of time.

Provide your recommenders with the information they need well in advance of the deadline, including:

Names of the school(s) as well as the names of the programs. The deadline for submitting the recommendation. If the programs have specific prompts for recommenders, include that when possible.

Your resume, transcripts, personal statements, and any other documents that will help them write the best possible letter about you.

Remember to thank them by sending a personalized thank you note or email. Also consider following up with them when you hear back about the admissions decisions. Keep in contact with your recommenders for anything in the future!
There are many factors that come into play when applying for graduate school. Many graduate programs in the state of California are highly competitive and select the applicants who are the best fit for the program. Here are a few strategies that can help you stand out from other applicants.
KNOW THE PROGRAM
Before you begin the process of applying, it is important to gather all the material that is needed to apply. Here are some things to know before selecting a program of your choice!
Do your Research
Make a list for yourself of the pros and cons about the program of study. What are some positives? What are some negatives?

Consider if your experience is related to the program. Are your skills and experience related to the field you are interested in? For example, the Early Childhood Education program requires experience working with Pre-K or K youth. Do you have experience working with Pre-K or K youth?

Reach out to current and former graduate students in the program and get some insight about program features and student experiences.

Plan ahead to create a timeline to complete all application materials by the application deadlines. What documents do you need to submit?

Research the number of recommenders required to apply in the program.

Understand your prompt for your personal statement.

Confirm that you meet the minimum GPA requirement in order to apply.

Reach out to Career Development Center at your alma mater for help with your resume as well as interview skills (if your graduate program requires an interview for admission).

Reach out to the Graduate Center at CSULB for more information about the graduate programs you are interested in. 
Stay Informed
Attend information sessions about the graduate program, resume building, volunteer opportunities, etc.

Be prepared several months in advance and understand your timeline

Develop a calendar of deadlines and avoid procrastination.  Deadlines are closer than they appear!

 Stay in contact with advisors and faculty who are part of the program

Show genuine interest in the program and school your applying to

Ask questions. They are there to help you with the process as well!
Support Your Application with Experience
Demonstrating relevant experience in your application gives you more leverage in your application process. If you feel that the amount of relevant experience is a weakness in your application, please see these tips.
KNOW THE FIELD
There are many ways to get to know more about your field of choice.
Research
Here are some ways to get to know more about your field of choice!
Use the U.S. Bureau of Labor Statistics Occupational Outlook Handbook to learn more about median pay, education and work experience required, and job outlook. 

Connect with your alma mater or current university career center to explore connections and professional development opportunities to better prepare your skills and knowledge as you enter the workforce.

Research the possible professional organizations/associations in your field(s) of interest to learn about current trends, research areas, and upcoming opportunities for networking. Joining an organization is not required, but exploring their free resources or following them on social media can help. Conduct an internet search for the phrase "professional organization" along with the name of your field of interest to get started. What is a professional organization?
Consider conducting an informational interview to better understand your field of interest. More details available in this helpful document.
KNOW YOURSELF
Here are some ways to better help you better understand yourself when considering what graduate programs are the best fit for you!
1. Traits and Things to Consider (PDF)
2. Combatting Imposter Syndrome (PDF) 
3. Consider Your Pros and Cons
Why should you attend graduate school? What are the arguments against you attending graduate school? Create a Pros and Cons list for yourself on the things you are considering including, tuition costs, career opportunities, commute and travel, program impact, etc. Ask yourself:
After graduation, how much money will you likely earn?

Are there career opportunities you'll have with a graduate degree that you wouldn't have with a master's degree?

How will this program impact my personal life?

Will this program satisfy my personal goals?

What career paths will this degree allow me to have?
Below is a suggested timeline to prepare a strong graduate application. When applying for graduate programs, it is important to understand that there are many steps to applying and that it will take time to put together your entire application before turning it in by the deadline. Further research may be needed depending on the program one is applying to.
6-12 months in advance of the application deadline
Consider researching programs the summer prior to the application deadline.

Begin to explore the graduate programs you are interested in and decide where you want to apply. Consider the geographical location, type of school (public, private, for-profit), programs offered, cost, instructional format (semester or quarter, in-person or online, frequency and duration of classes) and any other factors that might be important for your decision.

Thoroughly review program websites. Make note of any particular areas of the application that may require extra time to prepare. A spreadsheet may help organize your research.

Start brainstorming ideas for your 'statement of purpose.' This can also be called a 'personal statement.' These terms can be interchangeable, and each school may call it something different.

Speak with potential recommenders about writing a letter of recommendation. For example, "do you feel you know me well enough to write me a good letter of recommendation?"
4-6 months in advance of the application deadline date
Narrow down list of potential graduate programs to which you will apply.

Complete first drafts of personal statements/statements of purpose.

Ask a trusted resource to review and provide feedback

Contact financial aid resources to understand tuition, payments, etc.

Order official transcripts.

Provide recommenders with the necessary information they will need to write their letters, including a list of schools, names of programs, questions to answers, and deadlines, as well as your recent resume and/or personal statement/statement of purpose. 
2-3 months in advance of the application deadline
Complete and submit program applications. Finalize personal statements/statements of purpose.

Follow-up with recommenders to ensure they have what they need to submit on time.

Prepare for fellowships and other financial aid resources.

Fill out the FAFSA if you have not done so.

Contact the admission office for the program you have applied to make sure all required documents were received.

Prepare for possibility of an interview (if applicable).
After submitting the application:
Relax And Wait!

The evaluation process can take several months for programs to decide whether they will admit you to the program.
If you started the application process later, no worries! Condense the timeline so it fits with the time left before the application deadline.
Spring 2024
Image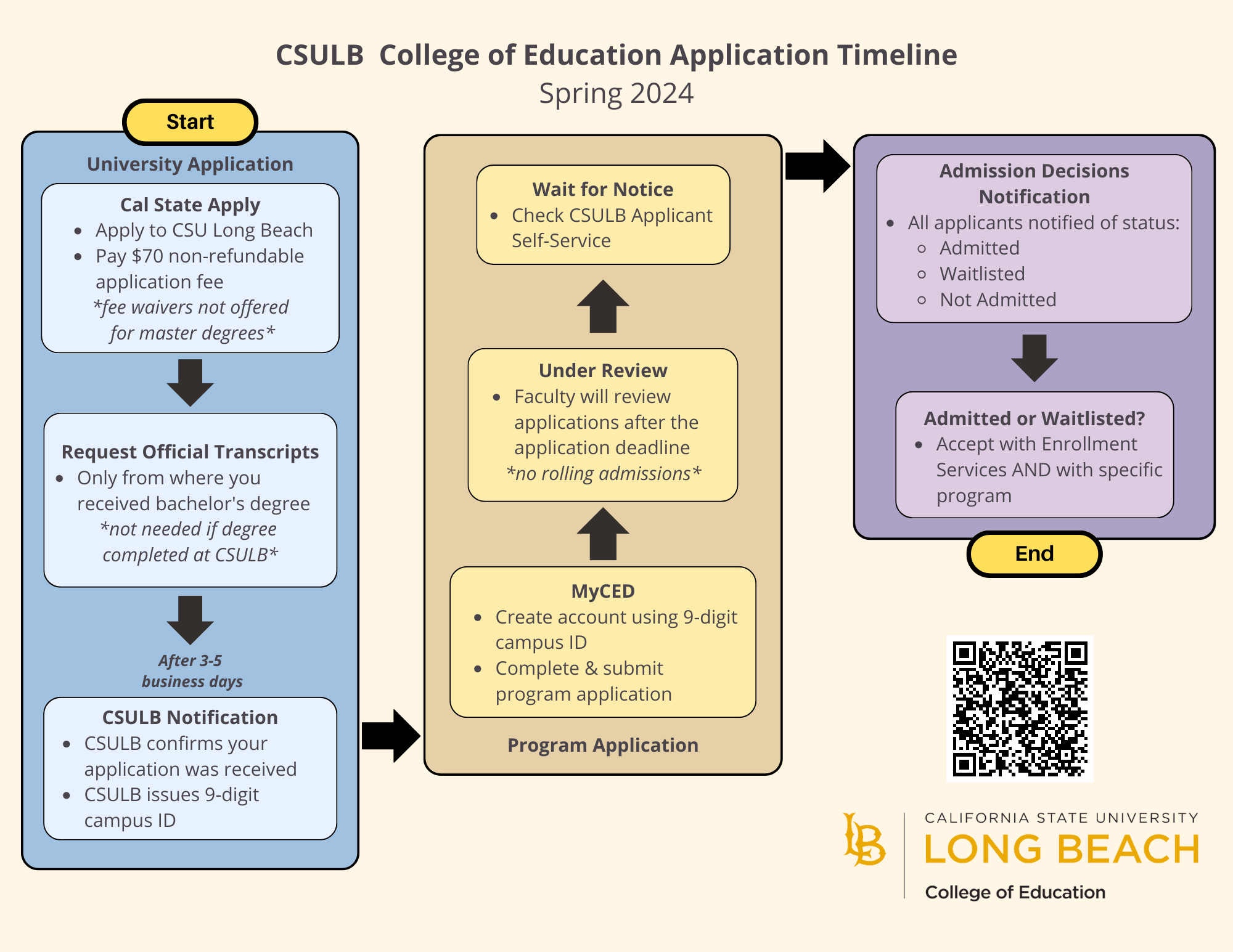 Fall 2024
Image