Kaltura
Kaltura is a cloud-based tool for creating, sharing, and managing video and audio files. Kaltura is integrated into BeachBoard and Canvas so instructors or staff can easily add videos to courses and/or organizational sites and files are synced across all platforms. Key features in Kaltura include:
Automatic video captioning of uploaded files.
"Capture" tool for recording your computer screen, video from the webcam, and audio with just one click.
Kaltura 24-month Data Storage Limits
In order to maintain Kaltura data storage capacity, media that has been inactive for 24 months will be deleted. As a best practice, it is recommended to always save original media files on personal storage devices. 
Visit Kaltura Usage Policies for more details about data storage and related policies.
Learn More About Kaltura Tools
Kaltura's web portal, MediaSpace, is a new platform now available to all CSULB faculty, staff, and students. 
MediaSpace is similar to YouTube, allowing users to upload video and audio files, organize them into channels and playlists, and share them privately or publically. MediaSpace will serve as a one-stop shop for storing video recordings and audio files.
Media uploaded through BeachBoard and Canvas will be automatically saved in MediaSpace. Media can also be uploaded directly into MediaSpace and be available to download into any of your course sites. 
Visit CSULB Kaltura MediaSpace for details.
In Canvas, access Kaltura tools through the "My Media" link on your Global Navigation left panel.
Visit CSULB Kaltura Canvas for details.
Image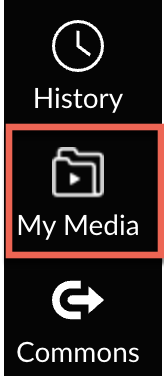 Access Kaltura in BeachBoard through the "My Media Library" tab in your Home Page navigation menu. 
Visit CSULB Kaltura BeachBoard for details.
Image