Accessibility Features of Instructional Tools
The information below summarizes the accessibility features of instructional technology tools available at CSULB. For questions or assistance, please contact ATS.
Desire to Learn (D2L), the company that developed the BeachBoard Learning Management System (LMS), is committed to providing accessible content for individuals with physical and cognitive disabilities. For more information, visit D2L Accessibility and Navigation Topics.
See also Accessible Course Design in BeachBoard for best practices in online course development.
BeachBoard is accessible by most screen readers when using "classic" mode. The "New Content Experience" mode is currently in beta test mode and may not meet accessibility compliance standards for screen readers..
Fonts and colors have been selected carefully for appropriate color contrast
Magnification is available for users who have difficulty reading online.
Dropbox:
Discussions:
To make discussion easier to navigate for students with low vision, encourage all students to use specific and descriptive titles on their posts so a screen reader can more efficiently guide a user to the content.
Quizzes:
All of LinkedIn Learning's online video resources are captioned and provide transcripts.
LinkedIn Learning's website is accessible to screen readers and allows magnification.
Check Survey Accessibility
The "Check Survey Accessibility" feature in Qualtrics identifies questions that are not accessible and gives recommendations to improve survey accessibility. A Qualtrics survey's accessibility depends on a combination of hardware and software, so it's important to use the most recent version of the supported browser types. The Check Survey Accessibility feature is located in the Survey tab under "Tools."
It's important to remember that the Check Survey Accessibility feature does not evaluate whether or not the "look and feel" of a question is accessible. For more details, visit Qualtrics Check Survey Accessibility website.
Image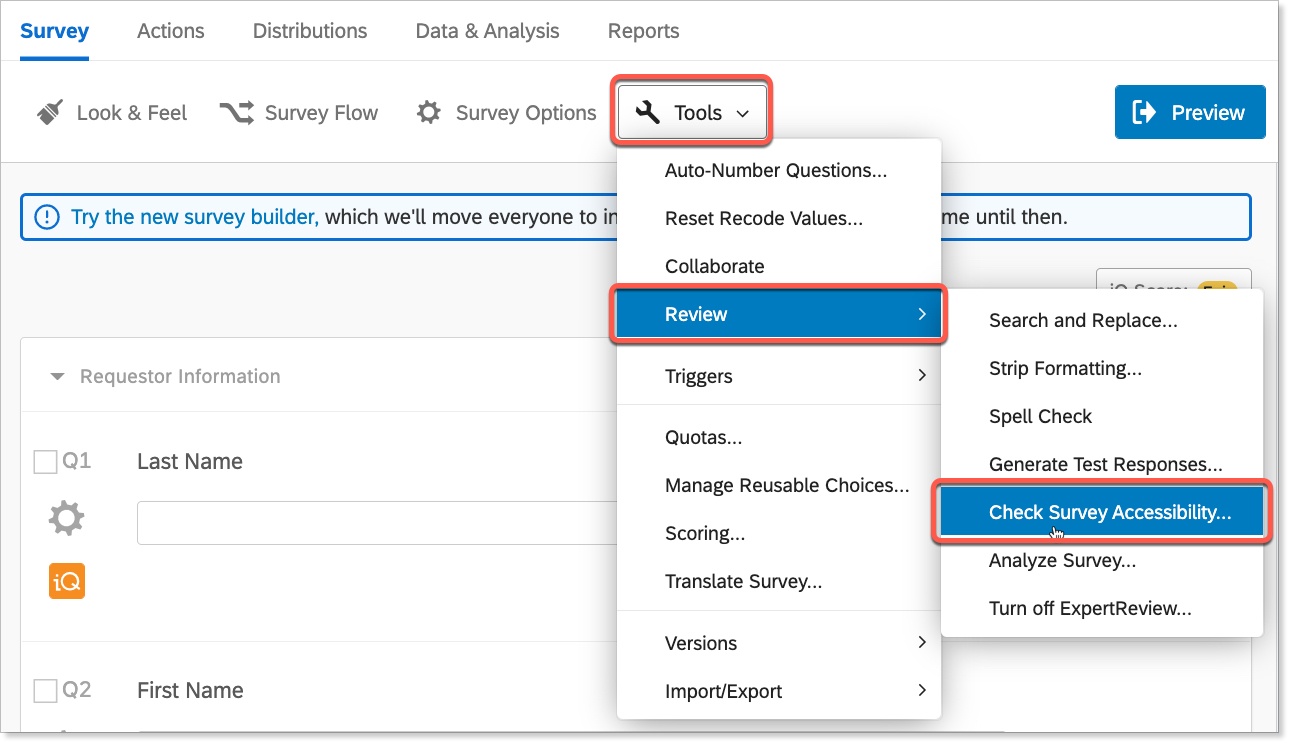 Accessible Qualtrics Question Types:
Listed below are question types accessible to screen-readers (not all question types are accessible to screen-reading programs):
Respondus Lockdown Browser and Monitor enhance online assessment proctoring security and functionality. Visit the ATS Respondus site for more information about these tools.
Lockdown Down Browser
Lockdown Browser comes with voice over in the Mac and iPad. Screen reader programs such as Jaws can be used with Windows systems. Visit the Respondus LockDown Browser vendor's website for more accessibility details.
Respondus Monitor
The startup sequence web pages for the Respondus monitor are HTML pages which support assistive technologies such as the screen readers and magnification technologies.
Zoom offers a variety of accessibility features:
Accessibility Settings:
Zoom's accessibility settings allows the user to customize the font size of the chat, closed captioning, and screen-reader alerts:

 

Image


 
Keyboard Accessibility:
Keyboard shortcuts allow users to manage and navigate the Zoom room with use of the keyboard shortcuts. Learn how to create hot keys and keyboard shortcuts.
Screen Reader Support:
Zoom rooms are fully accessible to the latest versions of available screen readers.
Closed captioning:
Zoom provides closed captioning services. Closed captions allow the host or any of the attendees assigned by the host to add closed captioning in a meeting or a webinar.
Live transcription:
Zoom also provides Al-powered live transcription for all paid accounts. The live transcription feature can be enabled by the host. Live transcription only supports English. To use the live transcription feature host and the attendees should be using Zoom desktop client version 3.5.3 or higher. Visit Zoom for detailed information on closed captioning and live transcriptions.
Multimedia Tools
Video and multimedia make courses more accessible by offering alternative content delivery formats that align with multi-modal and multimedia learning. Video is great for delivering content in more than one "sense" (video + audio), which in turn can augment textual or lecture delivery.
The information below covers accessibility design standards and tips to increase the overall accessibility of your course for three multimedia tools supported by ATS.
Kaltura is fully integrated into all your courses as "BeachBoard Media," which can be accessed by clicking on the "Media" tab in your course navigation.
Kaltura will automatically caption your videos within a certain time frame as soon as you upload any new videos.
The captions are fully editable and can be downloaded as transcripts.
More Resources:
Camtasia has a built-in automatic captioning tool, often referred to as "speech-to-text," to convert audio presentations into captions. It works best by "training" your computer to recognize your voice. Initial testing at ATS reveals that this tool can be very inaccurate and requires a lot of editing, depending on the quality of your microphone and how well Windows learns your voice. More detailed instructions can be found in this article: How to Configure Microsoft Speech Engine for Speech-to-text.
When working on a Camtasia project, captions can be added manually with the "Captioning Tool." It's a fairly robust tool which allows you to specify a duration of video, which then keeps repeating until you've had time to type the text. It has default text, line, and font settings that are ADA compliant. Learn how to Manually Add Captions to Video.
Captions can also be added from a previously-written script and by uploading caption files (SAMI or SRT are the standard formats) created on another platform. More details can be foundat TechSmith Help/Captions.
More Resources
PlayPosit is a tool for making your videos interactive. These can either be videos that you create on Camtasia and/or have in your Media Library, or even those you find on YouTube. Visit the ATS PlayPosit site for more information.
PlayPosit involves layering content over videos, so they can potentially cover up captions that you have created in Camtasia or Kaltura. However, the position and size of interactive graphical elements are customizable so that you have the power to layer interactivity without obscuring captions.
PlayPosit does not include built-in captioning capabilities, so it is recommended that lessons created with PlayPosit use videos that have already been captioned using the tools above.
More Resources