CSULB Mobile App
Find campus resources when you're on the go! Download from the Apple App Store or the Google Play Store; search for "CSULB."
Use the CSULB Mobile App for quick access to:
Maps, Transportation & Parking
Events Calendars
Dining Services & Beach Pantry
University Police Contact Info
Athletics Schedules
And more!
Image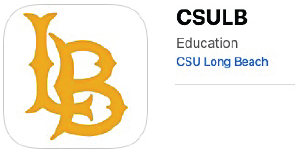 Set or Change Your Role: Student or Faculty/Staff?
Resources on the app are customized for campus roles. You can switch roles at any time. To set up your app, follow these steps:
When you launch the app, select Get Started.
Select an experience option: Student or Faculty and Staff. Select Next.
Enter your campus email and password and complete the Multi-Factor Authentication.
To switch roles, select the profile icon at the bottom right of the screen and then the gear icon on the top right of the screen. Select "Edit Profile" and you will see the option the change your "Current Experience" toward the bottom of the page.