Welcome to Camp Nugget
Camp Nugget will be back face-to-face for summer 2023, taking place June 20 through July 14!
Camp Nugget provides small group instruction by university students enrolled in the KIN Department who are studying to receive an Adapted Physical Education Teaching Credential under the supervision of Dr. Melissa Bittner, CSULB Professor. Camp activities include perceptual-motor and fundamental motor skills, health-related physical fitness, dance, lead-up cooperative games, and adapted sports. The 4-week program begins usually the last Monday in June and continues throughout the first three weeks of July. Camp Nugget is designed for children disabilities ages 5 - 12 years. 
Image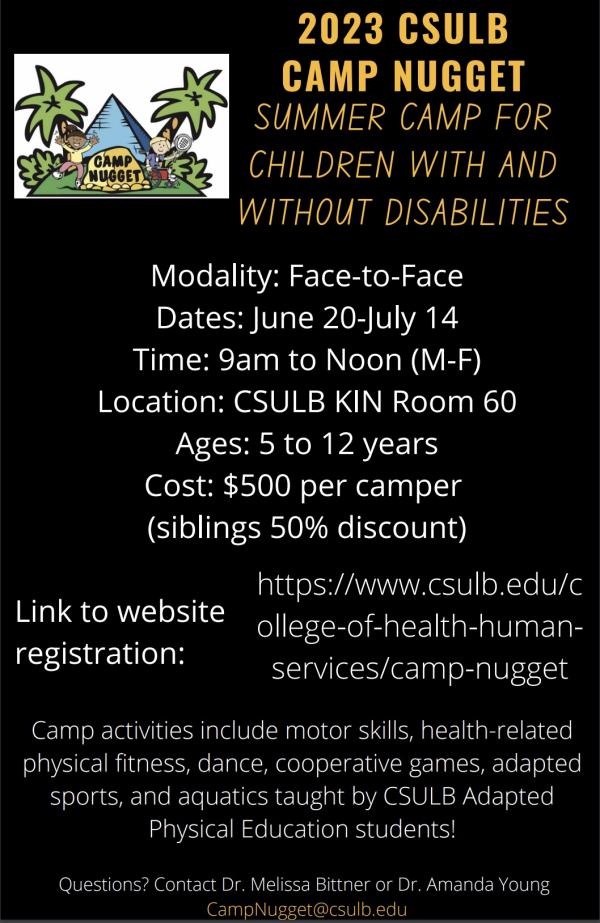 Thank you to Camp Nugget Donors
Camp Nugget would like to take this opportunity to thank the local community partners and sponsors for their support of the program. We appreciate the generous contributions from Employees Community Fun of Boeing, Munzer Foundation, and Native Daughters of the Golden West.