Class of 2023 Spotlights: Kinesiology
As they start their careers in health and human services, a common theme among CHHS graduates is their desire to help serve and support their community.
The mission of the Department of Kinesiology is to facilitate wellness among individuals through the study and application of human movement principles across the lifespan and through the management of and participation in physical activity, exercise and sport.
While we commend and celebrate all CHHS graduates, here are a few graduates whose stories stand out because of their determination to overcome challenges, to follow their dreams, and to make a positive impact on the lives of others.
Kayleigh Hart – Kinesiology, M.S. Sport and Exercise Psychology
Image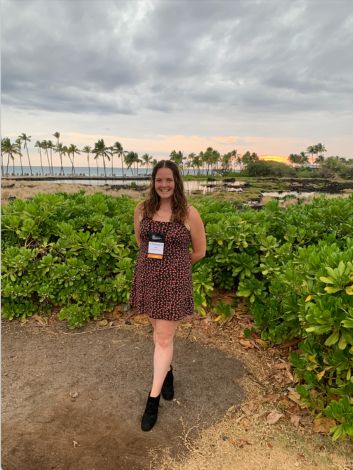 Upon graduating with her Master of Science degree in Sport and Exercise Psychology at Long Beach State, Kayleigh Hart will continue her studies at the University of Tennessee as a PhD candidate in Sport Psychology and Motor Behavior. Ultimately, she would like to be a professor in the CSU system and consult with collegiate athletes.
"This way, I can share my passion for this work with other developing students while applying my knowledge to mental performance, consulting directly with athletes," Kayleigh says.
Kayleigh credits her professors Dr. Madrigal, Dr. Ede and Dr. Fogaca who helped her get to where she is now. "Their unwavering support gave me the foundation I needed to pursue my goals and apply to PhD programs. I have grown and developed so much because of the opportunities they gave me and the feedback and encouragement I got along the way. I can't thank them enough for all they have given me these last years." Read More
Allyson Collins – Kinesiology, Exercise Science
Image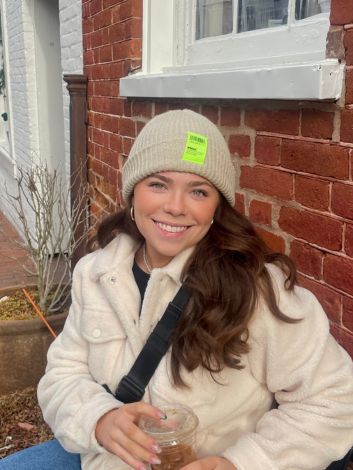 During her time at CSULB, Allyson was a COPE Health Scholar for her internship and had a part time job in addition to going to school full time. "I had many other commitments and it was at times extremely stressful, however I persevered because I believed I could do it."
Now looking back, Allyson is thankful for the experience because she learned some great lessons from it.
Allyson says that she has always been interested in the medical field because she played sports throughout her life. She hopes to use the knowledge she's acquired and empathy to help people around her. "One of the most important things I've learned during my time at CSULB is to be yourself no matter what. Being vulnerable with others is scary, but so rewarding. I have found amazing friends who accept me the way I am, flaws and all."
Ashley van der Sluys Veer – Kinesiology, Fitness
Image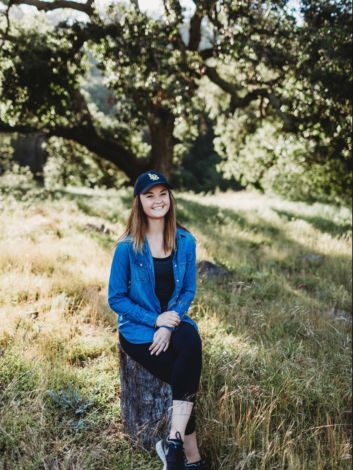 Ashley van der Sluys Veer will graduate with her Kinesiology degree, Option in Fitness. Ashley is a figure skating coach at Lakewood Ice and a trainer at Momentum Fitness in Huntington Beach. She also competed in figure skating her freshman year and attended the US Collegiate Nationals. She was a recreation aide at the Naval Weapons Station in Seal Beach and a physical therapy aide at Huntington Beach Physical Therapy Specialists.
During the fall semester her junior year, Ashley discovered she was pregnant right before finals. "I was scared and had no idea of how I was going to do it, but I promised myself that I would finish my degree," Ashley says. That tenacity and courage, along with the support of her CSULB professors and family and friends, carried her to the finish line to graduation. She also welcomed her newborn son.
Ashley grew up as a competitive figure skater. One of her coaches, she remembers, had her degree in Kinesiology. From the time she was in third grade, Ashley knew that this was something she wanted to study. With her degree, she hopes to further her career in athletics and continue to coach figure skaters.
Ashley would like to thank Dallas, her parents, Amanda and Jen for impacting her life greatly and being a support through good times and bad.
Daniel Bello: B.S. Kinesiology - Sports Psychology and Leadership
Image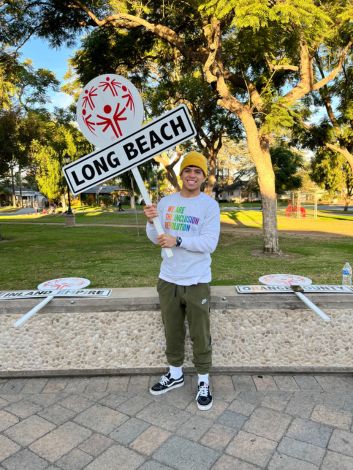 Daniel Bello, a Kinesiology and Sport Psychology major, chose his career path because he is passionate about sports and its positive function in society. Among his extracurricular activities during his time at CSULB include participating in the Sport and Exercise Psychology Club, as well as being a coach, Special Olympics First-Aid Volunteer and immersing himself in the College of Business Professional Certification workshops. "I had doubts throughout my education, the biggest obstacle to overcome being myself," Daniel says. "Recognizing my self-worth and that I do belong, made me start to believe in my potential. I found the confidence to become more involved on campus and started to meet other students away from the classroom. Hearing their experiences and building important connections made me feel supported by CSULB. 
Diala Elkhazen: M.S. in Kinesiology – Option in Sport and Exercise Psychology
Image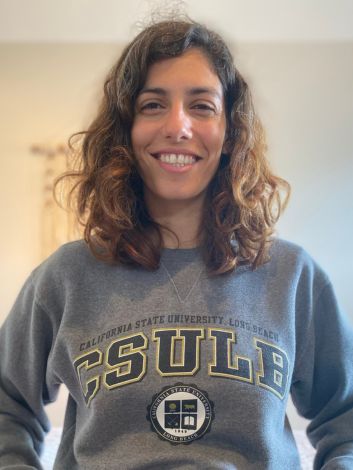 Among Diala Elkhazen's activities outside the classroom during her time at CSULB was being a teaching associate in the Kinesiology department and lending her talents as a group exercise instructor at the Student Recreation and Wellness Center.
Diala moved from Beirut Lebanon to Long Beach during the pandemic and had been thinking of pursuing her master's degree for more than five years. When she landed in Long Beach, she applied to the Master's Program in Kinesiology, Option in Sport and Exercise Psychology at CSULB and got accepted, starting school in 2021.
"It hasn't been an easy journey between the pandemic, the economic crisis in Lebanon and being away from family, but one thing I learned in life is to follow my dreams and pursue my passions," Diala says.
When Diala was 8 years old, she found out her mom was diagnosed with cancer. Unfortunately, her mother passed away due to her illness, but Diala credits her mother's determination and resilience. "I wouldn't be where I am today if it weren't for her," Diala says. "I learned from my mom to be determined and to be resilient and passionate about the things I love."
Diala was a professional track and field athlete and a personal trainer. As an athlete, she had to deal with losses, wins, fear, anxiety, stress, injuries, and she says she didn't have many people to turn to on how to deal with those feelings and struggles. "As a trainer, I had to train people with anxiety, depression, bipolar disease and figure out how to keep them motivated to exercise." Diala pursued this degree program because she knew it would help her understand how to work with athletes from a mental standpoint and help them figure out how to deal with trauma and overcome. Diala says the most important thing she has learned is to appreciate the good and the bad. "Everything happens for a reason," she says. "If it's something not that good, you can learn to accept and learn from it. If it's something good you can embrace it."
As far as her inspirations, Diala says the women in her life – her mother for her resilience and fighting spirit in battling cancer—as well as her housemate Cynthia, a single mother of two who has raised her children alone while having a full-time job, has given her major hope. Diala also credits her professors Dr. Jana Fogaca, Dr. Alison Ede, and Dr. Leilani Madrigal by being passionate about the kinesiology program and seeing their students succeed. She'd also like to thank Maureen MacRae, the director of the Student Recreation and Wellness Center for her constant support and care. "The way she cares about all the employees at the Rec Center is inspiring," she says. Her involvement in all activities in the Rec Center is extraordinary. Her positive energy is contagious!"                                                 
Randy Nguyen: M.S. in Athletic Training
Image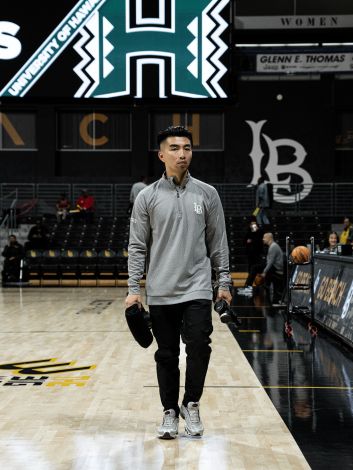 Navigating through his graduate studies while balancing his clinicals, research, work and life was difficult for Randy Nguyen in pursuit of his Master's Degree in Athletic Training. Remembering why he chose to become a clinician and positively impact athletes helped him stay motivated and see things through. "I was able to succeed and earn my degree through the support of my family, professors, and peers," says Randy. I chose Athletic Training to help athletes perform at their best and educate them on a lifetime of healthy practices. He adds that athletic trainers are sometimes the only voice in advocating for an athlete. "Providing inclusive and empathetic care involves speaking up for the athlete to ensure they receive the help they need."  
Among Randy's activities outside the classroom while a student at CSULB was undergoing clinical rotations for CSULB Men's Basketball, and also helping support St. John Bosco High School Football Program's National Championship Team in 2022. Another clinical rotation was for CSULB Track and Field Women's Big West Champions in the Spring of 2022. Randy's graduate thesis was on the effect of instrument-assisted soft tissue mobilization on vertical jump and perceived performance in physically active individuals. He also contributed to the CSULB Sports Medicine Club as Treasurer and has a part-time job at the CSULB ASI University Student Union as a building manager.
Says Randy about the most important thing he's learned while juggling all his responsibilities: "You won't grow within your comfort zone. Don't be too intimidated to go for new opportunities. Be comfortable with making mistakes because that's the only way you are going to improve."
Randy cites his program director, Dr. Mimi Nakajima as helping him gain the confidence he needed to succeed in the program. "She always believes in us and pushes us to be at our best for the patients. There was never a time that she wasn't available to help or have a conversation with – she is a once-in-a-lifetime teacher."