CHHS Student Spotlight - Jana Elias
By
Vy Lee and Jonathan Murrietta
Image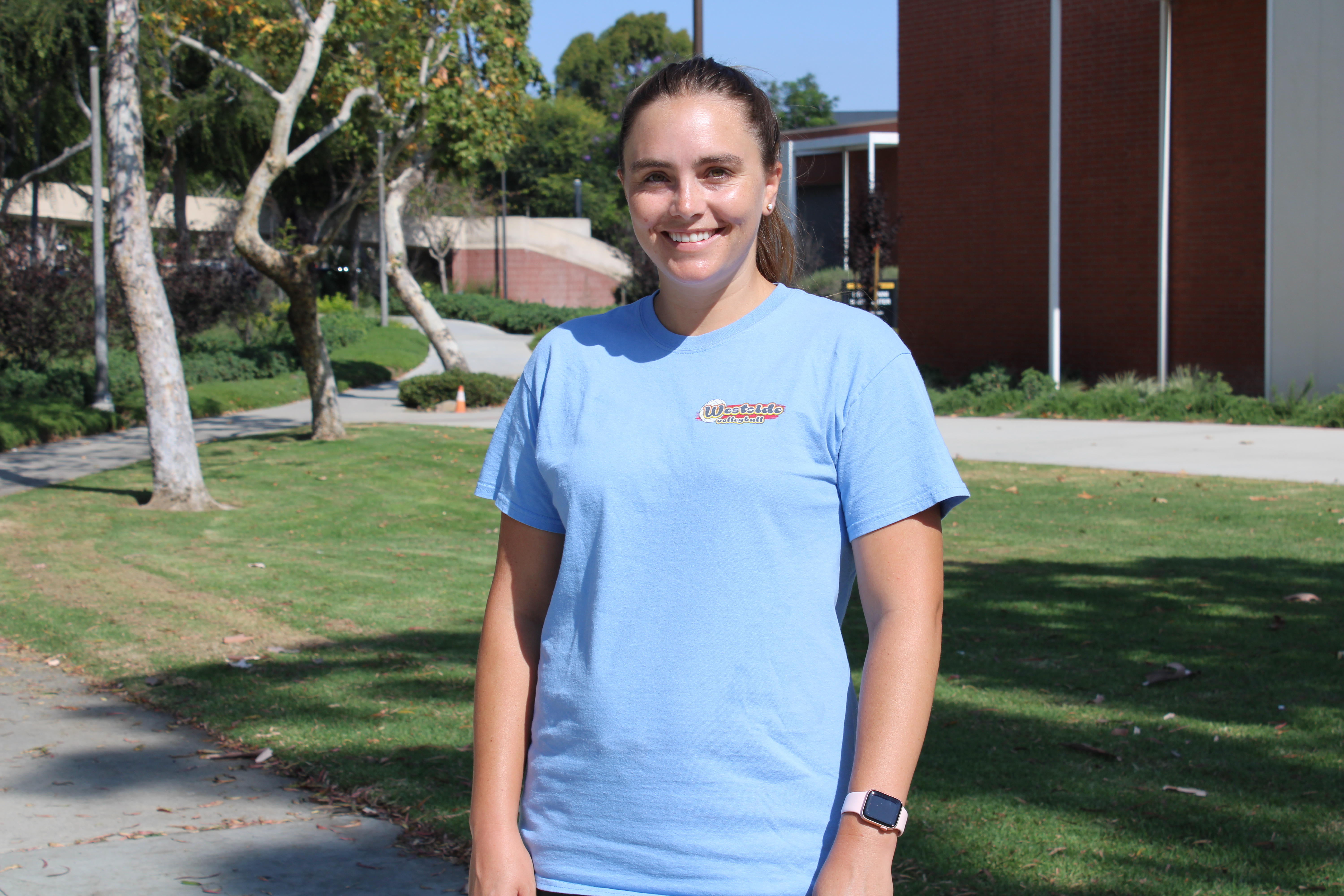 Jana Elias works at CSULB's Camp Nugget while obtaining her certification in Adapted Physical Education in the Kinesiology department
At Camp Nugget, kinesiology students have the chance to get real life experience in their career path by working as camp counselors. Meet Jana Elias, a first-year Adapted Physical Education (APE) student. She is excited to be working at Camp Nugget for the first time this summer.  
"I've really enjoyed it," Jana says about Camp Nugget and the APE program, which is housed within the Kinesiology Department. "It's definitely a lot of work, but it is so rewarding and so much fun getting to work with these kids at camp."
Jana received her undergraduate degree at UC Santa Barbara in Sociology. She says she's always known she wanted to work with children, and when she came to Long Beach State for the APE teacher education program, she subsequently learned about Camp Nugget.
"I knew it would be a great fit for me working at Camp Nugget," she says. "I have worked a lot with children, but not so much with children who are living with disabilities -- it's such good hands-on experience, and you can take it with you into your career because this is what it's going to be like out in the field."
Melissa Bittner, co-director of Camp Nugget with kinesiology professor Dr. Amanda Young, says Camp Nugget is a win-win for everyone involved.
"Obviously the children in the camp have an opportunity to have the summer camp experience like their typically developing peers, but it's also great for our university students –we write a lot of grants to be able to fully pay all of our staff, which is obviously great for them because in the summer they get to work at a camp which gives them the experience towards the career they want to have. Camp Nugget is also a great service to the community."
What's interesting about the model set in place at Camp Nugget, Bittner relays, is that Camp Nugget staff is comprised of university students at different stages in their education. Camp Counselor Else, for example, graduated from the APE program last year; she's working right now in the LAUSD as an APE teacher. Else is back at Camp Nugget this summer as a lead teacher. Meanwhile, camp counselor Victor has completed all his APE coursework and he is going to be doing his student teaching next year.
"And then we have someone like Jana, who has taken her introduction class, but next year she will be entering our APE Cohort," Bittner points out. "So she learns from Victor, who learns from Else, and it's a really nice 'scaffolding model,' where the more established teachers and students will teach first-years, and later on in the camp, our newer staff get opportunities to teach and do activities themselves."
Image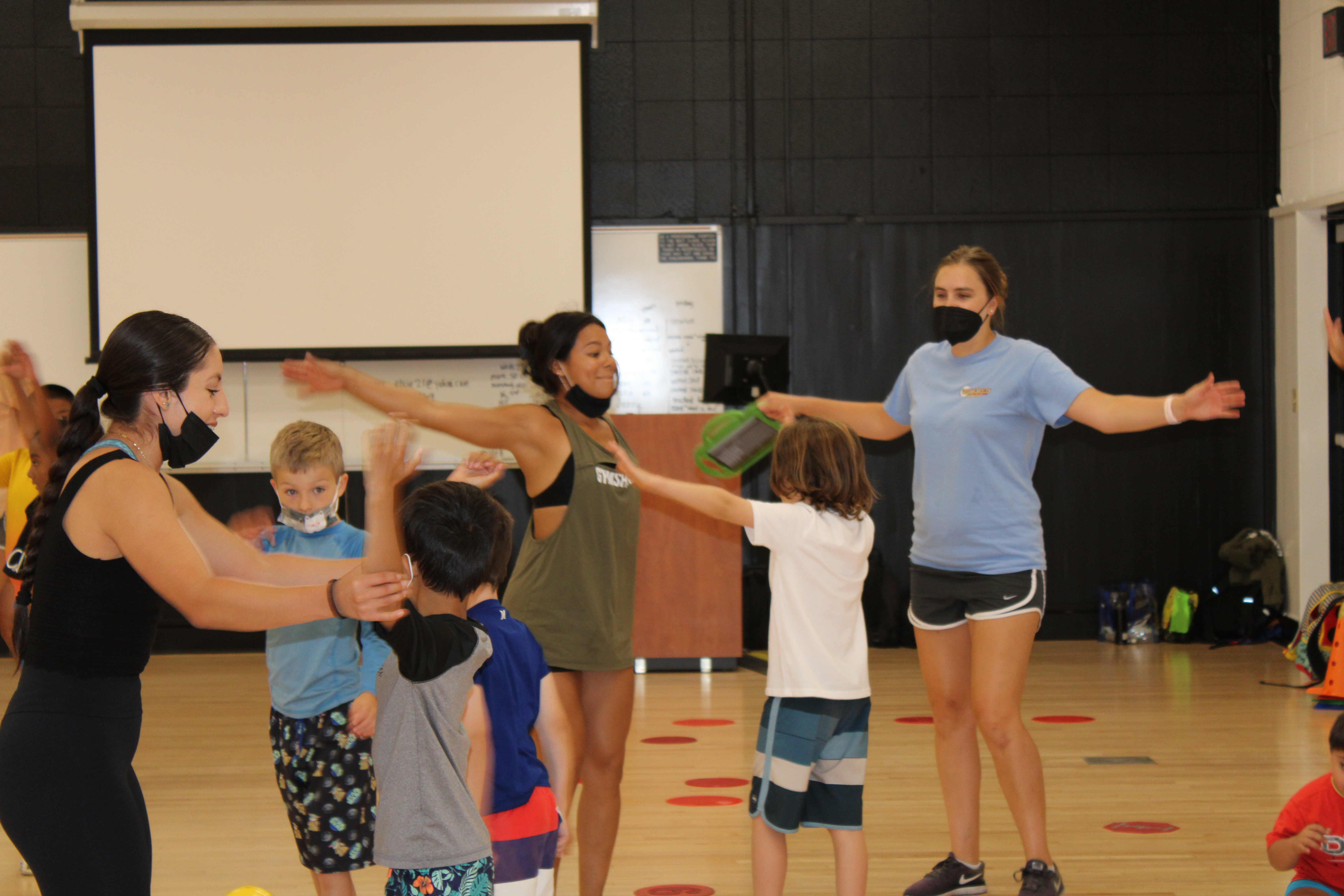 Jana Elias (blue shirt) engages with students during Camp Nugget activities
Jana's favorite day at Camp Nugget so far this summer was when campers visited the Japanese Gardens.
"We had three stations, one was coloring, where students had the opportunity to color-in drawings of the koi fish, then we went to a yoga class, and finished with a tour of the garden. We walked around the pond and got to feed the koi fish, which was probably the best part. The kids didn't want to leave!" Jana says.
While Jana also pursues her Physical Education Teacher Education (PETE) option, she says she is really learning a lot by taking part in the Adapted Physical Education program, and would like to focus more on teaching children with disabilities. 
"I just think those kids really deserve the ability to have enjoyment out of physical activity and it could help them in life moving forward. Staying physically active and playing sports has really helped me in life, and that's something I want to pass on to them."
Jana says the people at Camp Nugget this summer – from the friendly staff, to the junior camp counselors, who come back to help and who were once little campers themselves, all contribute to a positive, joyful working environment. She also credits camp co-directors Melissa Bittner and Amanda Young for their kindness and warmth.  
"They're doing an excellent job, and I want to be just like them one day," Jana says. It has been a pleasure working under them at Camp Nugget this summer," says Jana.   
Kinesiology undergrad seniors find it a rewarding experience working at Camp Nugget...
Nicholas Rahe: "It's definitely a lot of fun working here at Camp Nugget; the activities really get the kids going!"
Brittany Thomas: "Camp Nugget has given me a lot of hands on experience working with bigger groups; Camp Nugget has really increased my knowledge in how to work with kids with disabilities and increasing my understanding of the different needs of each child. I think it's a great way for future APE teachers to get experience!"
Israel Bernal: "This is my first summer working at camp nugget. It's fun and challenging. I'm learning new skills and the experience you get working here is second to none!"