CECEM Students to Participate in OC Sustainability Decathlon
Published October 19, 2022
The CSULB College of Engineering has been selected as one of 18 colleges and universities to compete in the inaugural Orange County Sustainability Decathlon, in which student teams will build innovative renewable-energy-powered homes that will be displayed at the Orange County Fairgrounds in October 2023.
Image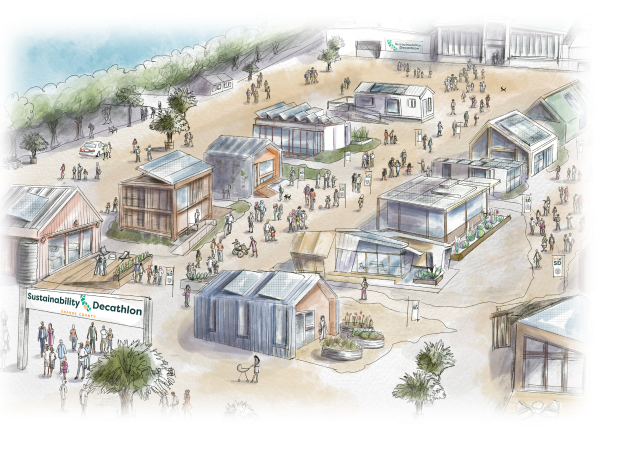 Each team receives $100,000 in seed funding, which will go toward design fees, building materials, and builders. Additional funds will need to be raised to complete the COE team's 900-square-foot house, which is expected to be sold to an interested buyer as an Accessory Dwelling Unit (ADU).
"This sustainability decathlon is aimed at finding creative solutions to the shortage of affordable housing due to the impact of climate change, globally, and in the State of California," said Civil Engineering and Construction Engineering Management Professor Tang-Hung Nguyen, who will lead the CSULB student team, assisted by Associate Professors Vahid Balali and Shailesh Chandra. "For example, wildfires endanger communities. Droughts impact water supplies and food production. Rising sea levels threaten coastlines. Shifting weather patterns threaten many of California's natural wonders."
The homes will be judged on affordability, consumer appeal, and design excellence with optimal renewable energy production, energy efficiency, and sustainability. The team currently includes about 18 Civil Engineering and Construction Management students. Nguyen said students from other majors, such as interior design and mechanical engineering, are encouraged to join the team.
The project will give students an opportunity to learn more about sustainable building materials, green/renewable energy, and the impacts of climate change on society, environment, and the economy.
"Students will have an opportunity to design and build a sustainable house in the real world," said Nguyen, adding that the project has already inspired students to start their own ADU sustainable construction business. Nguyen designed the architectural plans, and Dr. Thang Le, a structural engineer, provided the structural drawings.
Construction will take place behind the EN3 building from January through May 2023. The completed house will be transported to the Orange County Fair & Events Center, where it will be displayed with sustainable homes from the 17 other competing universities. An estimated 40,000 people per day will visit the competition site. The sustainable homes will also be viewable on the OCSD23 website. For more information on the competition, watch this video.