Instructional Design Team
ATS instructional designers (IDs) can guide you in exploring instructional technology tools to support your teaching practice. Our team is well-versed in quality assurance standards and are experts in:
Aligning courses to desired student learning outcomes.
Selecting technology and techniques that enhance student engagement.
Implementing best practices for different teaching modes: online, hybrid or HyFlex.
Find your College's assigned ATS Instructional Design team members from the list below and contact them for a consultation today!
Instructional Designer Profiles
Image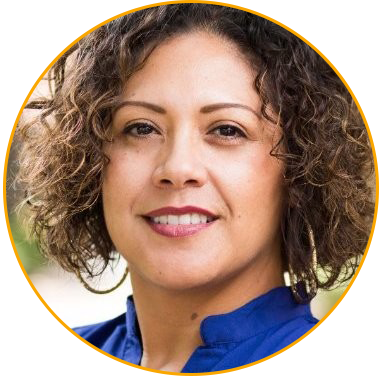 Mariza Hernandez
Assistant Director, Instructional Design & Accessibility
Mariza is the Assistant Director of Instructional Design and Accessibility at ATS and has worked on campus since 2007. She received a BS in 3D Computer Animation, BA in Media Arts from Chico State University, and an MS in Instructional Design and Technology from CSU Fullerton
Mariza is enthusiastic about and actively involved in applying innovative technology that enhances learners' involvement through dynamic and interactive experiences. Before joining the ATS team, Mariza worked with students with disabilities, where her passion for accessibility and equal access to digital content and technology grew. She loves developing and learning about new e-learning technologies and developing learning environments that are appealing to the varied needs of adult learners. She is a member of the CSU Accessible Technology Initiative (ATI) Steering Committee and is committed to creating a culture of inclusive learning and working environment.
When Mariza is not working, she enjoys traveling and learning about new cultures. She appreciates trying unusual foods and has often been labeled as an adrenaline junkie by friends and family. When she is not traveling, you can find her at the park having a picnic and people watching with her Shih Tzu, Lucille.
Image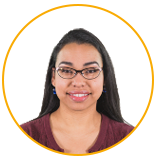 Maria Aceituno
Maria has been in the education field for over 20 years, starting in K-12 as a math and science teacher before moving into higher education. She has experience teaching face-to-face, hybrid, and online courses at the university level. Maria has a BA in Liberal Studies and an MA in Teaching and Learning with Technology. As an Instructional Designer, her goals are to help provide students with a robust learning experience by helping faculty design their courses and serving on committees that broaden student experience on campus.
In her personal time, she enjoys arts and crafts hobbies and studying history through the viewpoint of fashion.
Image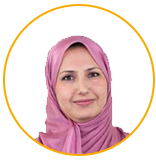 Afifa Alawi
Afifa Alawi has been in the field of education technology for the past 20 years and at CSULB for the past 6 years. She started her career at El Camino College as an educational technologist. She has also tutored students in different levels of mathematical concepts. She has a BS in Business Finance and an MA in Educational Technology and Media Leadership, both from CSULB. She is a lifelong learner and eager to learn new and upcoming educational technology trends. Afifa's passion is to support faculty and the campus community with their technological needs.
In her spare time, Afifa enjoys reading and spending time with her husband, daughter, and son.
Image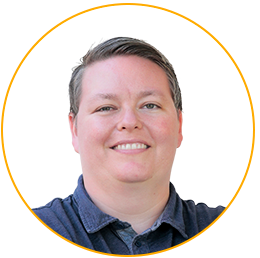 Sabrina Dean
Sabrina holds a BA in Social Science and a Master's in Business Administration has and has been working in the Academic Technology field for over 14 years. She started her career as an Academic Technology Support Specialist with Brandman University (now UMass Global) in 2007 and became an Instructional Designer when she joined the CSULB ATS family in June of 2020. She is passionate about supporting faculty and students to enhance their teaching and learning experiences and recognizes there is not a "one-size-fits-all" formula when it comes to technology and pedagogy. Each experience is unique.
Sabrina also enjoys video games, puzzles, walks, books, and movies.
Image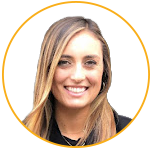 Courtney Engle
Courtney began her journey as an educational expert at the Children's Hospital of Los Angeles as a Health Educator and transitioned to K-12 where she taught science and health. As a product of the California State University System, Courtney holds a BS in Health Sciences with an option in Health Education and a BA in Spanish from CSU Chico! Further, Courtney received her Master's in Education with an emphasis on Curriculum and Instruction from CSU Dominguez Hills! Courtney's goal as an instructional designer is to maximize the learning experience for all students. The 21st Century Skills (critical thinking, communication, creativity, collaboration) drive Courtney's pedagogy philosophy to make every learner a Global Digital Citizen. Embracing every challenge with a growth mindset, Courtney believes learning is meant to be a lifelong passion, therefore designing courses must persist to be user-friendly and engaging!
When Courtney is not working, she enjoys getting active in yoga or fitness, spending time at the beach, and of course, traveling. Courtney has visited 13 countries and will encourage anyone to just book the flight!
Image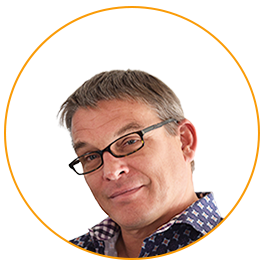 Chad Harris
Chad joined CSU Long Beach as an Instructional Designer in September of 2020. Chad obtained his Ph.D. in Communications from UCSD and since 2006, Chad has taught Communications at UC San Diego, San Diego State University, Clovis Community College, and other online institutions. While teaching at San Diego State University, he began replicating and adapting principles of learning theory to the design of online courses and multi-media learning spaces as a Faculty Fellow in the Course Design Institute. His training and experience in instructional design include coaching faculty at various institutions including SDSU, Tulane University, Wake Forest University, and Cal State Northridge. He has also built and directed instructional design teams at various higher education institutions.
In his spare time, Chad enjoys reading history, science fiction, and noir crime novels. He also likes to listen to music at a high volume, spend time attempting to comprehend his teenage kids and try his best to stay in shape.
Image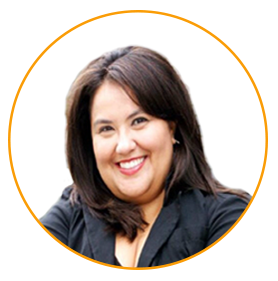 Jennifer Lares
Jennifer has been an Instructional Designer at CSULB for the last 7 years. Additional university experience includes student support services roles, like supplemental instruction, advising, and transcript evaluation. Her educational background includes a BA in Comparative Literature from San Diego State University (SDSU), a Certificate in Technical and Professional Writing, and an MA in Educational Technology and Media Leadership from CSULB. Jennifer's philosophy for instructional design is that learning is an evolving practice. There is always something new to learn, try out, and improve.
A few of Jennifer's current hobbies include finding new walking trails, spending time with her dog, and checking out the latest on Netflix.
Image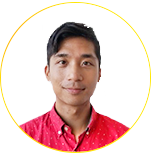 Mark Lim
Mark is a lifelong learner who enjoys helping people make the most of technology and is happy to have found his niche as an instructional designer. Prior to joining ATS, he earned an M.Ed. in Instructional Design and Technology and then worked as an instructional technologist at the University of Cincinnati. He completed undergraduate studies in his home state of New York at Binghamton University in Political Science and Economics, focusing on international development.
A year of volunteering in South Africa originally sparked his interest in edtech, since a computer lab became a hub for rural students to discover extraordinary opportunities. He continues to be excited by ways technology can be a force for good, while mindful that newer isn't always better.
Suspecting he had a West Coast spirit, he joined ATS in an epic road trip just before the pandemic and nonetheless fell in love with Long Beach culture and cuisine. In his free time, he enjoys reading/listening to popular science audiobooks, longboarding the Shoreline bike path, and plotting trips around California's enormous parks.
Image
Adam Mitchell
Adam Mitchell has been in the Educational Technology field for over 10 years and enjoys being on staff at CSULB as an instructional Designer. He holds an undergraduate degree from California State University, Monterey Bay in Liberal Studies, and an MS degree in Educational Technology from California State University, Fullerton. In addition, he has earned multiple certificates from Quality Matters, most notably certified as a Master Reviewer and Course Facilitator. Adam also has higher education teaching experience facilitating upper-division courses in multiple modalities including hybrid and online. Adam believes a continuous improvement model is best when approaching course design and enjoys the time spent with CSULB faculty in facilitating the course design process.
In his free time, Adam also enjoys studying and applying automotive engineering, exercising, and spending time with his wife and two sons.
Image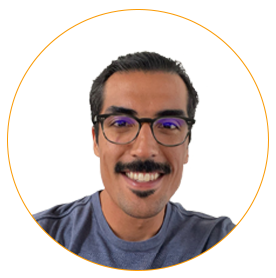 Paul Quezada
Paul Quezada is a committed advocate for creating inclusive and accessible course design. After earning a bachelor's degree in Social Work from CSULB, he began working full-time for the CSULB Technology Help Desk in 2013 and went on to receive an MS in Educational Technology and Media Leadership in 2018. Combining his education and professional work experience, Paul is excited to provide extensive user support and introduce faculty to innovative tools which help improve course accessibility and foster an inclusive learning environment. An area of focus for Paul is the Universal Design for Learning (UDL) framework, which informs his teaching philosophy that every learner can thrive in a pedagogically sound online learning environment. During his time with Academic Technology Services (ATS), Paul's goal is to collaboratively work with faculty and provide course design consultation to successfully implement best practices unique for each course.
When he is not working, Paul can be found training for a marathon, practicing his photography composition, or lounging in a hammock.
Image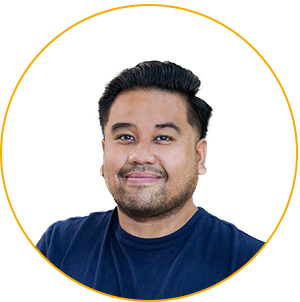 Jamie Reim
Jamie Reim has a passion for financial literacy and education. He earned his BA in Business Administration with a concentration in Marketing and an MS in Instructional Design and Technology, both at California State University, Fullerton. Before joining the CSULB family, he worked for a dental company in the private sector as an instructional designer implementing Epic software, a popular medical patient record software used in 52% of the US health industry. Jamie now works with CSULB faculty to provide course design consultation and present professional development programs for faculty.
In his off time, Jamie also enjoys trying out new foods and restaurants while keeping up with the stock and crypto markets.
Image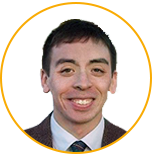 Roger Strang
Roger is passionate about educational values like critical thinking and self-directed learning. He studied education at Boston College in the Donovan Urban Teaching Scholars Program and taught 6th grade in Massachusetts before becoming interested in multimedia and technology for learning. His next stop was Carnegie Mellon University where he earned an MS in Educational Technology and Applied Learning Science. After working at an educational technology company for a couple of years, he joined the CSULB Instructional Design team and couldn't be happier. Roger loves working with instructors and being a part of an educational institution.
One of his favorite projects has been co-creating a faculty spotlight with his colleagues and several professors. He takes pride in facilitating enjoyable faculty development sessions. For fun, Roger likes to stay in shape, practice improv, and listen to music.