Teaching with the Learning Glass
The Learning Glass is available to CSULB instructors for delivering lectures in a dynamic and engaging way. Visit the Learning Glass website for more information.
Building Community Through the Learning Glass
Recently, ATS interviewed two of our CSULB faculty members about their experiences using the Mobile Learning Glass at home for remote teaching in the Fall 2020 semester. They describe their passion for connecting with students and how this tool made it possible. Students also expressed how this unique visual presentation made a difference in their ability to stay focused and feel like they were in a "real classroom."
Presented here are some interview excerpts, along with the full-length audio recordings and written transcripts
(Note: interview highlights have been edited and condensed for clarity).
---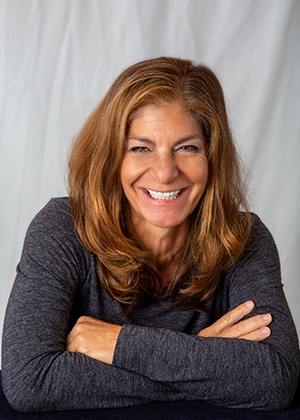 Dr. Noel Marie Spina
Dr. Spina is currently a lecturer at CSULB in the Physical Therapy Doctoral Program. She is a senior clinician at Children's Hospital Orange County, specializing in care for medically complex and fragile infants as well as children diagnosed with neuro-oncology conditions.
Why did you choose to start working with the Learning Glass?
The same driving force that I use clinically and in my personal life is to build resources around me that create a rich environment for everyone. The way I teach really has an awful lot to do with the way that I treat and it starts from a place of validation and respect. Being able to see your clients and have their gift of trust makes me a better teacher. 
When Covid-19 hit and we had to do an online transition, I wanted to find a way to maintain that personal connection. I saw a video of a Learning Glass and found out that CSULB had a mobile version of the Learning Glass that I could actually borrow. Typically, instructors use this technology to record lectures, but I decided to use it synchronously so that I could diagram clinical reasoning processes and flows during live discussions and get student feedback that I would write on the board. This allowed me to bring a real, direct, interactive experience that also had a different visual and audio feel. Students didn't have to shrink my image down to see the board (like in Zoom) and I didn't appear as just a giant head on the other side of the computer. Teaching with the Learning Glass resonated with my commitment to active engagement.
Why did you build your own Learning Glass?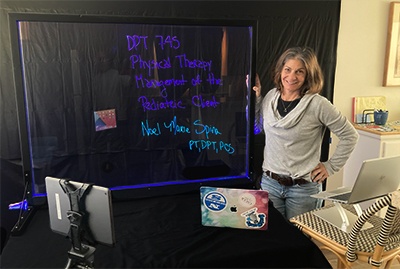 I needed something that I could keep - therefore I had to build my own. I decided to move forward after trying out the one from CSULB, which is smaller. I needed a bigger platform for synchronous teaching.
What were the benefits of using the Learning Glass?
I think mask fatigue and Zoom fatigue are real. The Learning Glass creates an experience that has a different visual feel and allows students to feel more connected and integral to the learning process.
What tips can you share?
Make sure that managing the technology isn't interfering with your teaching. It's just a tool. Also, test the placement and distance of the Learning Glass from the iPad/video recorder, and get feedback from your students and family.
Student Perspectives
Image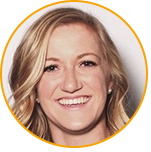 Kira Estelle, Student
"When Dr. Spina is writing and drawing, we can see the interweaving connections of everything."
Image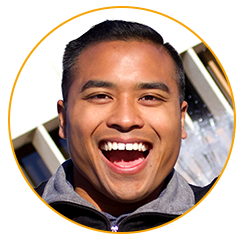 Charleson Agustin, Student
"Discussions with the Learning Glass are more collaborative and just a better learning experience."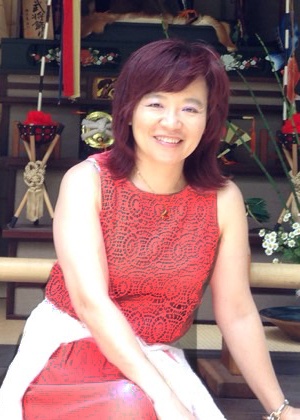 Dr. Jasmine Yur-Austin
Listen to Dr. J's Interview [audio]
Read the Transcript [PDF]
Dr. Jasmine Yur-Austin (aka Dr. J.) is a Professor of Finance and currently Associate Dean for Accreditation in the College of Business. Dr. J. has rich teaching experience related to face-to-face, flipped, hybrid and online instructional modalities in topics like business finance, corporate finance, investment and international business and has published numerous articles in reputable journals.
Why did you choose to start working with the mobile learning glass?
Over my 25 years at Long Beach, many things have changed. When I first came here, I taught students in a traditional, face-to-face format. In 2015, I moved to a hybrid format, and in 2018, I moved to an online format. Before I started using the Learning Glass, I created recorded lectures with Camtasia.  But as you know, Finance is very quantitative. It was difficult to manage Camtasia while writing on your screen to do model problem-solving. One day, I got into an ATS training session about the Learning Glass and I thought, "Oh my goodness, this is exactly what I did in the classroom!" I could be in front of the big transparent glass and do my demo, and use the different colored markers to do different kinds of equations.
What were the benefits of using the mobile learning glass?
It feels like we're back in a real classroom. Especially during the pandemic, isolation is a really big thing. In online classes, sometimes students may check out mentally due to Zoom fatigue. But with the Learning Glass, my students all told me that it felt like they were in my classroom because they could see me solve the equations step-by-step.  I feel like this is critical.
What tips can you share?
The number one tip is to prepare your script before shooting the video. A piece of ordinary paper is your best friend so you can write out what you want to cover. If you record without preparing in advance, you'll probably miss a lot of things you want to cover. Break down each lecture into several topics so the video doesn't become too long and risk losing the students' attention.
It's best to record in a dark space. Some options are to record in a room with black paper over the windows (there are lights on the Learning Glass itself, which you can use to see while recording your video), or record at night.