Stephen Adams: Exploring VR 's Impact on Society
Dr. Stephen Adams is a professor and coordinator of the Educational Technology and Media Leadership program in the College of Education. In Professor Adams' "Digital Culture and Society" Fall 2022 course, he developed a virtual reality (VR) learning experience to examine how this technology can impact social change. To give his students a 'real-life" experience of using virtual reality equipment, Professor Adams partnered with the CSULB Innovation Space to bring his students into the lab for hands- and headsets-on practice.
"Students enjoyed the immersive experience of VR and engaging with each other in a different way. Their experience triggered a great discussion on how this type of technology can impact change in society."
Image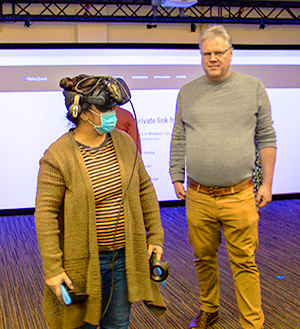 Image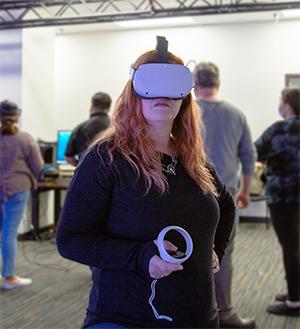 Key Questions
What led your interest in exploring the impact of VR in teaching and learning in your class?
What were the student learning objectives for the course?
Answers
After learning about a VR simulation program called the 1000 Cut Journey, a project created at Stanford University to facilitate awareness of racism, Professor Adams was inspired to create a learning module around this program to examine the impact on users and how it could be used in an educational setting.
Knowing that the CSULB Innovation Space operates a virtual reality "Powerwall" and provides technical and pedagogical support for utilizing VR programs, Professor Adams set out to organize a virtual experience for his class. Although the 1000 Cut Journey was not available due to pending software issues, Professor Adams was able to acquire access to another program called Coral Compass related to coral reefs on the island of Palau.
The Coral Compass program gives users the experience of being underwater and swimming around the reef. In its real-life application, this program was pivotal in convincing policymakers in Palau to make changes to laws around access to the coral reefs and this country became the first to implement a passport pledge for environmental protection. 
Dr. Adams' course on Digital Culture and Society critically examines social and cultural implications of information technologies. The activity at the CSULB Innovation Space gave his students first-hand experience with VR, which is an emerging area that has social, ethical, and equity implications for use in education and other fields.
Key Question
What did you observe about the students' experience with VR?
Answers
As a point of connection with the policymakers in Palau, students were able to actually see evidence of the environmental impact on the coral reefs. This interaction touched them on an emotional level and deepened their commitment to the cause. Students were thus able to better comprehend how VR could be incorporated into a course for a more profound learning experience.
Key takeaways:
Students enjoy the novel and immersive experience of engaging with content.
VR is an absorbing and impactful experience as it can evoke physical sensations.
VR is a great tool for triggering dynamic discussion on a variety of social and technical implications.
Currently, many VR programs are limited to providing experiences in "Individual worlds" since each user is isolated in their own headset. There are "group" simulation programs where people can meet as avatars in a virtual meeting room, but these programs are still in the early days of development. However isolating it may seem, the VR experience is not unlike the real world where we each have our own individual perspectives of a common experience.
If the VR content contains more "emotional" content, it would require more planning to prepare students for the experience. There is a possibility that some students could have negative reactions emotionally or physically. 
Some people experience vertigo or nausea from the headsets, so an alternative learning mode may be necessary for students in these cases.
CSULB Innovation Space. Request a tour and be inspired to develop novel learning experiences!
1000 Cut Journey. This immersive virtual experience supports the perspective shift needed to more meaningfully, honestly, and deeply engage issues of race and racism.
Coral Compass.  This virtual diving experience shows how Palau is adapting to climate change to combat its effects on their reefs and economy.
Meta Horizon Workrooms. This virtual space provides an immersive way to meet teammates, brainstorm ideas, share presentations, and get things done.