Health Science Student Selected as an American Heart Association HSI Scholar
Image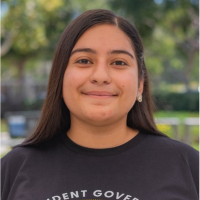 Jocelyn Peña was 1 of 30 students across the country who was selected as an American Heart Association Hispanic Student Institutions (HSI) Scholar for the Class of 2022-2023. The HSI Scholars Program aims to support students who are committed to diminishing health inequities in Latino communities. Students in the program have the opportunity to work with dedicated health care professionals while learning about health disparities in Hispanic communities.  
What type of work/research are you doing as an HSI Scholar? 
I am currently conducting research with my mentor, Dr. Elizabeth Tarling from David Geffen School of Medicine at UCLA. My research is focused on heart disease in mice. The difference in area quantification between the lesion areas between wildtype (WT) control mice and mice lacking ABCG1 specifically in B-cells. 
What have you learned from being a part of this program? 
As part of this program, I have been exposed to research as an undergraduate student.  Being in a cohort of 30 Hispanic/Latinx students from the United States has given me the opportunity to connect with others that understand the experience of being first generation and the barriers we face. It made me realize the resilience of others who are like me that are working for a seat at the table and the opportunity to give back to our community. 
Being able to attend the American Heart Association Scientific Sessions as an undergraduate student has given me the opportunity to be surrounded by professionals who validate my experiences and give me inspiration to one day be that mentor to others that are the first in their family. Overall, I have learned the impact of what public health professionals are doing every day.  
Image