Health Care Administration student receives City of Hope Fellowship
Kiely Gode, master's candidate in Health Care Administration
Image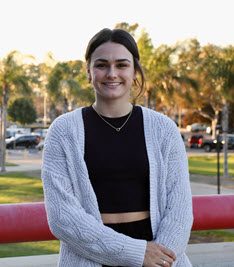 Congratulations to Kiely Gode -- Health Care Administration Master's Degree candidate -- who recently secured a very prestigious fellowship with City of Hope, one of the largest cancer research and treatment organizations in the United States! Duties of health care administrators include: creating and implementing policies and procedures, supervising hospital and medical staff, managing finances, and maintaining records to improve health care services.  
Kiely's fellowship will be at the City of Hope Main Campus in Duarte, Calif. CHHS caught up with the rising health care star to talk about her journey, and to find out what piqued her interest about the Health Care Administration field, as well as her aspirations moving forward.
CHHS: Thank you for talking with us, Kiely, and congrats on your City of Hope fellowship! This was a national search and you had to compete with candidates from big name universities from across the nation. How excited are you to be in this fellowship?
Kiely Gode: So excited! And thank you! The fellowship itself is a one-year program where I will be in rotations in different administrative departments and will shadow executives; I'm looking forward to assisting the chief officers and executives at City of Hope. It's a great opportunity to work closely with a leadership team from a big organization like City of Hope, and I'm looking forward to getting hands-on experience of what I've been learning in my master's program in Health Care Administration here at Cal State Long Beach.
CHHS: Speaking of, what brought you to Long Beach State, and what made you choose to study Health Care Administration?
KG: I did my undergrad in biology at UC Santa Barbara. I thought I wanted to go into health care on the clinical side, and I worked as a medical assistant for two and a half years after I completed my undergraduate degree. And so I was thinking I would enroll in a physician assistant school to complement my extracurricular activities. It wasn't until I started taking on a lot of administrative roles in my medical assistant job that I began thinking about the administrative and business side of health care. It really opened my eyes to what I could do. So I applied to this program here at CSULB, and began seeing how my degree would apply to the real world. I learned that I could still make an impactful difference in health care moving from the clinical side to the administration side.
CHHS: According to the U.S. Bureau of Labor Statistics, Health Care Administration graduates are often one of the highest paid professionals leaving their degree programs.
KG: That's what my strategic business planning professor Suzanne Richards is always saying –she started as an RN (registered nurse) – so I relate to her a lot, having started on the clinical side – I was never a nurse, but started more on the clinical side of health care -- and shifted to health care administration. Prof. Richards says that almost every lecture, showing us statistics about salaries; she's always saying that if you get yourself on the right path, you can make a good living from [being a health care administration professional]. She really drives that point home in her class; it's definitely not why I got into it, but it's a nice perk.
CHHS: And finally, what has been your favorite aspect about pursuing health care administration as a career?
KG: My biggest ambition with pursuing healthcare as a career is that I really like working with people and like to feel that what I'm doing is impacting someone and making a positive impact on them. Even undergoing the interview process at City of Hope for the fellowship, I got the sense right away that all the staff members, executives and administrators who work there are so passionate about what they do. They really are a testament to how much of a connection they still feel to the difference they're making in patients, and what they're doing in people's lives to impact them for the greater good. It has been a reassuring process transitioning from the clinical side to the administrative side of health care, to understand that I will be a part of making a difference in people's lives as well. It's comforting to know that this fellowship with City of Hope will provide a lot of great opportunities for me moving forward.