Graduation à la Parisienne – Stephanie Brasovean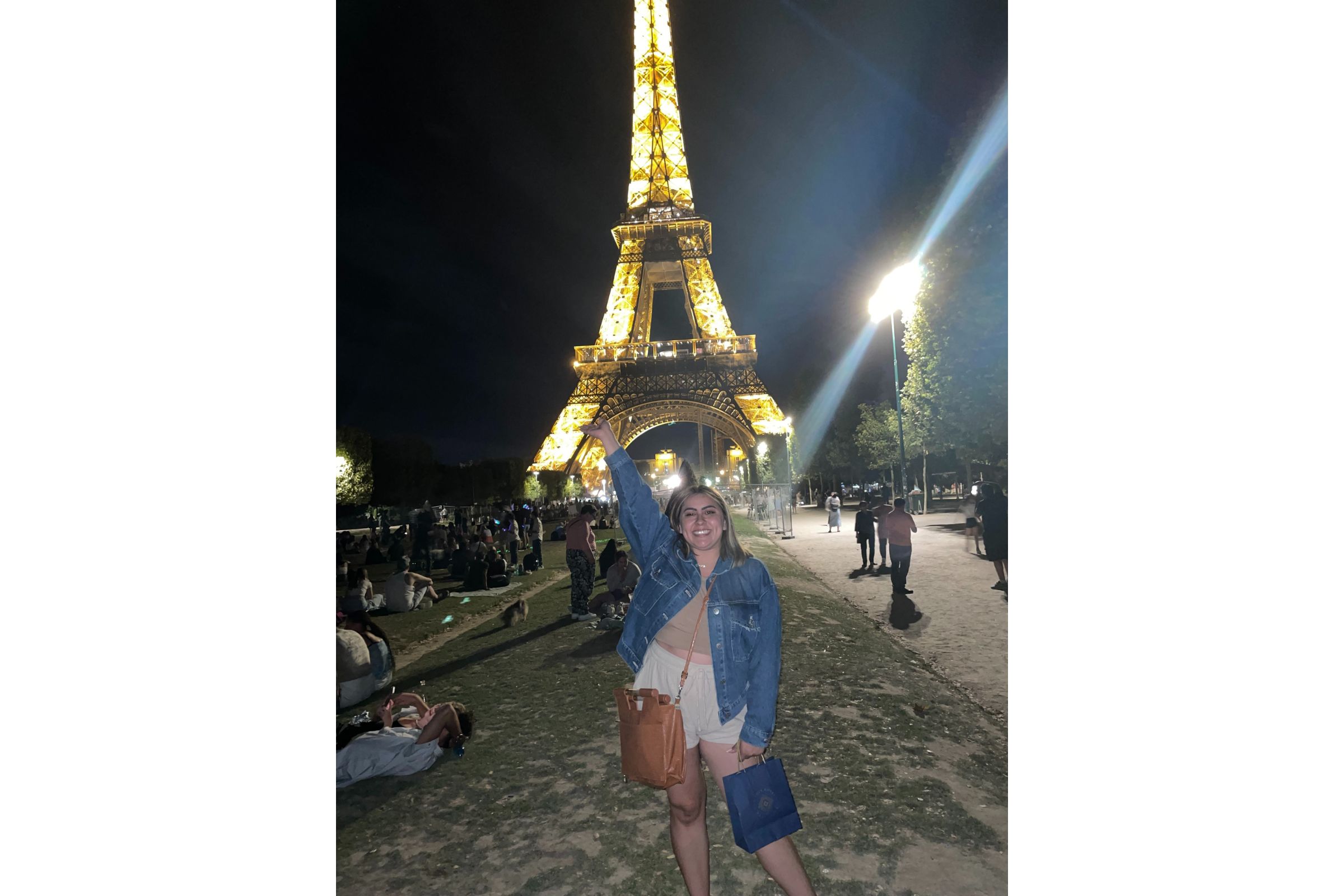 She was in Paris feeling like Emily from the television show "Emily in Paris." It was a whole summer later since she had been diagnosed with cancer. And it felt like a moment that had come full-circle.
The traveling bug didn't stop for Stephanie Brasovean, who will graduate from Cal State Long Beach this spring with her degree in Recreation and Leisure Studies, emphasis in Tourism Management. Her degree program took her to Paris last summer. This semester, and likely continuing in the summer of 2023, she'll be spending most of her time basking in The Sunshine State of Florida. Stephanie is currently finishing up her internship with the Disney College Program, an internship Stephanie says she got thanks to her studies at Cal State Long Beach in the Recreation and Leisure Studies department.
"The reason why I came to the Disney College Program was mainly because I want to go into theme park operations."
Stephanie currently works in water craft operations at Walt Disney World.
"There's a ferry boat that takes you into the park, and it goes across this huge lake. There are also resorts on the outer edge, so it takes people from the resorts to Magic Kingdom. I'm a deckhand; I'm responsible for tying up boats, loading and unloading guests, and giving directions to guests. It's a pretty fun job."
Among the best parts of the job; however, is when Stephanie gets to go cruise on special boat rides in the smaller "speed-boat type" employee boats. On any given day, you can see Stephanie zipping across the lake to get to Magic Kingdom.
Image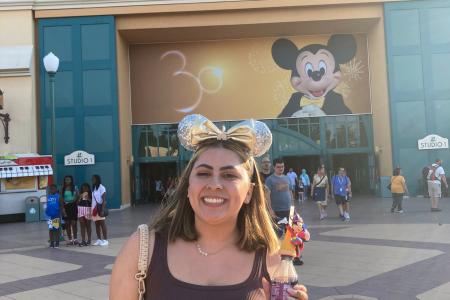 "There's never a dull time around here, that's for sure," she says. "There's so many attractions, transportation [methods] and you never get stuck in one thing."
Stephanie credits being a Recreation and Leisure Studies major at CSULB as a reason she is having so much fun today. "You can work in parks, tourism, government, non-profit agencies, outdoor adventure recreation – so many different areas you could go into with this degree program."   
Stephanie says she already has started applying to full-time positions, hoping to catapult her professional internship with the Disney College Program into working for Disney World, or an attraction like it, upon graduation. She has also put in applications to Universal Studios Florida and SeaWorld Orlando, as well as the surrounding resorts.
"There are so many large, beautiful properties out here in Florida," says Stephanie, originally from Downey, Calif. "I made the decision to move to Florida, so I will finish my [Disney] college program, and then return home to graduate. Hopefully, I'll have a job lined up and then come back to Florida and live here," she says over Zoom call. Stephanie is finished with all of her required classes at CSULB and is now focusing on completing an internship, her final requirement to graduate.
Now on the precipice of graduation, the 25-year-old recalls her journey to get to commencement. She first enrolled at CSULB right after high school when she was 18; however, health issues derailed her academic pursuits.
"I dropped out of school because my health issues got so bad."
Since her teenage years, Stephanie battled anemia so extreme she says that she would borderline go into cardiac arrest. She knew there was something wrong, but didn't have good medical care at the time. She quit school and says she just "wanted to go away."
"I just stopped going to classes and flunked out," Stephanie says.
After feeling sick for so long, Stephanie finally found a good doctor who diagnosed her with a rare hormonal imbalance disorder and prescribed medications to help her get better.
Gradually, Stephanie's health issues began to subside, and she decided that it was time to go back to school. She enrolled at Cerritos Community College and started taking classes again. She began taking her upper division classes through Open University, which offers the opportunity for anyone to enroll in a course without being admitted to the university.
"I was taking classes again at Cal State Long Beach through Open University -- adamant that I wanted to return full-time and graduate in a timely manner."
She took a course with CSULB Professor Katie Dudley, who Stephanie says played a big part in helping her get back on track with her studies.
About to start classes at CSULB as a full-time admitted student, and taking a summer course with Professor Dudley at the time, Stephanie got more bad news. Because of her history of health struggles, her doctors kept a close eye on her -- as she went in for regular check-ups, it was found that she had developed the early stages of cancer.
"It was hard, but the first time I battled health issues I wasn't going to seek support, and I had decided that it was easier just to drop out [of school]. "This time, I was determined to seek support from others, especially academically. Of course my family supported me all the way through, but it can be scary to tell your personal life and personal health issues to your professors and to your school -- you don't know how they're going to react. Professor Katie Dudley was a big help. I definitely wouldn't have been able to do it without her support. She's one of the biggest supporters of me, and just pushed me to keep going, and I'm very grateful to her."
"If I could fight like this for my health, then I should be able to fight for my education."
A month into her first full semester as a returning student, Stephanie had surgery to remove the cancer.
"I went to Katie [Dudley] and my other professors and explained the situation to them. They were all very understanding, and allowed me to turn in my assignments at a different time so that I could have the surgery and focus on recovering. I had Katie for two classes, and she really helped me figure out when to turn everything in."
This was also during a time when schools were not fully back in-person, due to the pandemic.
"Everyone had a horrible pandemic," Stephanie says. "Mine had cancer slapped on it. But I would say I didn't feel as bad or as alone during that time because everyone else was at home as well."
Upon returning to school in-person after her surgery, Stephanie was bound and determined not to miss out on anything.
"I was so motivated to finish my degree that I didn't care that I wasn't fully one hundred percent."
Though Stephanie was still in recovery when returning to campus in-person, she was determined that semester to give it her all.
"Ever since deciding to come back to school full-time, I knew I was going to do well. If I could fight like this for my health, then I should be able to fight for my education."
Stephanie made the President's List that semester, finishing with straight A's. She subsequently had two more surgeries to remove all the cancer, again making the President's List and attaining good grades throughout her time attending CSULB, while at the same time recovering from her ongoing surgeries.
In March 2022, Stephanie went in for an MRI and found that all the cancer had been removed. She had another check-up and was cleared as being cancer free. Around the same time, Professor Dudley began encouraging Stephanie to apply to internships for the summer.    
"She was sending me a bunch of emails about internships abroad, hinting that she would write me a letter of recommendation if I applied. I ended up applying to one and got it; so last summer I did an internship in Paris."
Stephanie says that she got the Paris internship because of her class with Professor Dudley.
"We had to do this social media project for tourism management, and I did a silly TikTok with my cat -- who I made to be a travel agent -- getting people to travel to all these resorts."
Something clicked with Geraldine, the fashion designer from France who saw Stephanie's TikTok, and hired her as a media assistant. The internship ended up being for a high-end fashion agency.
"I found out that the lady who hired me designed the store fronts for Gucci, Cartier, and Louis Vuitton. She was going to start her own fashion line and needed someone with social media skills, so I spent five weeks in Paris that summer helping with the new campaign." 
Taking photos and videos for her Paris internship and posting them on social media à la Emily from the popular Netflix series "Emily in Paris," became something that Stephanie could get used to – she was also using the skills and background from her Recreation and Leisure Studies degree program.
"My degree came into play because the whole campaign was built around 'women in recreation.' The whole fashion concept was showing women on the golf course, swimming, at the polo club, and showing women throughout the city being active."
Stephanie says she even made a friend while in Paris, and the two of them became a mirror of the friendship duo of Emily and Mindy in "Emily in Paris."
"What a fun time that was," Stephanie says. "And it was a full-circle moment because just a summer before, I had found out that I had cancer. A summer later, I was cleared of my health issues and living a dream."
Parlaying that dream beyond graduation is Stephanie's next focus, along with finishing up her current internship at Disney World.
"I realized how important education is and how far it can take you, because obviously the opportunities I've had -- like the Paris internship to now with my internship through the Disney College Program -- would not have happened had it not been for school and educators pushing me to do well. Education just gives you so many more opportunities, and you just have to do it. Well, I did it -- I'm cancer free and I'm graduating!"   
Image