Dr. Robert Schug - A Rockstar of His Profession
Image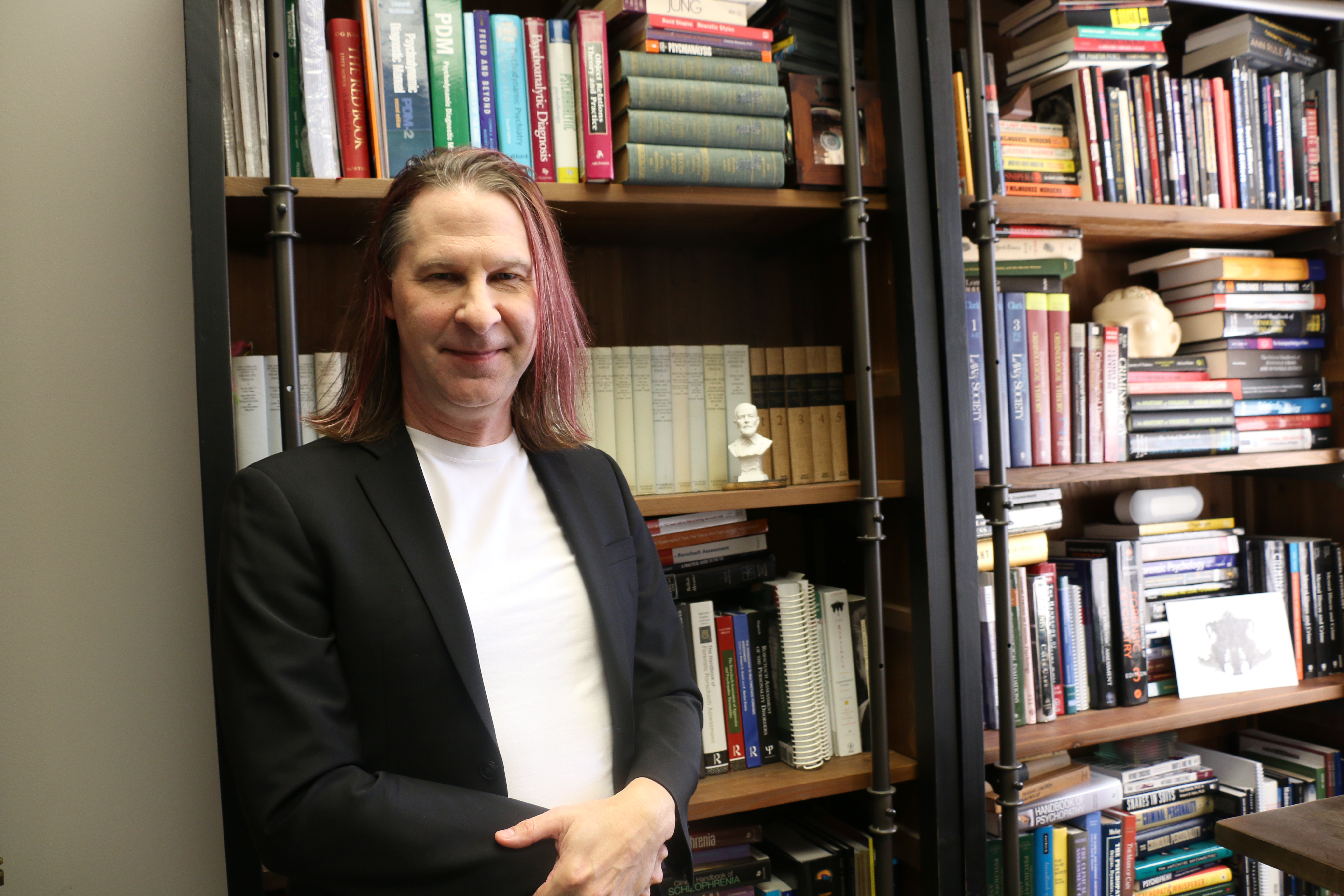 Dr. Robert Schug
Pop culture fascination with serial killers is a phenomenon well known by Cal State Long Beach Criminology Professor Dr. Robert Schug -- a real-life criminal mind scientist. Recently, you might have seen Dr. Schug on local and national television, as well as radio programs, providing in-depth analysis of the events surrounding the alleged serial killer arrested in Stockton, Calif. -- coined the 'Stockton Serial Killer.'
Dr. Schug will admit that his field and area of expertise in studying the psychology of violent criminals has a built-in fanbase – the 'Halloween' franchise released its 13th film this year, with fictitious serial killer Michael Myers still "at-large" in those movies. 
The slasher fandom aside, it is Dr. Schug's mission to provide a scientific background and scholarly approach to understanding violent crimes and the people that commit them.
But even Dr. Schug, who obtained Ph.Ds. as a neuroscientist and clinical forensic psychologist, will tell you that his career interest was piqued after seeing a film – 'The Silence of the Lambs' -- (who could forget Anthony Hopkins' searing, infamous portrayal of serial killer Hannibal Lecter?).  
"That really affected me -- I wasn't even sure how to put it into words, but I saw that as a sign," Schug says about seeing the film around the same time he was about to enroll in a master's program at Cal State LA in forensic psychology, wanting to study violent criminals.
"I went to my academic advisor at the time and said, 'I want to be a criminal profiler and study serial killers!'" Schug recalls. "I remember my advisor saying, 'Robert, you will never talk to serial killers – they are too rare, and it's too hard to get the clearance from prisons to go talk to them [in person].'"
Receiving his mentor's advice with grace -- though not letting it derail his dream of wanting to interview serial killers in person -- Schug continued the road, immersing himself in his studies, and working at Twin Towers Correctional Facility in Los Angeles as part of his practicum training experience. 
Continuing to follow the beat of his own drum – he had previously set his sight on becoming a world-famous rock star (he still has a band with his CSULB colleagues, appropriately named 'Higher Education'), Schug realized that his dream of studying serial killers and talking to them in person would hinge upon obtaining his Ph.D., and getting licensed as a clinical psychologist. 
"I had been reading about a guy named Adrian Raine – a famous British psychologist -- who had been working at USC at the time, and he was studying the brains of murderers; and I thought, 'That is someone I need to work with to really hone my skills and research.'"
By the time Schug got to USC for his Ph.D. program in neuroscience, he relays, Professor Raine was not practicing in the clinical side of the program, but in the research track.
"I knew if I worked with him, I wouldn't be able to get my license [on the clinical side] for the profession – that's what I needed in order to be able to enter prisons and talk with serial killers face-to-face. But I couldn't pass up the opportunity to work with this brilliant brain scientist [in Professor Raine]."
After receiving his Ph.D., Schug says his main desire was still to be a psychologist on the clinical side, not just studying the minds of serial killers from the security and coziness of the "ivory towers," but studying murderers directly.  
Now with his Ph.D. as a neuroscientist, Dr. Schug, already working as a lecturer at CSULB, enrolled at Alliant International University in San Diego, to get a doctoral respecialization in clinical psychology.
"I would drive down to San Diego twice a week to take classes, in between lecturing in my own classes here at Long Beach State; I was also teaching a full courseload when I did my full-time internship at Metropolitan State Hospital, a forensic hospital in Norwalk, and then eventually got my license as a clinical psychologist."
Though the road was long, the dream was finally realized. As both a brain scientist and a clinical psychologist, Dr. Schug continued pursuing his own research in the field, beginning a one-of-a-kind research project at CSULB involving individuals convicted of multiple murders. For this, Professor Schug wrote letters to serial killers in prison, asking if they would participate in his study. A few actually wrote him back. Some of those original letters from serial killers are framed on the wall of his office at CSULB.
About a year later, Dr. Schug was placed on a prestigious panel of psychologists and psychiatrists for the Los Angeles Superior Court, a select group summoned to conduct psychiatric evaluations of violent criminals, to be used as testimony evidence in court cases.
"It was very surreal," Dr. Schug says of getting on the panel.
"It has become my side hustle [conducting] evaluations for the court and seeing how the [criminal justice] system operates, working with both prosecution and defense teams; not to mention, being in Los Angeles, where we get some very high-profile cases."
In his class on serial killers at CSULB – CRJU 408: Serial Killers and Psychopaths: The Psychology of the Criminal Mind – Dr. Schug impresses upon his students the scholarly side of studying serial killers.
"I make it very rigorous and the students work hard," he says.
But even Dr. Schug gets to appeal to his inner fanboy sometimes; speaking in terms of his often-used Batman metaphor, he is able to shed his "Bruce Wayne Persona" lecturing about the psychology of criminals in the classroom, and "don the Bat suit," zooming downtown to lend his clinical abilities in the courts, prisons, and also serving as an occasional media pundit. "It is tremendously rewarding to be able to see the criminal justice system and this work from both the trenches and the ivory towers of academia," Schug admits.
Treading the professional and academic side of the criminal justice system, is what makes Dr. Schug a rock star in his profession.
"I'm in this very cool space in my career where I get to teach about [criminology] in the class, conduct research on it, and also get to play a part in the criminal justice system as an actual practitioner in the profession – it's the best of both worlds."
So, the next time you see Dr. Schug on television being interviewed about the latest serial killer at-large through the scholarly, psychoanalytic lens, you might catch a glimpse of that side of Professor Schug who is just a guy living his dream – not a far cry from that youth who moved to LA to become a rock star musician, and who was bewitched by seeing 'The Silence of the Lambs.'
Check out Professor Schug in the news for the following media outlets: CBS Sacramento, the Los Angeles Times, KFI news radio, San Francisco Chronicle, and MSN/The Daily Beast