Class of 2023 Spotlights: Health Care Administration
As they start their careers in health and human services, a common theme among CHHS graduates is their desire to help serve and support their community.
The Health Care Administration department features a strong core of courses in the essential functions of management, with electives that allow students to pursue interests such as the specialized site of care courses in long term care administration, hospital management, managed care, and medical group practice management.
While we commend and celebrate all CHHS graduates, here are a few graduates whose stories stand out because of their determination to overcome challenges, to follow their dreams, and to make a positive impact on the lives of others.
Kiely Gode - Master's in Health Care Administration
Image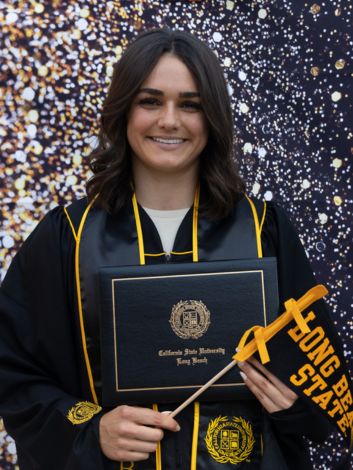 In her two years as a graduate student at CSULB, Kiely has been immersing herself in an incredible variety of curriculum and professional development experiences, preparing her to enter the fast-paced, ever- changing healthcare industry as a well-rounded professional. Among her collegiate accolades, Kiely led a team of fellow CSULB Master of Health Care Administration candidates to a first place finish at the annual College Bowl hosted by the American College of Healthcare Executives (ACHE) - beating out such schools as UCLA and USC. This case study competition required Kiely to develop a comprehensive strategic plan targeting a current problem in an existing health system. Read More
Fil Braham Carbonell: Major - Health Care Administration
Image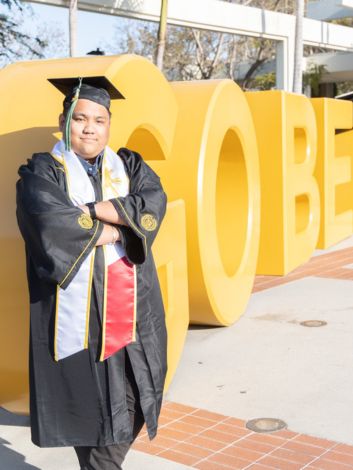 Fil Braham Carbonell was an active member of his community during his time at CSULB as a Healthcare Administration student -- from participating for care and humanity events at his church, to volunteering at vaccine clinics during the pandemic, to now in his final year and interning at Kaiser Permanente. "I chose this career path because I have always wanted to help those in need," he says. "Being in healthcare administration, you can connect those in need with resources to help them.
Sebastian Cornejo: Major - Health Care Administration
Image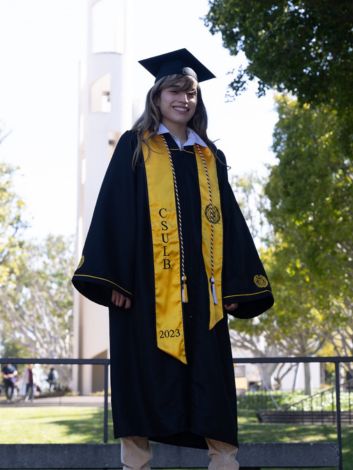 A challenge that Sebastian faced while pursuing his degree in Health Care Administration was juggling his job, full-time studies and dealing with the curveballs life often throws. "Through all this, I felt these past four years, I have found a lot within myself and I accredit the department for being a catalyst for showing me what I am capable of." Sadly, Sebastian lost two very important people in his life while a student – his two grandmothers. "I know they would have wanted me to pursue my education and to push myself to a world of open doors."
Sebastian says he would not have overcome these challenges had it not been for his supportive professors, the CAPS department and the Dean's Office. "Their support was instrumental in helping me get back on my feet," he says.
Sebastian chose to pursue a career in healthcare administration because he wants to play a part in helping to achieve a better work environment in any given setting. "Through trying and difficult times, we learn how to deal with change and how to best manage it – positive changes help everyone down the line including patients, doctors, staff and the community and the environments that surround them. I hope to be at the head of the charge for positive change in the healthcare industry."
Giselle Gomez: Major - Health Care Administration
Image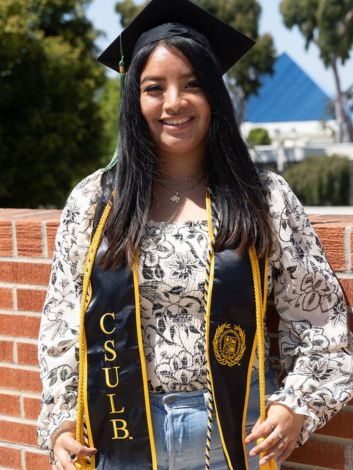 One obstacle Giselle Gomez faced on her way to graduation, obtaining her degree in Health Care Administration, is finding the time to balance attending school full-time, completing her internship hours, and work. She found that having a set schedule and having supportive supervisors helped her a lot. She herself was a student assistant at the CHHS Advising Center during her time as a student.
She chose her career path because she wants to help people. She also enjoys business. "Health care administration is the perfect combination of both," she says. "As a health care professional, I hope to make a change within our health care system. I want to make health care access easier for everyone."
Nghi Huynh: Major - Health Care Administration
Image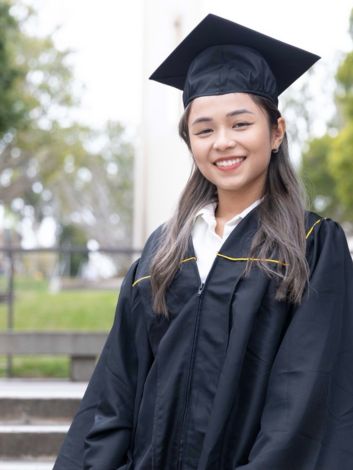 One of the biggest challenges Nghi overcame during her time at CSULB was being enrolled full-time as an international student. She also had to take on full-time work to pay for her education. This motivated her to study hard and begin applying to scholarships. She qualified for the Provost's Graduation Incentive Award (PGIA) which provides free summer tuition to transfer students who can graduate in two years by taking courses in the summer. "I am glad and grateful for all the opportunities that CSULB and the United States have provided me," Nghi says.
Nghi says she chose to pursue a career in Healthcare Administration because she believes that health is the most important aspect to each individual. "I hope my abilities will contribute to improving the community outcome in healthcare and increase access to health resources and knowledge in the community."
The most important lesson Nghi says she has learned throughout her time at CSULB is the important of group projects and group work. "I've learned how to communicate with other classmates, solve problems and to adapt in different situations and be a part of a team, which is ultimately what a healthcare administrator has to do."
Jennifer Santos: Major - Health Care Administration
Image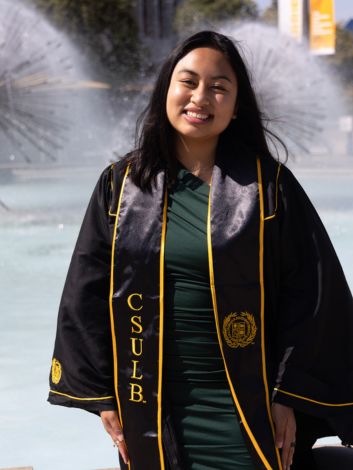 The biggest challenge Jennifer Santos faced during her time at CSULB was around maintaining a work-life balance. She was a full-time student, had an internship part-time and had a part-time job. In her spare time she likes spending time with her loved ones and is passionate about fitness. "Overtime my health and fitness goals were put on the backburner in order to meet deadlines at school, work, and my internship," Jennifer says. "As a result, I slept only four hours each night, started going to the gym less and did not have time to pursue any other hobbies."
Jennifer says her performance at school and work decreased. She had the agency to let go of some of her other commitments to get her priorities in check and as a result began experiencing better grades in school – ending with straight As and also felt happier, healthier, and became more motivated. With changing her major and plenty of self-reflection, Santos felt that her biggest strengths resided in helping other people live happier, healthier and safer lives. "In the future I hope to serve my community by creating happier and more productive workplaces with my Health Care Administration degree, by making each employee feel heard and seen. I also want to play a part in providing organizational structure that allows employees and businesses to grow."
Jennifer says she finds major inspiration from her parents, who also both attended CSULB and met in the dining halls. "Throughout my whole academic journey, I have been grateful to have parents that financially and emotionally supported me. Unfortunately, my dad passed away four years ago, so his memories at CSULB, the advice he gave me, his dreams to graduate college and find a good occupation, all resonate within me to do my best and carry the torch in his honor. Without my parents attending and meeting each other at CSULB, I ultimately would not have been where I am today standing here at graduation."