CHHS Wavemakers: Hospitality Management Student Opens Restaurant
Image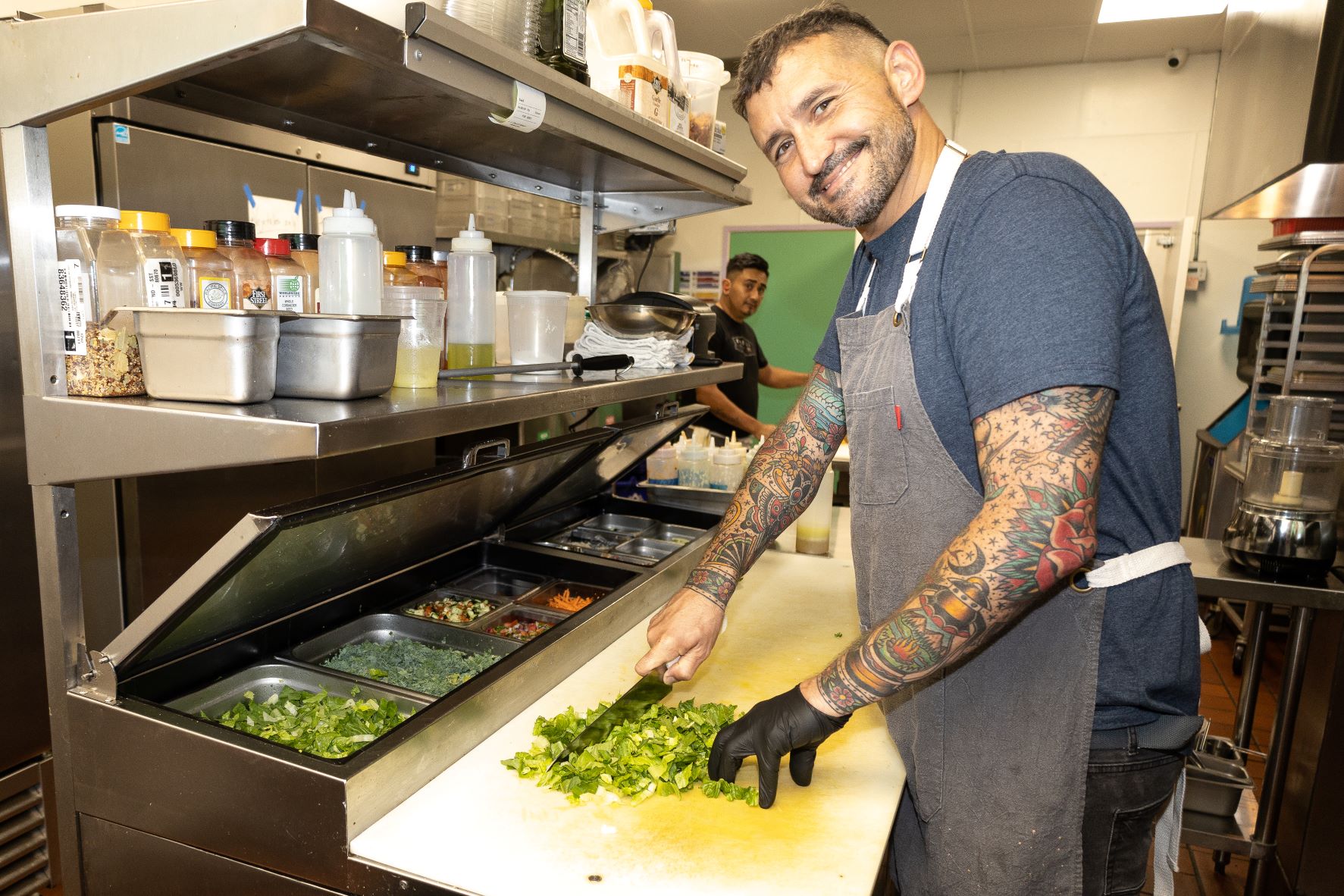 JASON CERVANTES, HOSPITALITY MANAGEMENT ALUM//PHOTO: KEVIN CODY
The College of Health and Human Services (CHHS) caught up with Hospitality Management alum Jason Cervantes via phone call, to learn more about his degree pathway, and his successful journey into opening up his own restaurant -- a happening Vegan takeout spot in Redondo Beach near the ocean called lil' Vegerie.
CHHS: Hello Jason! Thank you for taking some time to talk to the College of Health and Human Services about your successful restaurant ventures, and your time spent at CSULB! You graduated with a degree in Hospitality Management from the Department of Family and Consumer Sciences, and now you are a successful restaurant owner! First of all, what's it like running your own restaurant, and what are you doing right now? 
Jason Cervantes: I'm washing dishes as we speak [laughs]. We are getting ready for the night crowd at lil' Vegerie, and I'm catching up on some tasks here at the restaurant.
CHHS: Wow, you do it all!
JC: Yes. I always say, labor like this is good for the soul. I do everything as a restaurant owner and I juggle a lot of things.
CHHS: Is being able to multitask something you learned while getting your Hospitality Management degree at CSULB?
JC: Definitely. It was paramount to my growth, and obtaining my degree at CSULB gave me a lot of opportunities and experience that have led me to where I am today. I came into the Hospitality Management program with a lot of restaurant serving experience waiting tables. I worked, went to school, and commuted from Glendale. That was one of the biggest things I learned in college was juggling multiple things -- work, school, and being able to have a bunch of different balls in the air; meeting deadlines and juggling everything [during college] has been a big help in the real world and in my career.
CHHS: What specifically did you learn in your degree program as a Hospitality Management major that you feel has made you successful now as a restaurant owner?
JC: The faculty does a great job of giving you a general overview of the industry and what you can do with the degree. The major prepares you to go into all types of work settings such as the food industry, wedding and event planning, catering, hotel operations and more! I learned valuable skills, such as prepping and cooking meals, planning events  -- there's a big golf tournament that the Hospitality Management program puts on, and I was lucky to work with Prof. Lee Blecher on helping with that event. The program gave me a lot of real life, practical experience. Hospitality Management also does a great job of preparing you on the financial side as well. Owning your own restaurant, you have to [be adept at] profit and loss margins, studying the market, and being articulate with investors. A lot of that I learned in the Hospitality Management program, and I give a lot of credit to my professors who have such a depth of knowledge and expertise. I didn't know exactly what I wanted to do when I was a student. I had a lot of restaurant serving experience waiting tables. I remember a professor saying to me, 'What you want to do is to get into management.' So, when I got my degree, I parlayed my serving experience into obtaining a management position at the restaurant I was working for at the time.     
CHHS: After you graduated, what was the journey like to now being able to experience the dream of owning your own restaurant?
JC: Well, to tell you the truth, I never really thought about owning my own restaurant. In fact, I kind of vowed that I would never do that, because I've seen how hard it can be. I've always worked in restaurants as a server and in management. The idea came to me and my fiancé during the pandemic -- I wasn't working and everything was closed. I was cooking at home for us, using these recipes that were clean and delicious, and one day we went out to dinner and we realized that there weren't a lot of options for food like this --  that both tastes good and feels good to eat -- so we were like, 'Hey let's build this concept our own' -- and we did! During the pandemic, I was able to save and accrue the money needed to open the restaurant. We talked to investors, found the space, built a great team, and opened our restaurant in May, 2022.
CHHS: Wow how exciting! What do you like most about owning your own restaurant?
The reason I love it is because I'm one of those nerds that really has fun with the idea of taking care of other people. Nowadays, and [post] pandemic, managers are doing pretty well…before the pandemic as a General Manager, if you were making $90,000 – $115,000 a year you were doing pretty good. You work long, grueling hours, so you have to love it. The fun part of it is that you get to have a certain degree of say in how an operation is run, and a lot of times owning a restaurant is very fun; there's music playing, there's the smell of the food, festive experiences during the weekend, big business dinners or some kind of celebration you get to take part in. Facilitating that and seeing people around you happy and having a good time is a very rewarding experience. When you have a good team and you've prepared everything correctly, and you care about what's going on and have the experience to really execute well, it's a great feeling, and is the reason why people like me stick with it. Restaurant margins can be thin and it's not all glamorous.
CHHS: You've probably finished washing those dishes in the time it has taken to do this interview, haha!
JC: Yes, I'm on to sweeping now.
CHHS: Tell us about the menu at lil' Vegerie. Everything sounds delicious!
JC: Everything is plant-based, soy-free and gluten-free. We've developed the menu to be global, so it's influenced by a lot of different cuisines such as Mediterranean, Indian, Latin and American influences. We have chef-driven vegan bowls and salads and crafted fresh-pressed juices. The exciting part was to create a menu that both tastes good and feels good. All our foods have big flavors, big colors, and big textures. The goal of our restaurant is to dazzle your palate and rejuvenate your life!   Check out the latest happenings and menu creations from lil' Vegerie by following their Instagram: @lilvegerie.
Grab a bite!
800 S. PCH Ste.6A
Redondo Beach, CA 90277