Student Information
SPOT is a questionnaire that offers students the opportunity to provide anonymous feedback to instructors.
Complete SPOT Online!  
Click the SPOT image or scan the QR code below to access your course evaluations.
Image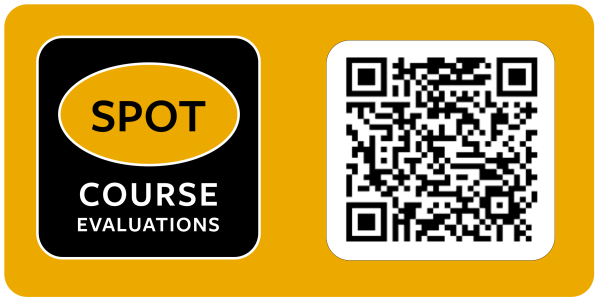 Frequently Asked Questions
Access to SPOT ends at 11:59 pm on the last day of class. SPOT cannot be reopened once it closes.
Yes. Unless you include your name, instructors will not know who has written the comments. Instructors can review student responses after grades have been submitted.
No. For anonymity reasons, we do not provide proof of submission to instructors. Instructors may not provide incentives for course evaluation completion.
Yes. As a reminder, course evaluations are not accepted after the closing deadline.
There is no way to correct SPOT after submitting the form.
Evaluation for your course may not have started.

The course may not have been selected for SPOT administration due to low enrollment or other administrative reasons

.