Poll Everywhere
Poll Everywhere is a dynamic online polling platform that allows students to respond to custom, teacher-generated polls through text messaging (SMS), smartphone, or computer. It can be used as a formative assessment strategy that enhances and amplifies classroom discussion, participation, and understanding.
Interested?
If you'd like more information about using this tool in your course, please fill out our Interest Form and an ATS instructional designer will contact you to schedule a consultation:
Access Your CSULB Poll Everywhere Account
Image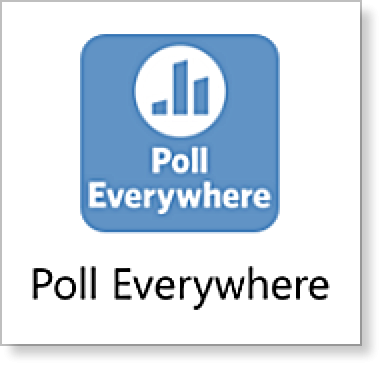 Both students and faculty must log in to CSULB Single-Sign-On and select the Poll Everywhere icon to create an account. 
Poll Everywhere in BeachBoard
Go to Poll Everywhere through the CSULB Single-Sign-On to ensure you are logged in.
In a separate browser tab, log in to your BeachBoard course.
Go to Edit Course.
Select External Learning Tools.
Select LTI Advantage.


Image

Click New Link.


Image

Select Poll Everywhere from the Deployment dropdown.
Type in Poll Everywhere for the Name.
Enter the URL:  "https://www.polleverywhere.com."
Select Save and Close.
Go to Content.
Select Add Existing Activities (If you do not see this option right away, be sure to create a new module titled, "Poll Everywhere" in the Content section).


Image

A dropdown menu will open. Select the External Learning tools option.


Image

A new window will open to Add Activity.
Scroll down to Poll Everywhere.
Select the hyperlink "Poll Everywhere."


Image

Select the dropdown arrow next to Poll Everywhere External Learning Tool Link.


Image

Select Edit Properties In-place in the dropdown menu.


Image

Select the checkbox for Open as External Resource.


Image

Refresh browser page. The Poll Everywhere link should now open in a new tab.
Log into Poll Everywhere website using CSULB email.
Select the Continue to bbcsulb.desire2learn.com option.


Image

Select Import Roster.
Select Go to the Participants page.
Verify students from your course are showing on the participants' page.
IMPORTANT NOTE: If the LTI connection is ever permanently deleted in a course, access to all Poll Everywhere Activities will be lost within that BeachBoard course. The LTI will need to be reconnected starting back at the top of this document.
Creating Questions with Point Values
Point values must be designated prior to students responding to polling activities. If points are not assigned before students respond, those points will not be collected and grading may need to be completed manually to give credit to students. Only Multiple Choice and Clickable Image activities can be scored.
The following steps will show how to create activities with points to be imported into BeachBoard.  
Go to Poll Everywhere Activities.
Add a New Group (Optional):
This is recommended for staying organized if you are using Poll Everywhere for more than one course. You can also assign your students to these specific groups and create activities that only belong to one group.
Select New Activity.


Image

Select the type of activity you would like to use. In this example, we will use a multiple-choice question.


Image

Enter the question text and answers. You can add answer options but clicking Add option.


Image

Make sure to select a correct answer by clicking on the checkmark to the left of an answer choice. This is important for exporting the graded information.


Image

Assign the activity to a group (if you created one), Add Another Activity or click Create to finish.


Image

When looking at your Activity after clicking Create, you can modify the Visual Settings and Activate the course. 
Note: For your students to respond to an activity it must be active. Only one activity can be active at any given time
Select on the Present tab after making any necessary adjustments.


Image

Select the Share and Embed dropdown and copy the Copy embed script.
Return to your course in BeachBoard and go to the Content area you would like to place this activity for your students.
Select New.
Create a file.
Open Source Editor:


Image

Highlight current text and replace with copy embedded script.


Image

Select Save and close.
Embedded images may show a "Pre-Registration required" notice.


Image

Students should be able to access Poll Everywhere within BeachBoard based on their SSO Login.
IMPORTANT NOTE: Students should use CSULB email accounts when accessing Poll Everywhere. Once all graded Poll Everywhere activities have been completed in the course, follow the instructions below.
Visit the CSULB Single Sign On and select the Poll Everywhere icon.


Image

Once logged in to Poll Everywhere, return to CSULB Single-Sign-On and select the BeachBoard icon.
When in the BeachBoard course, return to the hidden LTI Poll Everywhere link you created and select or click on it.


Image

Select the Continue to bbcsulb.desire2learn.com option.


Image

Select Create Gradebook for export (NOTE: if you have already created the grade book you will get an option to View Gradebook).


Image

Select the Polls you wish to be brought into the BeachBoard Gradebook:


Image


Image Source: https://www.polleverywhere.com/PollEv_LTI_Adv_Brightspace_edu_guide_v1_0_1.pdf
 
Once in the Gradebook report, select the Export button:


Image


Image Source: https://www.polleverywhere.com/PollEv_LTI_Adv_Brightspace_edu_guide_v1_0_1.pdf
 
A popup will show Export report; select the Next button. The export will complete in the background.


Image




Image


 
Upon completion of the export, return back to BeachBoard Gradebook to verify new grade book column has been created:


Image


 Image Source: https://www.polleverywhere.com/PollEv_LTI_Adv_Brightspace_edu_guide_v1_0_1.pdf 
Poll Everywhere in Canvas