Class of 2023 Spotlights: Family and Consumer Sciences
As they start their careers in health and human services, a common theme among CHHS graduates is their desire to help serve and support their community.
The mission of the Department of Family and Consumer Sciences is to prepare leaders for the family and consumer sciences professions and focuses on teaching, scholarship and service to and about individuals, families, and communities in a diverse, dynamic society.
While we commend and celebrate all CHHS graduates, here are a few graduates whose stories stand out because of their determination to overcome challenges, to follow their dreams, and to make a positive impact on the lives of others.
Kevin Cooper: Hospitality Management
Image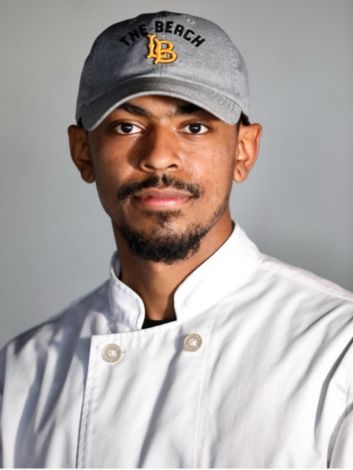 As a full-time student obtaining his Hospitality Management degree, Kevin Cooper also worked a full-time job to support his wife and two small children – ages 8 and 3. Monday through Friday he started his day at 4am and wouldn't end it until midnight or even later. This was his day-to-day operation for his entire college career. "I was able to navigate these challenges with the help of God and focus on the end goal of finishing my degree and being able to provide a better way of living for my family and myself," says Kevin.
Kevin chose his career path because he has always been passionate about food and he decided to pursue a Hospitality Management degree because he wanted to have the opportunity to do what he loves and get paid for it. "By choosing a career in Hospitality," Kevin says, "I essentially take on the role to 'serve' every day of my life, because I love doing so. Throughout my college career and moving forward, I plan to continue to be active in community service and all other facets of service as long as I possibly can."
While in school, Kevin immersed himself in the Marriott Internship Program, and enjoyed his work and activities for the California Hotel and Lodging Association, California Lodging Industry Association and National Restaurant Association Educational Foundation. He would like to thank Dr. Lee Blecher for his constant support every step of the way. "He shows true character and concern when it comes to the department and his leadership and encouragement in-action speaks louder than words."
Sierra May: Nutrition and Dietetics
Image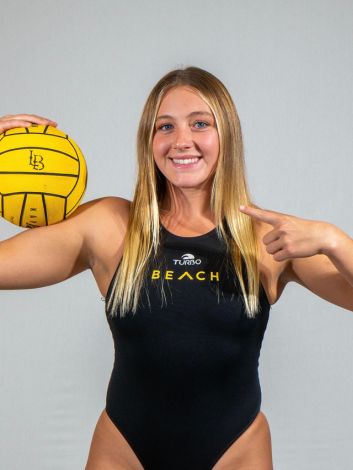 Sierra May started playing water polo in eighth grade. Originally from the Central Valley, May says that at first, she didn't even know how to do a flip turn. But soon, she began to really take to the water.
"I tried other sports, but being in the pool just really seemed to fit," she says. Now May is a star on the CSULB Water Polo team and will graduate this spring with her degree in Nutrition & Dietetics, graduating with honors. She also works part-time as a lifeguard at Crystal Cove State Beach.
"It's a lot, workload-wise, but I'm balancing everything and I'm almost finished." Read More
Angelica Hernandez: Child Development and Family Studies
Image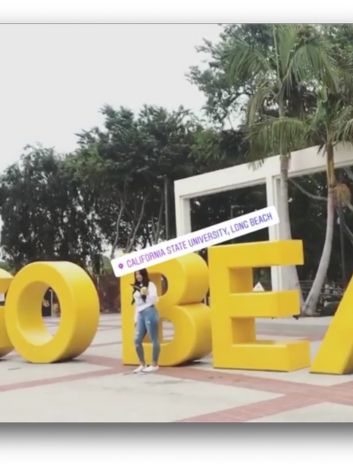 During her freshman year, Angelica Hernandez, while pursuing her Child Development and Family Studies degree joined the CHLSSA, a Latinx student association to seek more opportunities and resources for herself as a Chicana student. "It was an amazing experience for me and I created empowering friendships along the way," she says. "I was motivated to seek more opportunities for myself and within a couple of months, I ended up getting a job within my career path and transitioned to prioritize my time with work and my courses."
Angelica chose her career path because of how rewarding she says it can be. She is passionate about working with children and families. The most important lesson Angelica learned while at CSULB is the importance of getting involved on campus and building connections, as well as taking the time for self-care. "I am glad to have gotten the opportunity to experience and attend Cal State Long Beach."
Trevor Virgle: Hospitality Management
Image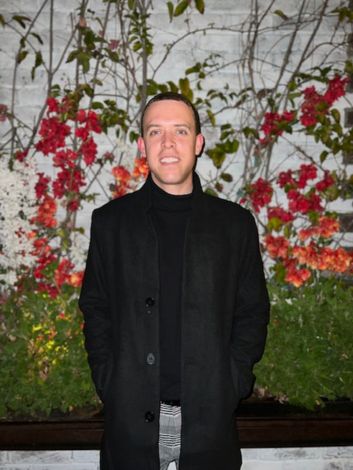 During his time at CSULB, Trevor Virgle was a member of Eta Sigma Delta, the Honors Society of Hospitality Management majors. He is also part of the Hospitality Management Association (HMA) and works full-time at a Michelin recognized restaurant in Costa Mesa called Habana.
"I chose Hospitality Management for the simple fact of creating amazing memories for people through service and experience," Trevor says. "I hope to lead a team that shares in the goal of creating great guest memories and experiences."
Georgette Shobeiri: Gerontology
Image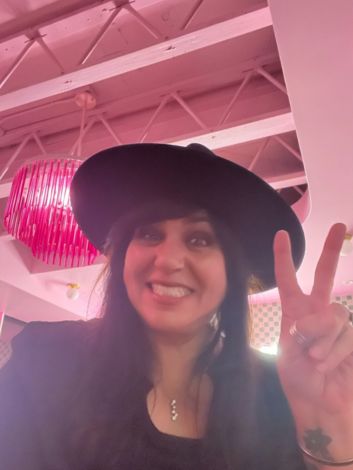 While a student in the Gerontology Program, Georgette Shobeiri was able to remain an active member of Guardian Scholars and is the President of Fostering Futures, a student-led organization aimed at providing a supportive environment for foster youth and allies. Georgette has a passion for helping prepare foster youth for their future careers and assists them with locating and securing summer internships.
Outside of her full-time schedule and participation in multiple clubs, Georgette takes care of her mom who has Multiple Sclerosis and dementia. She has immersed herself in the Gerontology program and has maintained a 4.0 GPA. Georgette has traveled far as she experienced a traumatic childhood and even was homeless for a time. She says she has chosen her career path because of her experiences growing up, and she has a passion for helping others, most especially foster youth and working with the older population.
"One of the most important things I've learned that applies to both inside and outside of the classroom is that 'if you never try, you will never know.' Georgette had the agency within herself and support from her CSULB professors to step out of her comfort zone and get involved with campus life and community. By getting involved in campus activities, Georgette gained a whole new perspective and was able to reach out to others and collaborate in ways she never dreamed possible.
Liliana Soriano Carrera: Child Development; Gerontology Minor
Image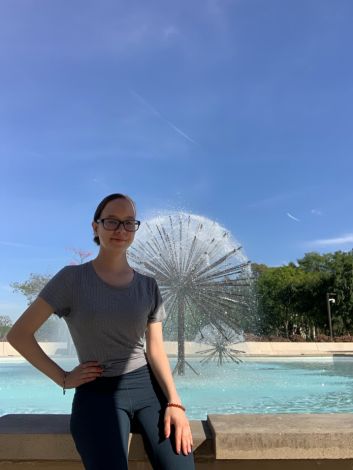 Liliana is a first-generation college student who really took charge of her education by participating in many outside activities beyond the classroom. She was an intern at the CSULB Speech and Language Clinic on Campus as an interpreter and social media marketing assistant. She also took cooking classes through ASI. "I am the first in my family to even attend college and at the start, having no clue or idea what my undergrad life would consist of," Liliana says, "my first two years especially were the hardest, as I constantly had that feeling like I did not belong. At first I did not have the courage to attend clubs or get involved in other activities on campus. I believe I overcame this challenge by speaking up for myself, asking questions when I needed help to my professors and classmates and getting involved on campus. It made me realize that we are all on the same journey to graduation and we all need help at some point to get to the finish line."
Nina Wicklund: Child Development and Family Studies
Image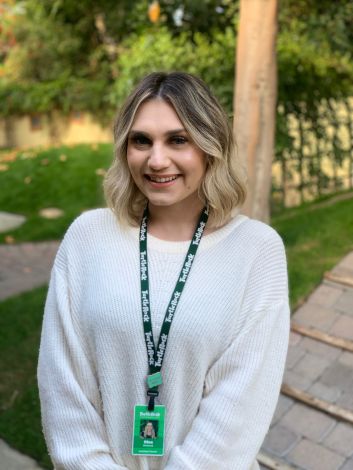 Nina Wicklund, who is completing her Child Development and Family Studies degree, says that she has been working on completing her degree for quite some time. "Between moving, two jobs and maintaining a social life, it has been difficult, yet still manageable," Nina says. "I am happy that I have overcome these challenges and have finally eared my degree."
Nina has worked with children for 4 years and she would like to continue on that path, helping children and families in the future. "The most important thing I learned at CSULB is time management. There is time for everything if you put your mind and heart into it."
Madison Hardwick: Child Development and Family Studies
Image
When Madison Hardwick first transferred to CSULB, she participated in a sorority and also got a student job at the FCS Child and Family Center as a teacher assistant.
Madison says she chose her career path because she truly felt it was the right fit for her. "I have a passion and love of working with children and it's truly a gift that I am good at," she says. "I hope to serve my community by becoming a teacher to help children grow and be successful in the future."
Madison says that CSULB taught her how to be prepared as a teacher. "Communication is key, how I present myself to parents and children to help meet and support their needs." As far as what inspires her, Madison says that her best friend Kayla, who also attends CSULB, motivates her and encourages her to be the best version of herself she can be.
Karen Gomez: Child Development and Family Studies
Image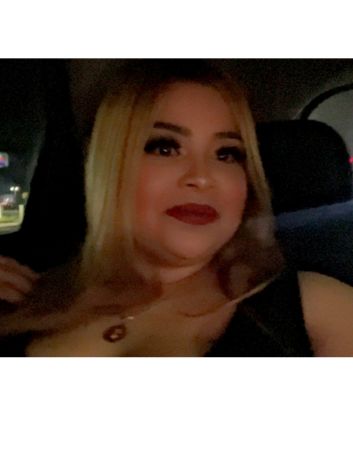 A major challenge Karen Gomez faced while pursuing her degree in Child Development and Family Studies is having to simultaneously juggle taking care of her uncle who became very ill, in addition to working and going to school. This included starting her mornings by getting her uncle up out of bed, giving him medicine, make sure he ate something, before dashing off to school to take classes at CSULB. She would return home at lunch, feed and change him, and give him his second dose of medicine. She would return to class and then go to work from 7pm at night to 11pm and do the same routine over again the next day.
The reason Karen says she chose this career path is that she loves being around kids and she wants to make an impact on those who have to face hard circumstances like she did. "I want to help children with anything that comes their way."
Karen says that the people who inspire her the most is her family, who stayed up with her late at night so she could finish her homework and who encouraged her every step of the way. "They were a great comfort to me every time I felt down or wanted to quit school," she says. "My family motivates me to do and be better every day."
Kayla Vengersammy: Child Development and Family Studies
Image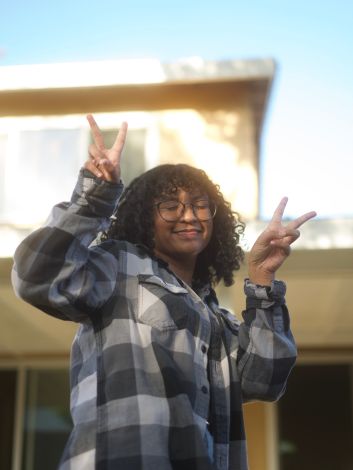 Kayla Vengersammy, who is completing her Child Development and Family Studies degree, chose her career path because she believes children are the smartest and most important people in the world. She hopes to serve her community by guiding them towards a positive and healthy path. Kayla was a teacher's assistant in the Child and Family Center in the Family of Consumer Sciences. She would love to thank Priscilla Lee and the CFC Staff for guiding her to becoming a strong teacher as she leaves college and begins her professional teaching career.