MESA Schools Program
Image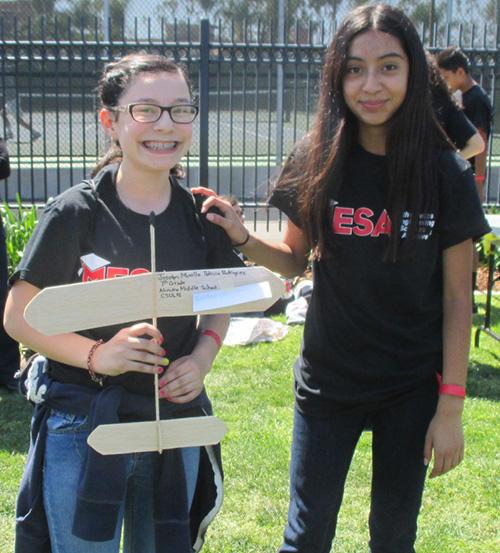 Funded by the State of California and donations from private industry, the Mathematics, Engineering, and Science Achievement (MESA) program serves low-income and educationally disadvantaged students at the pre-college and college levels. The CSULB College of Engineering offers the MESA Schools Program (MSP), which partners with Los Angeles area middle and high schools to prepare students to attend college, and the MESA Engineering Program (MEP), which provides non-remedial academic support to matriculated college students.
The MESA Engineering Advisory and Development Council (MEADC) includes a membership of industry representatives from local area businesses with an interest in promoting the educational experience of low- income and underrepresented students. Students follow MESA-developed curriculum that reinforces California State Math and Science Standards to build hands-on projects. Students enter these projects in CSULB's Preliminary MESA Day competitions. Top winners advance to regional and, in some instances, national contests. The Academy projects are highly effective demonstrations of the theory and practice of Math and Science.
Teachers serving as MESA Advisors establish a designated time during the school day to concentrate on the program. At most school sites, CSULB students act as tutors to assist the students with MESA projects and activities.
Guest speakers and field trips show students a wide variety of college and career opportunities.
At the end of the academic year, parents, 8th Grade students, and graduating high school seniors come to CSULB for an awards banquet honoring outstanding student achievement, participation, and leadership.
Parents are empowered to become effective advocates for their students through parent seminars and informative meetings.
MESA advisors receive help from CSULB tutors and a curriculum workbook to expand and improve Math and Science curriculum.
The College of Engineering MESA Schools Program (MSP) serves more than 1,000 students per year with innovative academic, college and career counseling, and hands- on science programs, which are great opportunities to compete, show off, and meet new friends. The program is funded by the State of California, school districts and donations from private industry.
The current service area includes the following five school districts and schools: 
ABC Unified School Districts (ABCUSD)
Artesia H.S.
Bellflower Unified School District (BUSD)
Bellflower M.S
Bellflower H.S.
Long Beach Unified School District (LBUSD)
California Academy of Math and Science (CAMS)
Hamilton M.S.
Hill M.S.
Hoover M.S.
Hudson M.S.
Robinson (Jackie) Academy
Jordan H.S. (Main Campus)
Lakewood H.S.
Lindbergh M.S.
Lindsey Academy (6-8)
Marshall M.S.
Polytechnic H.S.
Powell M.S.
Stephens M.S.
Washington M.S.
Los Angeles Unified School District (LAUSD)
Banning H.S
Carnegie M.S.
Dodson M.S.
Wilmington M.S.
Paramount Unified School District (PUSD)
Alondra M.S.
Hollydale M.S.
Jackson M.S.
Paramount High (West Campus)
Paramount High
Paramount Park M.S.
Zamboni M.S.
MESA Day is a festival of learning, discovery, competitions, activities, and fun events that encourage camaraderie and spark interest in careers related to the fields of Math, Science, and Engineering. The event for participating schools is an opportunity for students to compete for awards at local and regional levels. Rules and curricula for these events are grade-specific and reinforce the California State Board of Education Math and Science standards.
During preliminary MESA Day, middle and high school students compete on hands-on MESA day projects while competing to advance to the regional, state, and national levels. The day begins with required math examinations, followed by participation in MESA projects such as EggExpress, mousetrap cars, and the Windmill Energy Challenge. At the end of the competition, students are awarded with medals and/or ribbons for innovative design, accuracy, efficiency, report-writing skills, and more. The top three winners of every project advance to Regional MESA Day, a competition that involves all of the MESA Centers within Southern California.
Regional MESA Day is held for the top three winners of each Preliminary MESA Day project. The competitions for both middle and high schools are held separately. Since CSULB belongs to the Southern California region, our Regional MESA Day includes winners from MESA centers at California State University Los Angeles, University of California Los Angeles, and University of Southern California. This is the final competition for all projects, except the Wind Energy project, whose winners advance to the Statewide Engineering Design Competition.
The MESA National Engineering Design Competition is for high school and middle school teams who beat hundreds of other teams in California for the honor of going to nationals, held at Microsoft headquarters in Washington State. In June 2011, the National Champions were from Hudson Magnet school served by the CSULB MESA Center.
At the end of the academic year, parents, outstanding 8th Grade students, and graduating high school seniors are invited to CSULB for an awards banquet honoring outstanding student achievement, participation, and leadership. In addition to trophies, medals and certificates, graduating seniors are also awarded a MESA sash to commemorate their hard work and dedication. Outstanding seniors are rewarded with a Texas Instruments TI-83 Graphing Calculator, while outstanding 8th Graders are presented with a Texas Instruments TI-34 Scientific Calculator. These gifts are given as an incentive for the students to continue their studies in Mathematics, Engineering, and Science.
Southern California MESA Students attend the annual College Day event at the University of Southern California, hosted by the USC MESA Center. The five-hour event features activities and workshops geared towards preparing high school students for college success. Students are informed about college admission procedures, financial aid options, and campus life. Almost two dozen presentations are offered, covering a myriad of college-related topics. Students also go on campus tours and have opportunities to meet with 75 university representatives from across the country. Saturday Academies
The CSULB MSP offers Paramount Unified School District MESA students the opportunity to attend four Saturday Academies. Held at CSULB, the academies give students a chance to experience hands-on activities, learn about higher education and careers, and interact with college student and professional mentors. Activities include building a rollercoaster, mousetrap cars, bottle rockets, and more.