Event Date & Time: 
Saturday, January 29, 2022 - 9:00 a.m. - 1:00 p.m. via Zoom
Virtual: Registration
EDLD Leadership Symposium 2022 - Toward Equity and Inclusion: Bridging Theory and Practice to Lead Change in Education
Keynote speaker, Dr. Mike Muñoz

Dr. Mike Muñoz is a nationally recognized leader in higher education. He is an expert in closing racial equity gaps for students of color, creating inclusive campus cultures for LGBTQIA+ students, and effectively leading for transformational change.
As a first-generation college student and single father, Muñoz attended East Los Angeles College and Fullerton College before transferring to the University of California, Irvine, where he earned a bachelor's degree in Psychology and Social Behavior. He received a
master's degree in Counseling and a doctor of education with a specialization in Community College Leadership from California State University, Long Beach.
National leadership experience includes serving on the Board of Directors for the National Community Colleges Hispanic Council, as a founding Board Member of COLEGAS, on the California Community Colleges Latinx professional association, and as a Board
Member for the California Conference on Equality and Justice.
Muñoz was selected to serve as Superintendent-President of Long Beach City College in December 2021 after serving as interim since March 2021. He first joined LBCC in 2018 as the Vice President of Student Services. Prior to LBCC, he spent more than a decade at Rio Hondo College serving in several key leadership positions.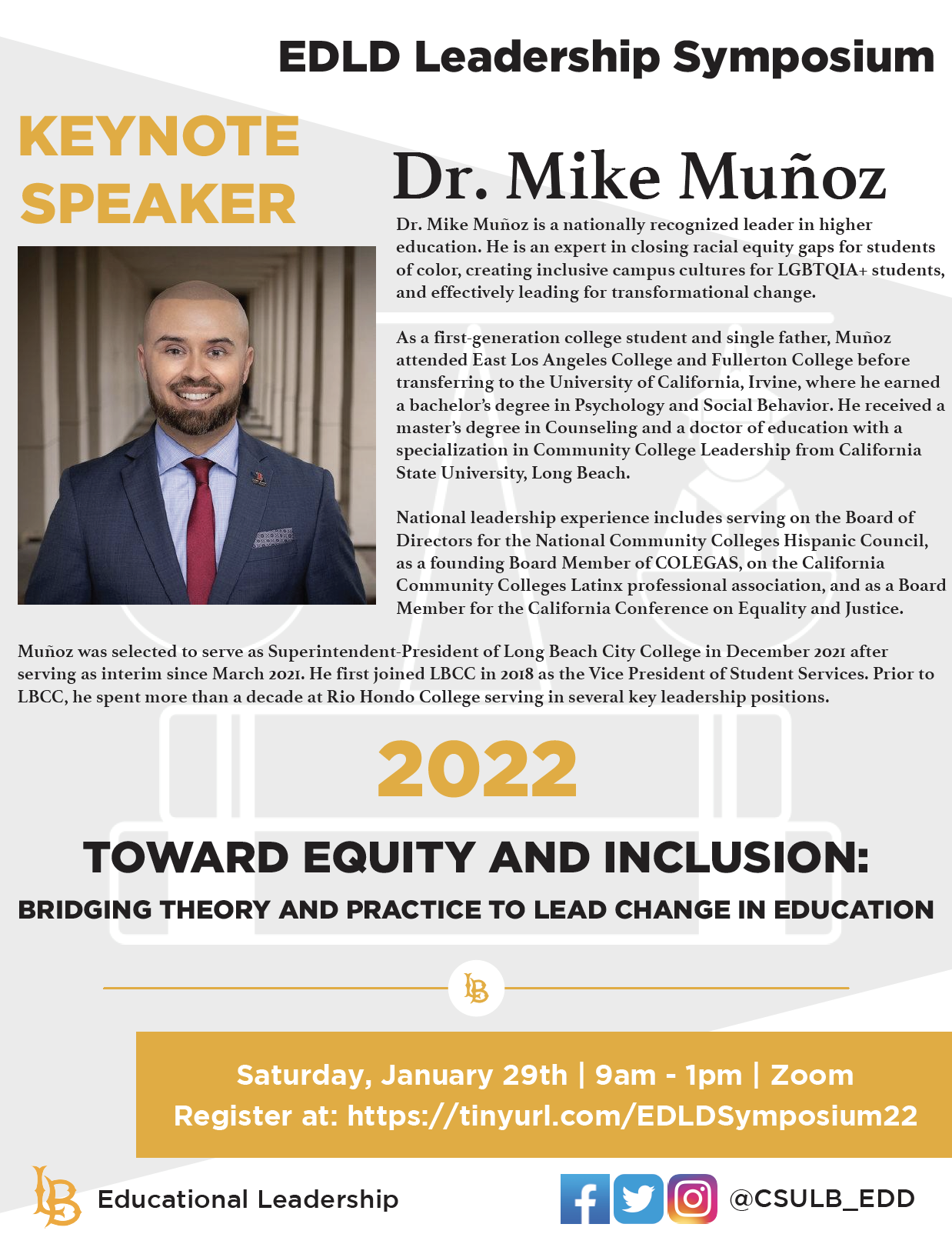 If you would like to request accommodations, please contact the Bob Murphy Access Center at least 72 hours in advance before the event at 562.985.5401 or bmac@csulb.edu.