2021- Nell and John Wooden Ethics in Leadership Award Celebration
Over 185 community leaders gathered at The Modern in Long Beach this fall to celebrate the presentation of the annual Nell and John Wooden Ethics in Leadership Award.  Hosted by the Ukleja Center for Ethical Leadership, the 2021 award event honored Col. Eileen Collins, retired NASA astronaut and U.S. Air Force Colonel.  Major table sponsors received copies of her new book, Through the Glass Ceiling to the Stars: The Story of the First American Woman to Command a Space Mission. 
The annual $10,000 award is given to a person or organization whose contribution to a community – local, national, or global – is built on ethical behavior and visionary leadership.  It is designed to promote ethics in leadership and to honor the Woodens, whose lives epitomized the Ukleja Center's mission, vision, and values.
The evening's festivities began with a reception overlooking Long Beach Airport's private jet runway.  Many corporate sponsors hosted a student and/or CSULB faculty member with their other guests, making for stimulating table conversations.  The dinner program began with Janey Roeder, director, and Jane Close Conoley, CSULB president, warmly welcoming everyone on behalf of the Ukleja Center for Ethical Leadership and the University.  They shared the center's vision of having an ethics module in every CSULB course through its Ethics Across the Curriculum program.  By awarding $3,000 stipends to faculty who integrate ethics modules into their classes, this vision is on its way to becoming a reality.  
Board chair-elect Mark Guillen greeted attendees and encouraged them to join him in embracing the center's mission of equipping people with the transformational power of ethical leadership.  Belinda Daughrity shared a faculty member's perspective on teaching ethics and the difference it is making in her students' lives.  Celeste Ahl, a program graduate, shared the impact of the center's Student Leadership Institute and how it helped shape her core values and build a strong foundation for ethical decision-making.  Mayor Robert Garcia championed the center's vision before introducing Col. Collins, who shared the importance of listening, humility, and creativity in ethical leadership, particularly during challenging times. 
The inspirational evening culminated with the presentation of the Nell and John Wooden Ethics in Leadership Award to Eileen Collins by Louise Ukleja and Greg Wooden, Nell and John's grandson.   Greg remarked that Col. Collins' focus on listening and humility reminded him of his grandparents, whose lives were centered on being of service to others. 
The evening concluded with Janey Roeder thanking everyone for their support of the event, which raised $52,000 for Ethics Across the Curriculum as well as many new friends of the Ukleja Center for Ethical Leadership!
Image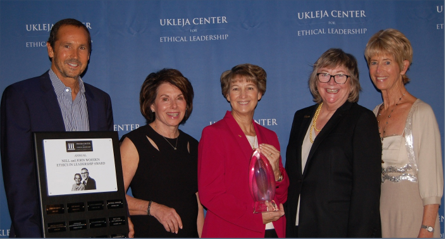 Greg Wooden, Louise Ukleja, Eileen Collins, Jane Close Conoley, and Janey Roeder
at the presentation of 2021 Nell and John Wooden Ethics in Leadership Award