International Collegiate Business Strategy Competition (ICBSC)
Participate in the ICBSC to prepare for the real world. Selection and registration in November. Compete in Spring.
GET READY TO APPLY FOR THE 2024 COMPETITION
Participate in the ICBSC to prepare for the real world. Selection and Registration in October 2023. Compete in Spring.
Image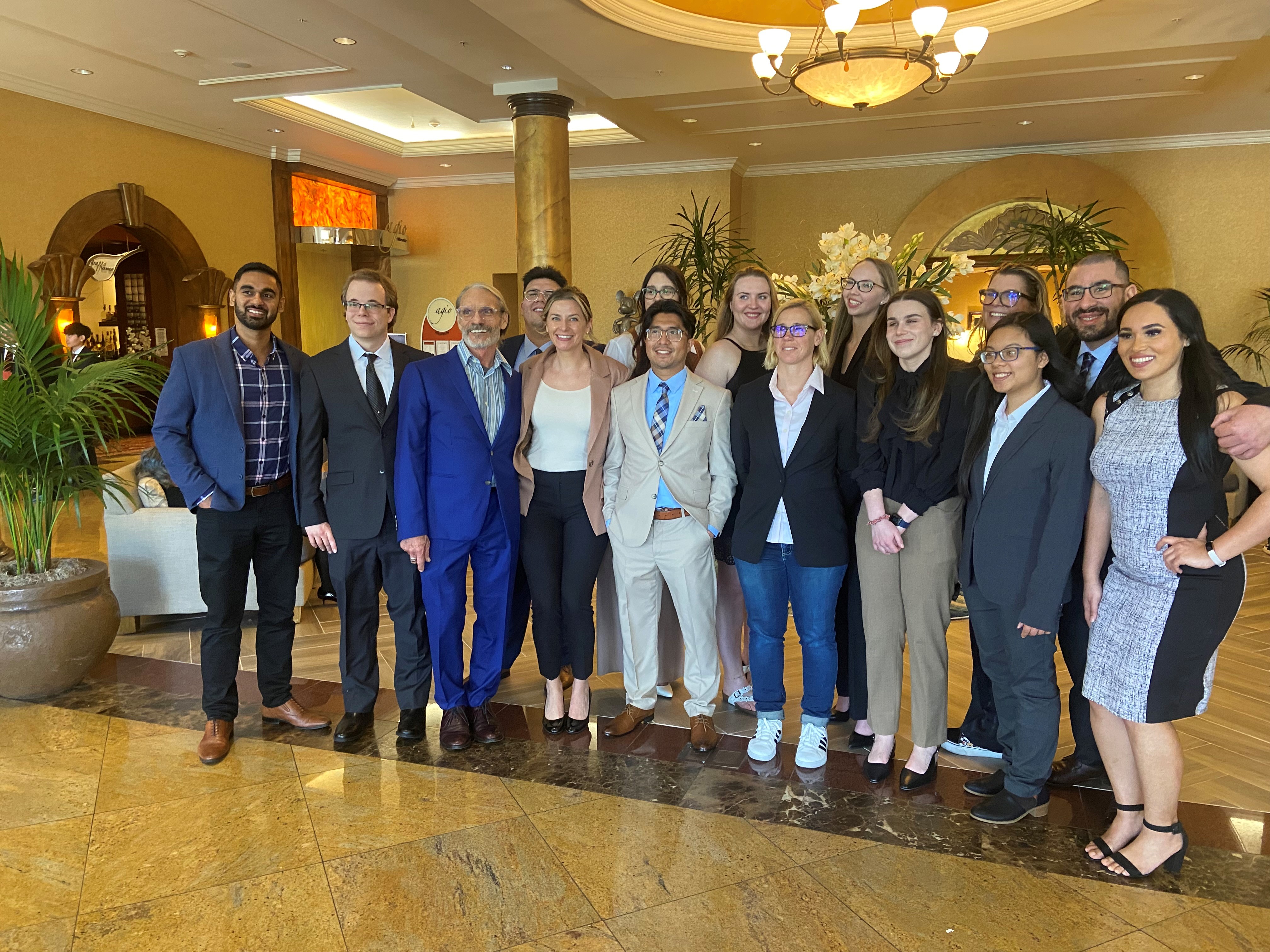 ---
The competition is held each year in the spring. Recruiting for next year's class will start in the fall but if you are interested, please contact the CSULB Course Advisor, Barbara Barcon at Barbara.Barcon@csulb.edu to discuss. It is open to Evening and online MBAs, as well as Masters in Marketing Analytics and Undergraduate Junior and Seniors. There is an application and selection process to fill the Teams.
The International Collegiate Business Strategy Competition is a challenging competitive event that serves universities, their students, and the business community. The Competition provides students with an exciting learning experience in which they, in direct competition with other college teams, run a simulated company and have the opportunity to network with business executives and students from around the world. Universities benefit by participating in a program that encourages student engagement, builds school pride, and provides their best students with an experience that can jump-start their careers with a resume-building activity. Our business partners benefit by being able to meet and recruit talented individuals who have had the personal and professional growth experience of the ICBSC.
2023 COMPETITION BUSINESSES PRESS RELEASES
59th Competition
At the 59th annual International Collegiate Business Strategy Competition in 2023, one undergraduate team and two MBA teams competed..  Universities from as far away as Scotland and Canada competed as well as many universities from around the US. The teams worked all semester to run their simulated company, provide a business plan and an annual report, and then present to their judges (Board of Directors) in person on Saturday. Their performance was outstanding and each team went home with at least two awards.
The undergraduate team participants were CEO Samantha, Fay, CFO Isabella Paine,  COO Justin Hosler, CIO Catherine Dao, VP of Marketing Scott Tomlinson, and Controller Anna Lair.
Team members on one of the MBA teams were CEO, Kathy Borkowski, COO, Carmen Guzman, CMO, Laura, Radivoyevitch, CFO, Angel Martinez, and CIO Adam Sharief. 
 The other MBA team consisted of COO Anna Rad, CFO, Alejandro, Robles, COO, Juan, Gomez, and VP of Marketing, Brenda Acosta.
In this competition, university teams of four to six students take over the management of a simulated manufacturing company competing directly against 4-5 other firms run by competitor teams from other universities. Teams in the competition are divided into "worlds" of about four to six companies with undergraduate teams and MBA teams having their own worlds. Each team assumes responsibility for key strategic and operational decisions in marketing, finance, and operations. Team members have the experience of running their own company as they strive to outperform their rivals.
This business competition involves both a remote phase and an intensive phase that, together, extend over a period of about ten weeks. The remote phase begins in January (the first week of Spring classes for CSULB) at home campuses; the intensive phase will occur in late April, when all teams will finalize their strategies.  Dates are available on the current term flyer or Key dates.
Set up your own Zoom Session to learn about the Competition and see if you are a great fit.  This is for students that want something challenging above and beyond the College of Business education. 
Contact Barbara Barcon, CSULB ICBSC advisor/lecturer,  CBA-ICBSC@csulb.edu  we will zoom you into what this Competition is all about.
When you are a business student, you hear the phrase "in the real world" many times over. It is in reference to life after school when everything you have learned will be put to the test. At CSULB the real world was brought to the classroom in the form of the International Collegiate Business Strategy Competition (ICBSC). After a selective application process, a group of graduate and undergraduate students from CSULB were split into three teams, each competing in a simulated environment of companies from all over the world. As the CEO of "What A Crock" I had the opportunity to learn concepts outside of the textbook that provided a glimpse into what I would face in the workplace as a C-Suite executive... 2020 ICBSC Update Post Competition - Leah Espinoza, Evening MBA
"The competition gave me the resources and knowledge that cannot be learned in a classroom. It showed me the importance of having a solid plan and being able to execute it. Most importantly, I can attribute a big part of my success to specific lessons learned during the competition."
"I learned more in this class/competition than in all my classes over 4 years"
"This is the only class I liked coming to and working on."
August 1 through October 21. Students meet on-line (one-on-one) with Advisor 
Applications accepted until October 21, 2023 5 PM submit an application for acceptance into the competition 
NTL October 30, 2023  Students notified if they have been selected and authorized to register
October 2023. Spring registration begins.
December 8, 2023, Orientation Meeting
Students must also be available for the April 18-20, 2024 intensive phase beginning on a Thursday afternoon through Saturday afternoon.  This is mandatory to participate in and pass this course.

The course will be completed by the end of April.
Each year students say that the competition has been the most rewarding experience of their college career. Some have said the greatest benefit was the realistic opportunity to apply academic concepts; others said the greatest benefit was being an integral part of a closely-knit, finely honed team. Students listing the competition on their resumes have discovered that it has helped them land a job or a valuable internship. Some have even benefited from interviewing a person that had earlier participated in the competition as a judge or team member. For students, the benefits include:
Hands-on experience of actually "running" a corporation
Bringing together functional academic concepts resulting in an integrated, applied management experience
The taste of battle with, at times, stirring success, or, at times, stunning failure--at least in the perspective of the moment
Feeling the synergy of the team experience
Earn three units of elective credit, if the program allows (always check with your advisor)
"The single most rewarding experience in my entire college career." (quote from a former student participant)
Become part of the CSULB winning tradition
Great resume builder!
Acceptance to be on a team is through the application. The best candidates will be those CSULB students who have completed their core coursework. It is recommended that Undergraduate students have completed IS 301, MKT 300, MGMT 300, and Acct 201 before applying. Usually juniors and seniors. MBA students must be in the Evening MBA or Online MBA program to receive credit and be eligible for this course. MBA students who have completed one year's worth of coursework are clearly eligible. In some cases, first-year MBA students with undergraduate business degrees, extensive business work experience or a strong desire to learn and compete might be qualified to be on an MBA team.
While no specific GPA is required, students who have earned at least a GPA of 3.0 if an undergraduate and a 3.3 if an MBA, like a challenge, are problem-solvers, and have a flexible schedule that will allow them to meet on weekends or other times with their team members are especially encouraged to apply. The competition is time-consuming. Expect to spend between 4-and 10 hours outside of class each week working with your team. Good writing, analytical, presentation, and computer skills, including the ability to use Excel or other spreadsheets, are skills essential to being successful in the competition.
58th Annual International Collegiate Business Strategy Competition! 2021-2022
Image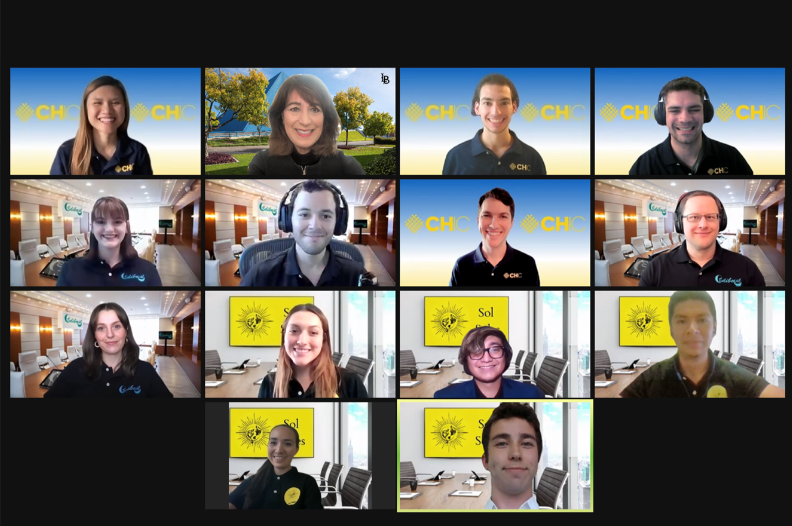 Teams from around the world competed all semester and concluded with an Intensive Phase Event on April 21-23.  2022 The COB entered 3 teams and each one won at least one award.  Two of the teams took home Best Overall!
The class and the competition simulate a real business that the teams run as members of the Executive Team.  They enter quarterly decisions each week (and 4 in one day during the intensive phase) and determine how much. to produce of their product, where to produce, how to market, which models to release, how to finance their company, and all while creating shareholder value and competing with other schools. 
This year's CSULB teams consisted of 2 MBA teams and 1 undergraduate team.  All did an amazing job and were rewarded as follows:
Sol Soles - Best Documents and Best Overall

CEO Samantha Borrego, COO Christopher Tapia, CFO Jacob King, CMO Andrea Urtuzuastegui, and CIO Edgar Juarez 

Chic - Best Documents

CEO Randall Belyea, COO Robert Papadopoulos, CFO Isaac Gordon, and CMO Chieu Le

Edibowl - Best Documents and Best Overall

CEO Sam Garcia, COO Corrina Rodacker, CFO Thorsten Oppermann, and CMO Teddy Ibrahim
57th Annual International Collegiate Business Strategy Competition 2020-2021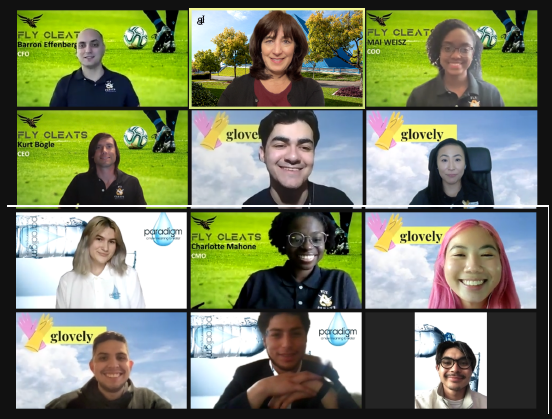 After a semester of virtual planning, analysis, document writing and decision making the 22 Teams from 12 universities across the country (and Canada) concluded last weekend with the grueling intensive phase.  They met with their Board of Directors (professionals, also from across the country) to convince them that they made the right decisions and are the right management team to move the company forward.
All three of the CSULB teams, 2 undergraduates and 1 graduate, performed admirably.  Team Glovely, an undergrad team, came in 3rd place overall in their "World."  Led by Steven Salazar as CEO and Jinny Uh as COO, Melanie Tran as VP of Marketing, and Jose Godinez as CFO.  While grad team Fly-Cleats took the top honor with First Place in Best Overall!! They were also runner-ups in Best Documents.  Fly Cleats was led by Evening MBA students Kurt Bogle as CEO, Barron Effenberger as CFO, On-Line MBA student Mai Weisz as COO, and M.S. Marketing Analytics student Charlotte Mahone as VP Marketing.
Students commented on what amazing learning and life experience it was for them.  Some even said it was their best college experience, period.
Recruiting for next year's teams will start in the fall.  If you are will be at least a junior in spring 2022 or an Evening MBA or Marketing Analytics major and are interested, please contact Barbara Barcon at Barbara.Barcon@csulb.edu for more info.
GO Beach!!
READ THE PRESS RELEASES FOR 2021